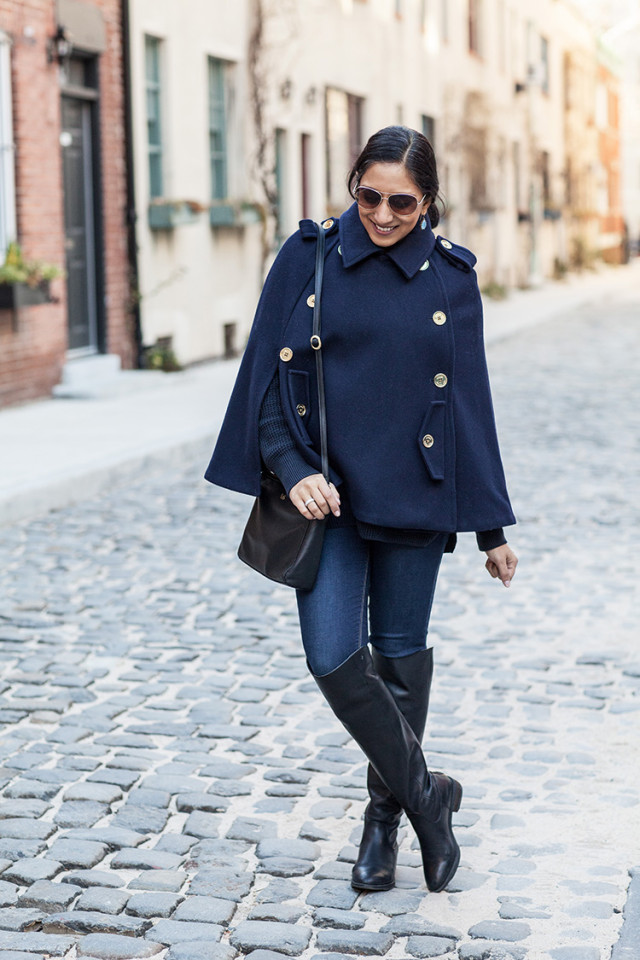 – Michael Kors cape (trench version) and sweater – Paige maternity jeans (non-maternity) –
– Sole Society boots – Lo & Sons bag c/o – Marc Jacobs sunglasses – Alanna Bess earrings –
I know. I know. Another navy outfit.
Here's the thing about black's unsung sibling. It infuses an otherwise basic outfit with a warmth that black lacks. It's stupidly simple to pair with other neutrals. And it's always stylish. Always.
Having a closet with a dominant navy section makes getting dressed a mindless activity. Which is good, because pregnancy brain is a real thing and I'd rather use my mental acuity for more important tasks.
Like what to eat for breakfast. And, you know, helping make the world a better place.
Don't worry, black – we're not breaking up. You will always dominate my accessory game – namely these boots and this bag. We're just on a break on the clothing front.
For more maternity style posts, click here
Photography by Lydia Hudgens