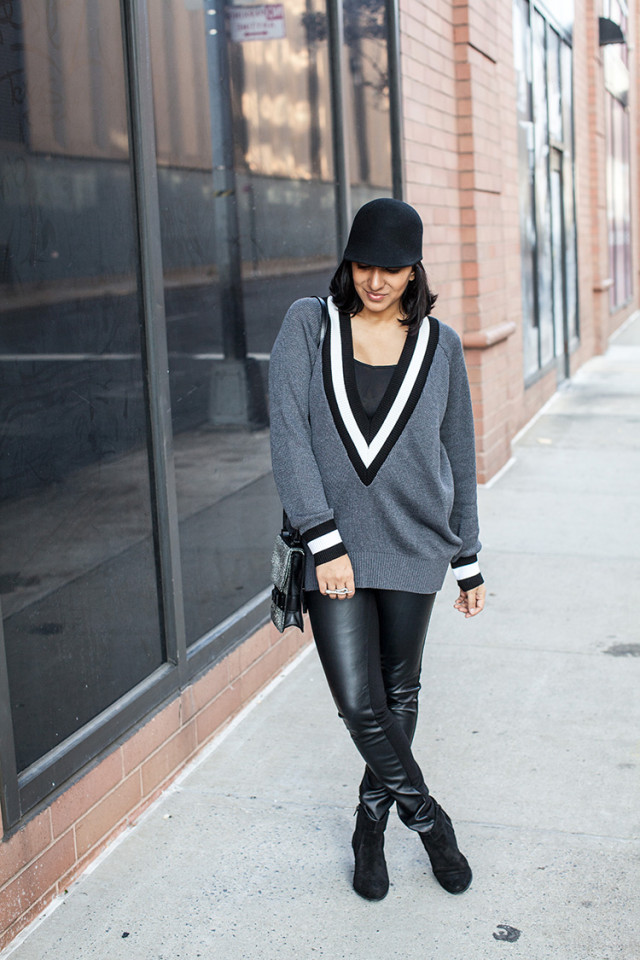 – Nasty Gal sweater – Club Monaco leggings (similar) – Sole Society booties c/o –
– ASOS hat – BaubleBar ring – 10 Crosby by Derek Lam bag –
The first sport I ever paid any attention to was cricket.
Not out of choice, mind you. But during my annual 2-month sojourns to India, I'd be left at home with my uncles while my mother ran her mysterious errands all day. The TV would always be tuned into whatever test match was being played, volume turned low as to not bother my grandmother.
My book supply exhausted (which typically happened by the second week), I had one of two options – pray with my grandmother or watch the mysterious, days-long match. It took several years before I got the hang of the rules (some of which are still a mystery to me), but I remember being attracted to the uniforms immediately.
Pearly white trousers and polo shirts. Cable-knit vests with the country's colors knitted into the hems. Noses coated in zinc to prevent sunburns.
As far as sports uniforms go, cricket tops the best dressed list.
Finding this sweater brought me back to that childhood moment of lying on the floor, hands in my head, watching the complicated sport that made little sense. I promptly purchased it in every available color (white, navy, blue and crimson) and have been wearing them nonstop this winter.
Usually with leather leggings. And this hat. And these boots.
Because when something works, why mess with it?
For more maternity style posts, click here
Photography by Lydia Hudgens