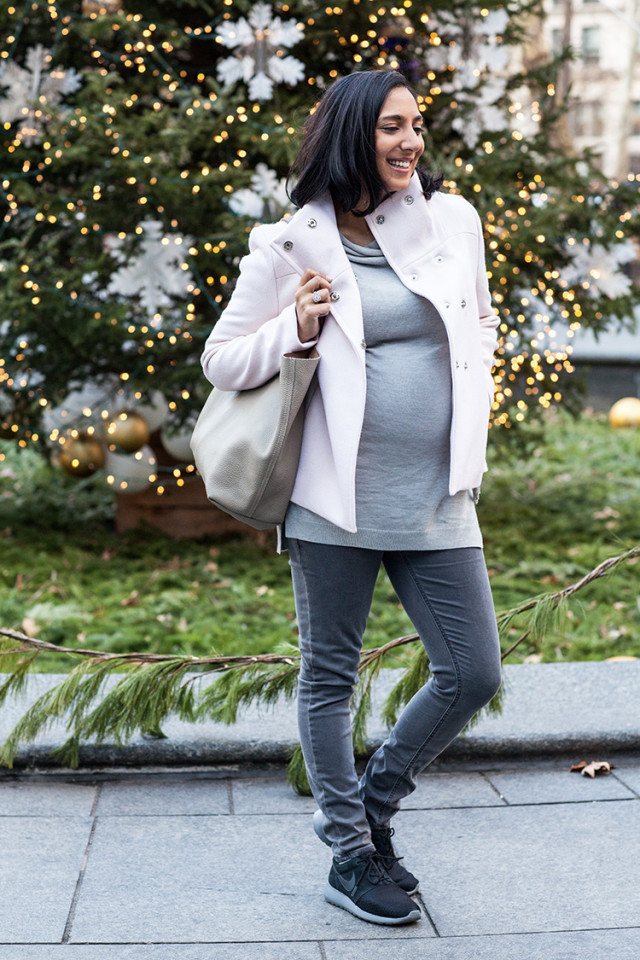 – Old Navy coat – Trouve sweater – Topshop jeans (non-maternity versions) –
– Nike sneakers – BaubleBar lariat – Rue Gembon ear jackets c/o – Cuyana tote –
Yes, I own clothing that ISN'T navy.
More often than not, it's gray. And maybe a little pale pink.
One of the reasons I took a long break from outfit posts was that they felt inauthentic. I would stress about dressing for the blog, versus dressing for myself. I didn't like publishing content that felt forced.
Also, outfit shoots in the summer or winter are as pleasant as a dental cleaning, without the minty fresh finish.
I credit/blame pregnancy for a lot of my newly formed opinions (which I'll spare you from). One major change is that I crave ease in all aspects of life. In my home (I'm on a permanent purging kick) and in my meals (my recent Seamless orders rotate between Basera and Choza).
And definitely in my outfits. My closet is composed mainly of navy, various shades of gray and camel, white blouses, and black. Everything matches everything else. Multiple colors of the same top are lined up neatly next to elastic paneled pants.
Getting dressed every day used to be a frenzied drama that would result in clothes littering every nook of the room.
These days, it's tank – pants – sweater. Done.
And it should be so easy. I'm pretty sure this little nugget is going to demand the bulk of my energy when it makes its appearance.
I'm ready for you, kid.
For more maternity style posts, click here
Photography by Lydia Hudgens