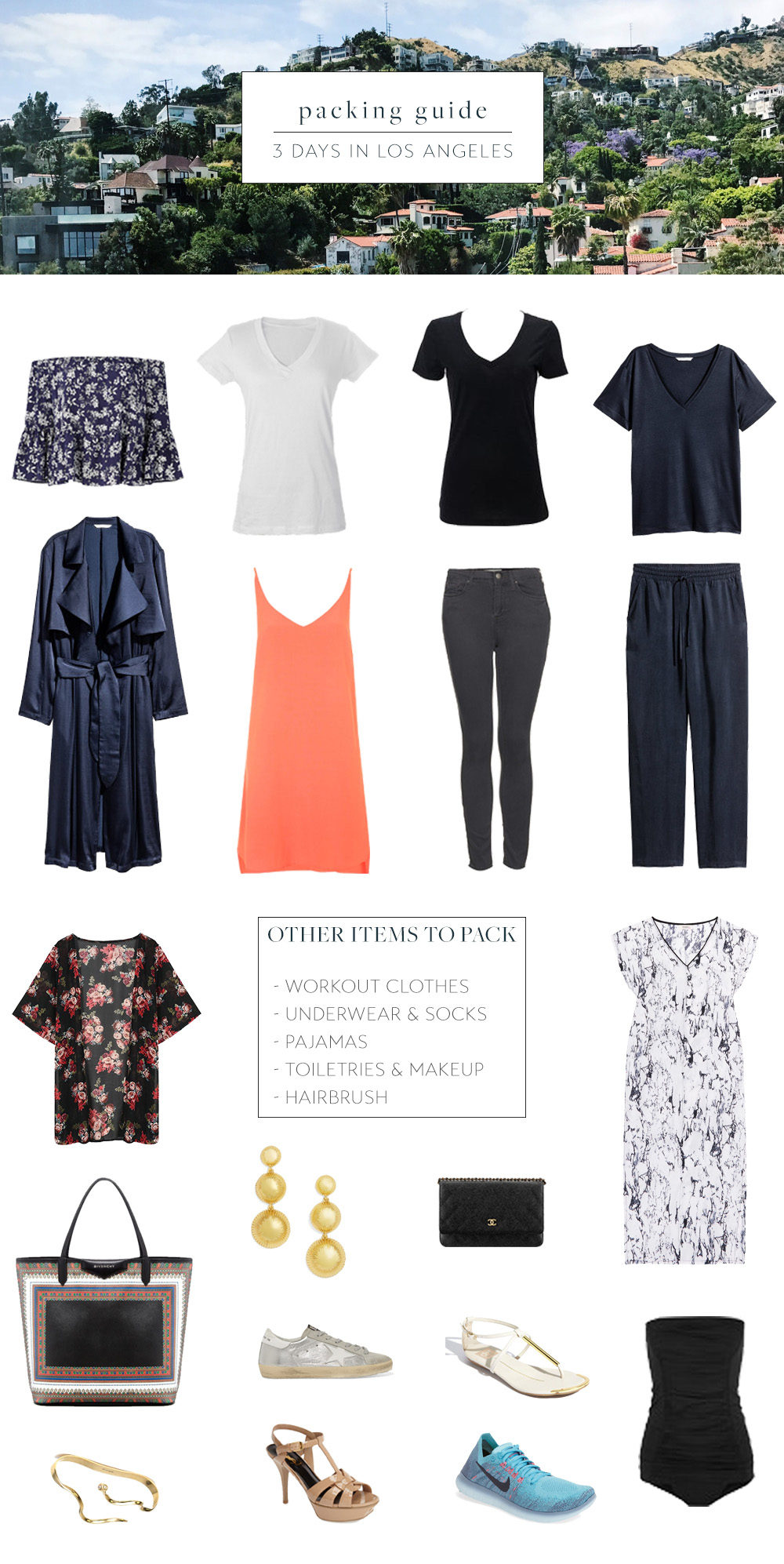 I broke a few of my packing rules for LA.
There were a lot of "wear once and done" items. I snuck in an extra pair of shoes. And I needed a little help getting my suitcase in the overhead compartment today.
I blame Barry's Bootcamp for the last one. #stillsore
That said, there were events that required full outfits (my dinner with Jetsmarter & The Supper Club, drinks meetings) that couldn't be mixed and matched quite as well as I usually do.
And there were some items that I just wanted to wear in LA – this off-the-shoulder top, a bold coral dress, and a new caftan.
And wear them, I did. And I loved every minute of it.
Here's what I packed for 3 busy days in Los Angeles

Off-the-shoulder top – T-shirts – Top
Trench – Dress – Jeans – Pants
Kimono – Earrings – Clutch -Â Caftan
Sneakers – Sandals – Heels – Running shoes
Tote – Handcuff – Swimsuit
Tops
It's safe to say that you can find Encircled t-shirts in my suitcase – always. This outfit has been a particular favorite, so I made sure to pack both t-shirts and my kimono, and changed up the jeans a bit. I also added this Lively top (a find from Rent The Runway Unlimited) to wear for evening drinks meetings. Easy.
Bottoms
I've been dressing from the "chub fab" section of my closet (the clothes I wear when I've gained a little weight), and thus picked these super stretchy Topshop jeans. They kept up nicely with my marathon food day on Tuesday.
Dress/Sets
Have Zara uniform, will travel. I opted for my navy one. I needed a cocktail dress for the dinner I was hosting, and dusted off this coral number (first worn here, and again for my 30th birthday party). It's the easiest dress ever – just slip on some nude heels and great jewelry, and you're set.
Outerwear
I'm so glad I bought this jacket in all available colors (olive green, crimson, and navy) when they were available. They are true power pieces, and I rarely travel without one. A draped navy trench, paired with my Zara set, looks perfect.
Swim
This Melissa Obadash swimsuit is a tried-and-true favorite. It's always flattering (even when I've eaten my weight in tacos), and I feel really good in it. This Lemlem caftan is a new purchase, but I love it – the silky fabric, the marble print, and the fact that it's comfortable as it is elegant. I'll be packing this for beach weekends and for our trip to Greece.
Shoes
These YSL heels were my first designer shoe purchase (6 years ago!). And they're still the shoes I reach for when I have to dress up (and have gotten a pedicure). They're the closest shade to my own skin tone, are shockingly comfortable, and go with everything. My Golden Goose sneakers were perfect for LA – casual, comfortable, and cool. I also packed Nike sneakers for workouts, and Dolce Vita sandals for the pool.
Bags
My Givenchy Antigona tote is a travel powerhouse – it fits everything I need, but is also a beautiful bag. It's ideal for long flights and for running around a city for meetings and working remotely. My small bag is – shocker – my Chanel WOC. It's been my small bag for all my recent trips. It's just so, so good.
LA – I kind of loved you. And I'll be back soon.
Probably with most of these items in tow.
P.S – what I packed for weekends in Napa and Charleston.