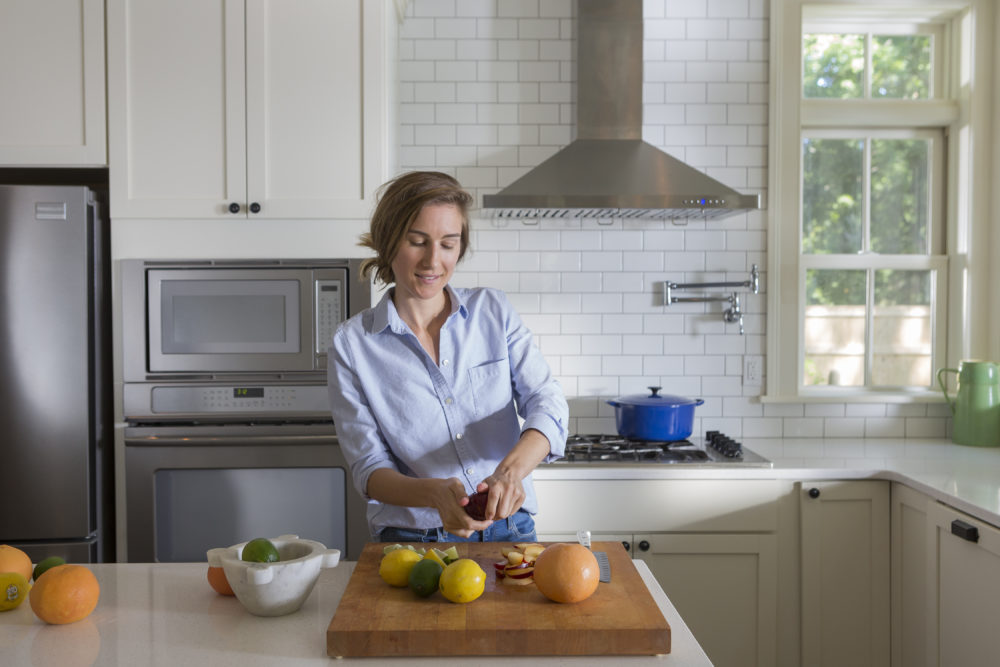 Clara Artschwager is a health and lifestyle coach based in New York. She takes a real-talk, humor-filled and heartfelt approach to working with her clients and helping them achieve what they want in health, love, work and more. This is her best advice. 
I love the sense of renewal that September brings. A January 2.0 vibe, if you will. After a summer filled with lazy long weekends and generous amounts of ice cream, I'm ready to hunker down and get clear on what's working, what's not working, where I'm going and what's standing in my way. I'm ready to get clear on what I want to accomplish before the year's end. I'm ready for a reset.
This year I need it more than ever. My life is almost comically full right now. I'm in the midst of launching a new business. I'm renovating a house upstate. My boyfriend and I just moved in together and are figuring out that whole thing. And we've got a family member coming to live with us this weekend. I'm navigating my new role as a stepmom, which is wonderful and exciting, but also drudges up all sorts of painful feelings from my past. I've got friends and family I love dearly and want to see. I'm finishing up certifications to advance my studies in nutrition. I also struggle with anxiety, tempered daily by a small SSRI dosage (thank you Lexapro). Chaotic periods like these can fill me with even more angst. It's a lot.
And yet, at the same time, I want more. I want to work out more, write more, read more, and produce a crazy amount of work. I want to bring in more clients, host events for my community, cook great family dinners, have lazy Sundays in bed with my boyfriend. I want it all, and I know I can do it. Because I have my why.
What's my why? It's my bigger reason, my foundational intention, the greater purpose behind everything I've set out to do this fall. My why isn't about my waistline (though I do have some skinny jeans I'd like to fit into), or impressing others and winning admiration, or doing what I think I should do. It's about the person I most want to be. How I most want to show up in the world.
Right now my why is my family. Everything I do – from taking it slow with my coffee first thing in the morning to building a successful business – I do to better care for my family, which includes myself. Serving my family, myself and the people I love most, is the thing that's going to get me through when I want to stress-eat an entire chocolate bar at 3 pm, skip my workout because I'm not feeling up to it, or snap at my boyfriend at the end of a long workday.
This September, I'm resetting my life, in a thousand little day-to-day and big long-term ways, around my why, my family, and I'm eager to help my clients do the same. Here's how you can get started:
A reset means getting clear on your own why and how it can reshape your life. Your reset is your own because your why is your own. It's unique to you and tailored to fit. It's dependent on your preferences and pleasures. What gets you going and what brings you down. To get clarity on that, start by asking yourself the following:
What's not working for you and needs to go right now? And I mean really not working for you. What are the nagging habits and behaviors, the negative thoughts, the mindless meals, the general bullshit you're putting up with that's getting in your way? It could be people, places, thoughts, entire food groups, etc. No holding back.
Here are some of mine: Committing to coffees/meetings with anyone that asks and then resenting the commitment later (i.e. being more protective of my time). Apologizing for things that aren't actually my fault. Being unnecessarily generous with my coaching services. Eating ice cream almost every night when I know sugar doesn't do my anxiety any favors.
What do you need that you're not giving yourself? You know how to nourish yourself better than anyone. What are the things you know you need to do that you're not doing enough of, or at all? The reasons aren't important. Just get clear about what they are.
Here are some of mine: More alone time (even more than I think). Four discovery days – four days on my own to visit a museum, see a movie, explore new shops, discover new things. Yoga at least two times per week. An hour a day to read. More grace, patience and love (always) towards myself.
Where do you want to be on December 31st, 2018? What do you want to have accomplished? What do you want to have experienced? From what do want to be free?
Here are some of mine: I want to be able to do three pull ups back to back (currently at one!) and nail my yoga headstand. I want to have published four pieces around my work in food & body image and dating & relationships. I want to have a date and a plan locked down for the couples workshop my boyfriend and I are planning for next spring. I want to have furnished my house upstate such that we've got somewhere to sleep and enjoy meals.
Your turn, so settle in. Give yourself some space. Pull out that gorgeous journal you've yet to touch, grab a hot beverage, and tap in to you. There's gold in there! I promise. And if you'd like some support, I'd love to work with you. Get the details here.
In the meantime, I've got my own reset to craft.
You can follow Clara on Instagram and sign up for her newsletter here.