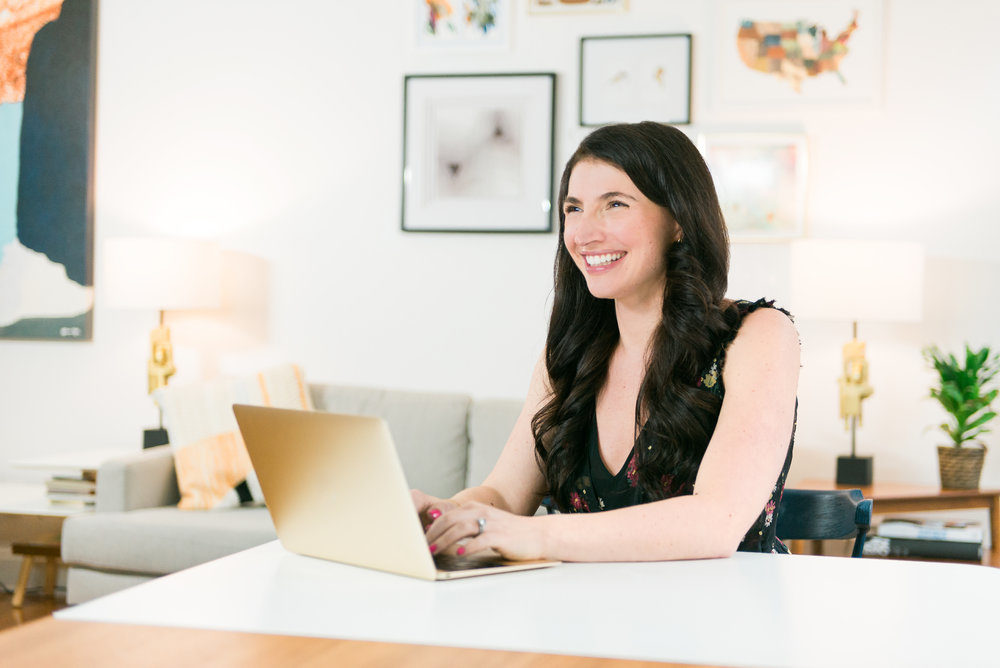 I'm so excited to share today's feature with you. 
Janna and I became fast friends last year. Over lunch one afternoon (an indulgent 3-course one), we got to talking about time. Janna outlined her weekly schedule, and I was riveted.
"Can I interview you for my blog?"
I've been pestering her with this question for the better part of 2017, and I thrilled to finally share it with you. Here is Janna's best advice.
Hitha and I became fast friends last year when we saw each other at two women's events in the same week. We pretty much started talking like old friends and haven't stopped since. As fellow multi-passionate entrepreneurs, who are also raising toddlers, prioritizing our health, and maintaining active social lives, the topic of how we manage our time is a hot one.
Last year I celebrated the 10th anniversary of my strategic communications agency, and in this time of reflection I got increasingly more diligent about how I align my time spent with my personal values and priorities. As my mother wisely says, time is the only non-renewable resource you have.
For so long (10 years to be exact) I reveled so much in the freedom of entrepreneurship, that the thought of creating a regular schedule was appalling to me. However I found that with a very basic structure that accounts for what's most important to me in a week, my sense of freedom as well as my productivity have increased exponentially.
Here's how I've designed my week around what I need and want to do. Maybe this exact design will work for you, maybe it won't, but I hope that it inspires you to experiment and find a schedule that works for you. There's nothing better than being in the drivers' seat with your time and looking back on your week as time well spent.
DISCLAIMER: This is NOT every week of my life. This took a lot of practice, and boundary-setting, and Google Calendar blocking, but a year into this, I can confidently say that at least 75% of my month looks like this. And I have a lot less back and forth when scheduling with other people. We're doing a call? Monday or Wednesday afternoon. We're having coffee? Tuesdays or Thursdays are best for me.
"Magic Mondays"
I'm alone all day. I have "NO MEETINGS" at the top of my calendar repeating every Monday to remind me and my colleagues to protect Magic Mondays. After a morning sweat session (SoulCycle, SLT or Physique57) I go to my local co-working space or a cafe and work alone. After an hour of tending to email and checking in with my team, I spend an hour reading all the interesting articles I've bookmarked throughout the previous week and weekend. Then I go dark for 2-3 hours (close email, close Slack, phone on Do Not Disturb) and I actually get. stuff. done. This is when I do my strategic work for clients and for Style House, it's when I write. I have access to my creative resources in a way I simply can't with constant interruptions and focus shifts. You know what Magic Mondays help a lot with? Sunday Scaries.
Tuesdays & Thursdays
These are my days for live meetings. And yes, I have a lot of them as a public relations, partnerships and marketing/communications strategist. But I'm so energized from my restorative weekend followed by Magic Monday that it's easy to gear up for a full day of being "on". If you have a lot of back to back meetings in one day it's crucial to recap and send notes to yourself immediately after every meeting. I generally leave a 2-3 hour block toward the end of the day to tackle my inbox. Unsurprisingly, batching the time I spend on email means a lot less time overall spent on e-mail. Refreshing every 2 minutes and allowing other people's emails to impede on your own focus and time blocking does you a huge disservice.
On Thursdays, I leave a larger chunk of time in the afternoon to ensure that my clients and my team have everything foreseeable they will need from me, because in an ideal week I am home with my son on Fridays. My phone is away and my team knows to call me with anything important.
Wednesdays
These are my internal days with team Style House. We all look forward to our weekly Wednesday team meetings (with bagels!) and we tackle so much in 90 minutes — going through each of our clients, making sure everyone is on the same page, knows what each other is working on and/or might need help with, and ensuring that non-urgent but important things are addressed on a weekly basis. I also do call blocks in the afternoon because I know I'll be at our office with quiet phone booths.
Fridays
Knowing Harley and I have our special Fridays together when I'm unplugged helps me (and him!) reconcile when I need to leave early in the morning to get a workout in, or when I choose to catch up with a friend over wine in lieu of bath and bedtime during the week. We've been lucky to always find nannies who work Monday through Thursday and are available on Fridays when needed.
I'd love to hear from other entrepreneurs and individual contributors about how you create schedules and time blocks for yourself.
Thank you Janna! I hope this post inspired you to see how you can optimize your schedule (which I sorely need to do). This little cube, my notebook method, and this music app (and headphones!) help me stay focused and time-block effectively. If I'm working from home, burning this candle helps as well.