It's hard to believe that NYFW is just around the corner – and the mania that accompanies it.
And if you're traveling to New York, that traditionally just adds to the insanity that encompasses the beginning of February.
Thankfully, this crazy time made selecting my next Jetset Style Guide topic quite easy.  These selections (plus this NYFW Guide & a Portavi session!) will make the packing process a breeze.  Everything else – well, I'm launching something next week that should help with that too.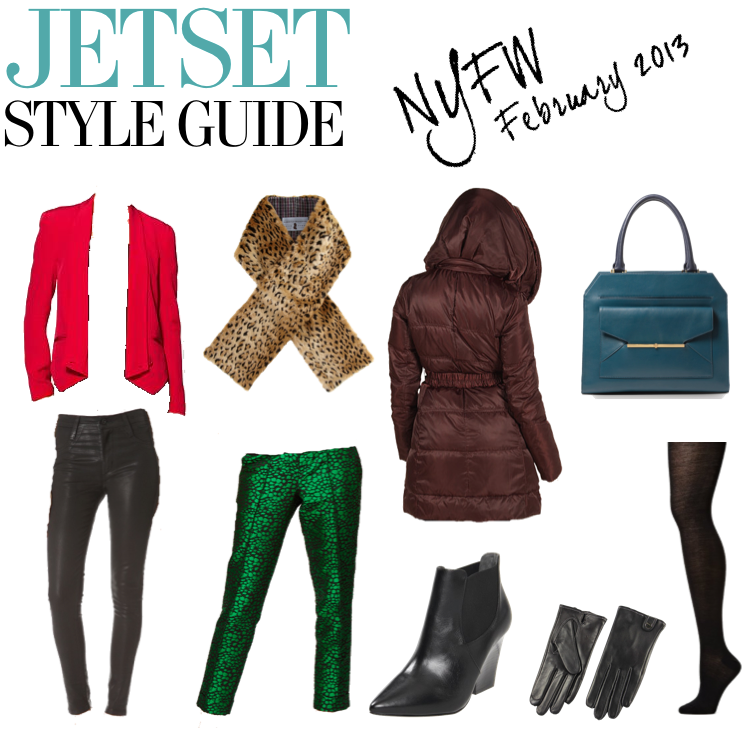 – blazer – stole – coat – bag –
– coated denim – jacquard trousers – boots – gloves – tights –
How to wear them, plus more Fashion Week travel tips, after the jump…

Plan all your outfits.

 While it's a massive pain, it saves you from the agony of the frantic morning "what do I wear?!?" saga.  If you're sharing a hotel room with friends, hop on a

Google+ hangout

and discuss what everyone is bringing and plan your outfits with borrowed items. Â 
Carry-on only! Â With winter travel comes the risk of storms, and lost luggage. Â Play it safe and pack a carry-on suitcase. Â New York City has great shopping – if you forgot something, you can purchase a replacement here.
Travel steamer FTW. Â 

I don't go anywhere without mine – it's so much easier and faster than ironing, plus you can give yourself a mini-facial with the steam while preparing your clothes.

  I highly recommend this one.
Are you coming to New York for Fashion Week? Â I'd love to know – what are your winter trip packing essentials? Â