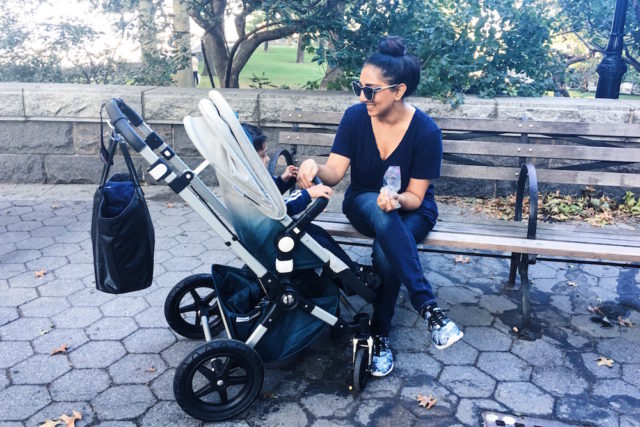 This post is in partnership with Bugaboo. All opinions are my own.
Two questions that I'm asked frequently are:
How do you juggle it all?
What baby stuff do I actually need?
It's difficult for me to answer those questions, especially in a written form. So instead, I'm going to give you a peek at a typical Friday in my life to show how I juggle (because that's what it is) motherhood, business, and family.
Hint – it involves comfortable shoes and coffee. And topknots.
—–
6:00 a.m.
"Da Da Ding" (that song from the Indian Nike Women commercial) starts playing. Loudly. I get up, turn it off, and make my way to the bathroom.
6:05 a.m.
After splashing water on my face and brushing my teeth, I go back to my bedroom and chug the giant glass of water on my nightstand. Yawning, I make my bed, fill out the day's entry in my 5 Minute Journal, and meditate for 5 minutes. I roll out my yoga mat and do 10 sun salutations. I jump in the shower, and apply a little makeup and get dressed while listening to Tuesday's episode of Keepin' It 1600. The podcast is one of my favorites, and never fails to make me laugh. And sometimes cry.
Politics, yo.
6:40 a.m.
Coffee coffee coffee coffee coffee. I quickly make an iced latte in my Nespresso and drink it while doing a quick diaper bag check. Diapers, wipes, a sippy cup – check. The bag goes back to the stroller, and I throw two pieces of bread in the toaster and milk in the microwave for Rho.
7:15 a.m.
I munch on my slice of toasted (with a bit of butter and raspberry jam) while I cut his (generously buttered, that lucky kid) into tiny pieces. Why isn't he awake? He should be awake. I grab his milk and go to his room.
7:45 a.m.
Rho's sitting in his crib, playing with his toys and quietly blabbing to himself. The second he sees his milk, nothing else matters. I feel you, kid. He takes down his milk as I change his diaper and clothes and brush his hair. Once he's done his milk, I hand him his toothbrush while I straighten up his room. We finish brushing his teeth, grab a pair of socks, and head back to the kitchen.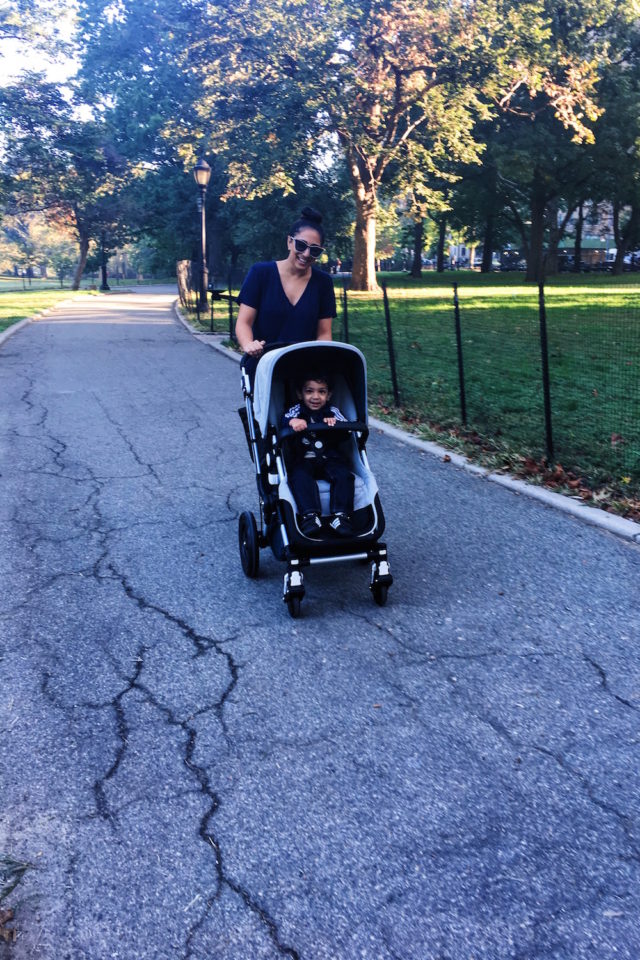 8:15 a.m.
We're out, after Rho gets his cursory morning snuggle from his grandfather and great-aunt and great-uncle, who are staying with us. My husband joins us on the walk to his weekly preschool class. As Rho waves and excitedly yells "Bow wow!" every time he sees a dog, we catch up and talk about our work, the election, how much we love New York, and how badly we both need another cup of coffee.
8:50 a.m.
We're early – for once. We enjoy a few minutes in the park, and to feed Rho the rest of his breakfast. And I pester my husband to take a few pictures for this post.
9:00 a.m.
Sri hops on the subway to the office while Rho and I head into the school. The kid beelines straight for the day's art project – painting 'pumpkins' on the roll of craft paper that's been laid on the table. We spend the next two hours going through free play, music, snack & stories, and gym. He plays and explores to his heart's content. I take a few pictures, chase him down, and lust for another latte.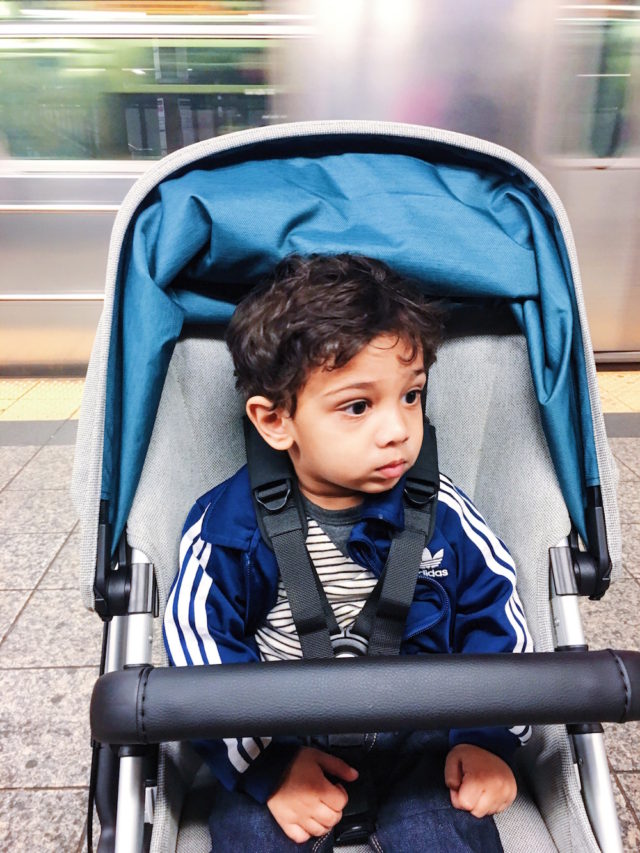 11:30 a.m.
We hop on the subway and come home for lunch. To my surprise, my dad has whipped up a feast for us (yes, I'm crazy lucky. And I'm eternally grateful). Rho's nanny has also arrived, and sweeps him up and takes him to his room to play (and for a necessary diaper change). We sit down for lunch – chickpeas, peppers, and spinach tacos – while we chat and I show the hundred or so pictures I've taken of Rho in school.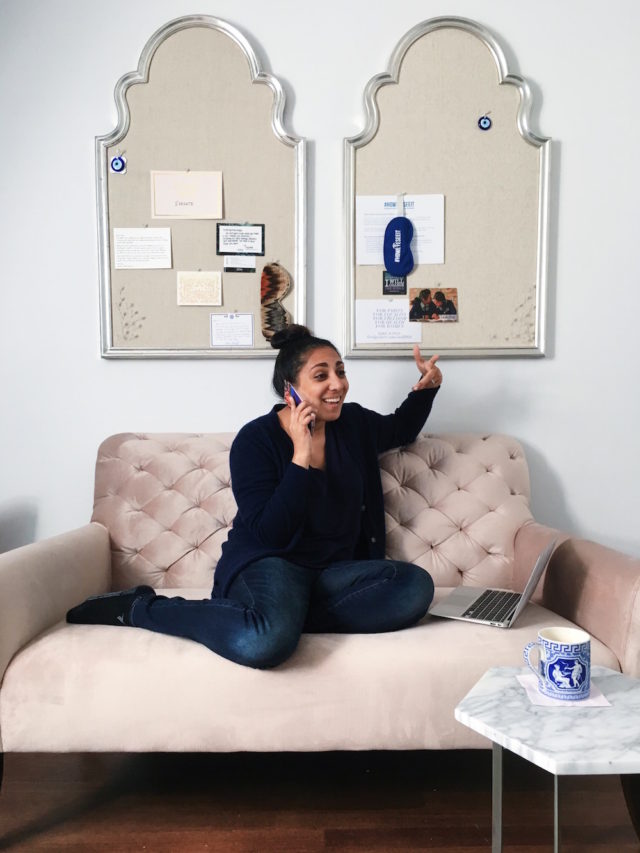 1:00 p.m.
Coffee in hand, I make my way to my home office and sit down with my assistant to review the week – what got done, what didn't, and how do we readjust for the next week? I hop on a call (on my new, oh-so-comfortable couch) and then sit down at my desk to write.
5:45 p.m.
Bless that Pomodoro system – it's the only way I manage to stay focused and get the day's work done. I wrote a post and newsletter, created the following week's social updates for Bridge2Act, and did a quick weekly review. While I'd always love to get more done, I'm conscious of doing less, higher quality work than sloppily finishing a full list of tasks. I head to my room to throw on a dress, apply a bold lip, and slip on some booties for some solo time before a date night. I spent 10 minutes playing Legos with Rho (I build things, he takes them apart and throws the blocks around the room). With a kiss for him and a hug for my dad, I slip my headphones in and out the door, listening to the latest Keepin' It 1600. Yes, I'm obsessed.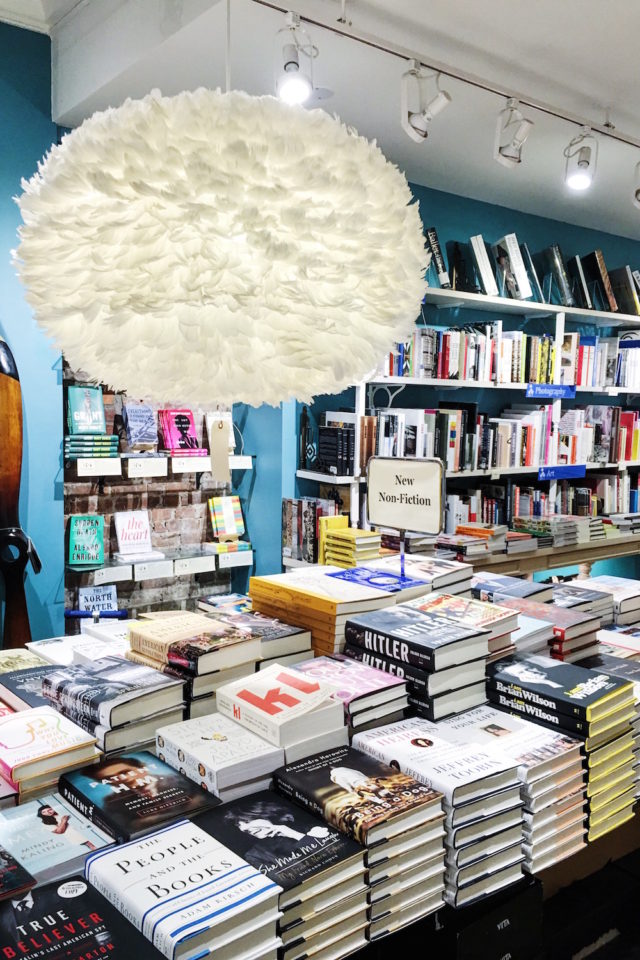 6:15 p.m.
I pop into Book Culture, looking for a new book for the weekend. I pick up Ruth Bader Ginsberg's new tome and Sisters In Law (a recommendation from the always knowledgeable associate), and daydream about seeing my own book for sale on the 'new nonfiction' table.
8:40 p.m.
After a delicious sushi dinner, we're home – and hear Rho vehemently protesting bedtime as my dad attempts to read him 'Dragons Love Tacos'. I go to his room, relieve my father, and sing Rho Adele's "Hello" and Fleetwood Mac's "Dreams" before laying him down in his crib.
10:55 p.m.
We have this grand dreams of watching 2-3 episodes of Mr. Robot or starting The Night Of on Friday nights, and we fail every time. After an episode of Mr. Robot, I peel myself off the couch and head to our room. I've already changed into pajamas and gotten ready for bed, so I climb in, my eyes closed before my head even hits the pillow.
—–
Let me take a minute and acknowledge my immense privilege here. I'm very lucky to be able to work for myself and schedule my days as I see fit. I'm also very lucky to have parents and in-laws who spend a LOT of time in our home and with us. And I'm very, very lucky to have my nanny, assistant, and a part-time housekeeper to help do the heavy lifting, so I can focus on work and growing my businesses.
The only reason I can 'do it all' is because I don't do it all (more about that here). I have a LOT of help, and thank my lucky stars everyday to have welcomed such amazing people in my life.
But what about the baby stuff, Hitha???
For the first year, look no further than my friend Annie's list.
Seriously – that's all you need. Truly.
When I was pregnant, I agonized over what stroller to buy. I had a secret Pinterest board, a link-heavy folder of bookmarked sites, and even a spreadsheet.
I went a little nuts.
My mother, being the voice of sanity and reason, finally said "You need to love the stroller. The baby will be fine in whatever you push him in."
She was also shocked at the price of the strollers I was looking at – Bugaboo, Uppababy, Mima.
After a visit to Giggle, I couldn't get the Bugaboo Cameleon3 out of my head. Given that this stroller would live in our hallway and be a part of our family for years, I wanted something that would be a delight (at least, not an eyesore) when I laid my eyes on it.
Almost two years later, I still love this stroller. Even though our original purchase (an end-of-year sale score from the aforementioned Giggle) has seen better days.
Toddler boys basically treat a stroller as a cafeteria and jungle gym.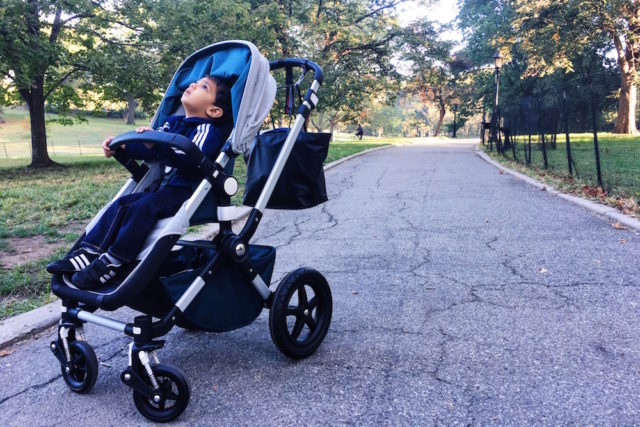 That said, I'm head-over-heels, madly obsessed in love with their latest model, the Bugaboo Cameleon3 Elements. My standard black-on-black has been upgraded with new colors (hello, ombré), super-soft materials, and inspired by natural elements like the sea, the wind, and the rocks.
Basically, what you don't see when living in NYC.
The stroller is gorgeous, with dip-dyed fabric elements in an azure blue m̩lange and kitten-soft herringbone texture, and the black faux-leather handlebar and carry handle. But the new harness (four individual snaps vs. two) keeps Rho tightly secured in his stroller and thwarting his Houdini-esque attempts. And like our original stroller, it rolls beautifully Рover sidewalk bumps, curbs, and larger-than-normal branches in the park.
And yes, it's expensive. But when I think about the miles we've logged in our stroller and that it's one of the few items we use every day, it's been a worthy investment.
In short, when it comes to baby stuff, keep it minimal and to the things you love. Parenting is hard. Selectively splurging on beautiful (and functional) products help make it easier.
I made a commitment to you that this won't turn into a mommy blog, and I plan to stick with it. This post is a rare exception, given that motherhood content (both about Rho and how I'm handling work and my family) was highly requested in this survey. Thank you for your continued support of Hitha On The Go, and of me personally.
xoxo HPN