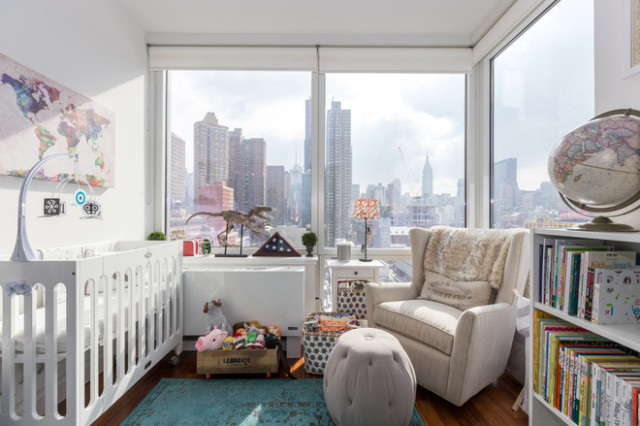 'Slug life' sums up the last few weeks of my pregnancy. I spent the majority of my time splayed in comfortable chairs, catching up on television shows and books, and clad in sweatpants and old t-shirts.
While the uniform remains the same, life is now a tizzy of feeding, diapering, soothing – and cleaning whenever I have a spare moment. And it's awesome. And exhausting.
Before Rho arrived, my last major project was prepping our home for an apartment tour with Curbed. I wanted to share the tour and elaborate on each 'geek-chic' room. First up – Rho's nursery.
Three factors dictated our nursery design:
1) It had to be gender neutral, without being yellow or green
2) It had to be practical and within our budget
3) We wanted the decor to fit within our apartment's aesthetic
We opted for white furniture to maintain an airy feel to the room, with pops of turquoise and orange to add color. Most of the furniture camed from IKEA's Hemnes and Billy lines, with drawer knobs from World Market. Topping the dresser (which Rho will be able to use for years) is the necessary changing station, flanked with a diaper pail. If you're looking for either, I highly recommend these ones as the pad wipes down easily (important for mid-change accidents) and the pail uses standard garbage bags. Amanda generously loaned me her Bloom Alma Mini crib, which saved on us purchasing a bassinet or a full-sized crib right away. We splurged on our glider and picked a fabric that matches our living room couch for future use. The Banksy monkey print was already in the room, and we rounded out the art with vintage maps I found upstate and a colorful world map print. All are pieces that we love and would enhance any room, either within this home or future ones. The same philosophy applied to the baskets and bin we purchased, which hold Rho's blankets, burp clothes & bibs, and stuffed animals. We filled the shelves with books and toys generously gifted from friends and family. Topping the shelves are cavernous 3 Spouts bins that hold Rho's plastic toys (not so cute, but necessary), baby carriers and slings, and diaper bag essentials.
Having spent the better part of 3 weeks in this room, I love it more now than I did before. Jury's out on Rho's opinion, but I'm going to assume he loves it as well.
How this room USED to look, and our living/dining room.
Photography by Max Touhey
– Bloom crib – DwellStudio glider – Safavieh ottoman – IKEA bookshelves, nightstand, and dresser with World Market knobs – RugsUSA rug – Manhattan Toy mobile – Serena & Lily toy chest and baskets – 3 Sprouts bins – Vintage maps in Amazon frames (similar) – Banksy Monkey Business print – Michael Tompsett watercolor map – Boon Fresh changing pad – Honest diaper caddy – Ubbi diaper pail – Hamper from Amazon – World Market lamp – Mercana dinosaur sculpture –