I find a lot of comfort and structure in routines, especially morning and night ones. How you start and end each day is directly correlated to how you live that day. I wanted to share mine to kick off A.M/P.M, a new series that features the morning and night routines of people who are winning at life.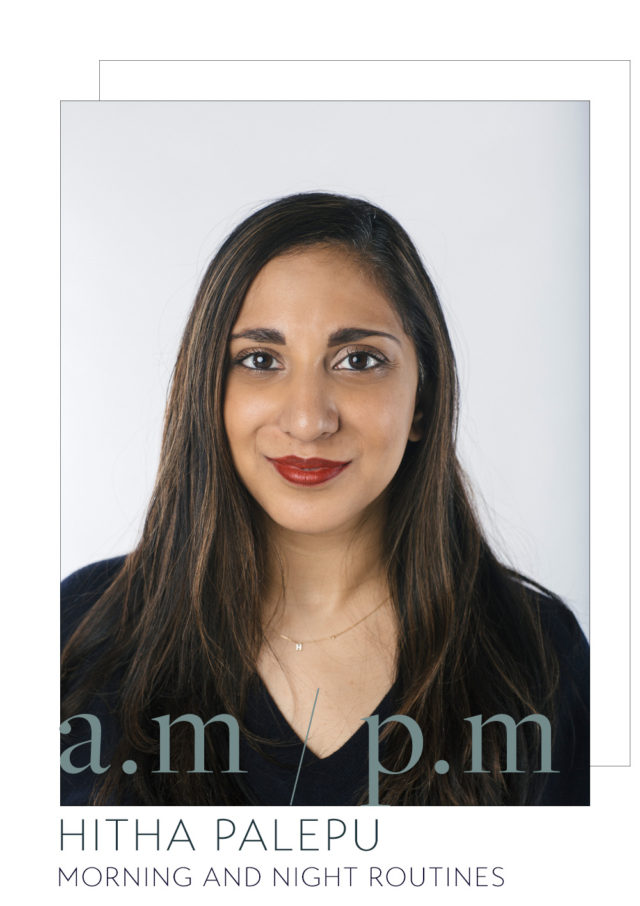 A.M
My alarm (Helios from the iPhone's bedtime mode) goes off at 6 A.M. I immediately groan, and kick off my covers. Feet on the ground. I get up and walk to dresser that faces my bed, turn off the alarm, and immediately head into the bathroom to brush my teeth and put in my contacts. I'm blind as a bat without them.
I return to the bedroom, and sit on the edge of my bed as I take my vitamins (presorted and ready in this case) and down the lemon water in my TumTum. I make the bed, and then head over to my reading chair for my morning routine.
I settle in and fill out the morning entry of the Five Minute Journal, trying to write answers that go beyond "I am grateful for coffee" and "I want to get a lot of writing done". My affirmation is always the same, thanks to one of Christine D'Ercole (one of my favorite Peloton instructors).
"I am…I can…I will…I do."
I close my journal, grab my iPad, and open the morning routine folder. I launch the Samsara app and settle into a quick meditation (5-7 minutes), meditating on the same affirmation I wrote in my journal. I either meditate on this affirmation or repeatedly count up to 10 – depends on the day.
Once I've meditated, I launch The Economist Espresso app to get a quick look at what's going on in the world. Bulgaria has a new president. Egypt's economy is in the toilet.
2017, you are just the year that keeps on giving.
With my mind finally awake, I exit that app and open Google Drive. I spent the next 20-30 minutes writing (usually a blog post draft, but sometimes a personal essay). I've found that writing something, beginning to end, primes my mind for a productive day better than any other habit. And if my day is derailed by an emergency or last-minute meeting, I still feel like I got work done.
After I finish writing, I quickly click over to my blog to ensure the day's post is live (and sometimes check Instagram too). I get up, slip on my Apple Watch, and go straight to the gym.
I jump straight into the day's workout – BBG on Mondays-Wednesdays-Fridays or a Peloton ride on Tuesdays-Thursdays-Saturdays.
Today's workout involved jump lunges and burpees today. My legs are jelly.
I head to the kitchen to top off my water glass and make a smoothie. As the first sip hits my lips, I hear a "Maaaaaa maaaaa! Daaaaaa DAAAAAAAAA!"
Rho's awake. And his da da is already in his room.
I finish my smoothie and water while making two lattes from our Nespresso machine. I hand Sri his coffee and grab Rho for a hug and kiss(es). We enjoy our morning for a few minutes. Peace.
Rho shimmies off his chair and plays while I (attempt to) read that day's Washington Post. Sri's off getting ready for work while I read the headlines aloud and skim the articles. I fold the paper closed and make us breakfast (scrambled eggs for him, a fried egg on sprouted bread with hummus for me). Some mornings, I have to resort to an episode of Sesame Street in order for him to eat. Today is one of those mornings.
Naleeni, our nanny, walks in the door. "Naaaaa naaaaaa!" squeals Rho, running towards her. She scoops him up and whisks him to his room to change his clothes and get him ready for the day. I do the same for myself.
P.M
It's 9 P.M. Rho's been asleep for an hour or so, the kitchen is clean, and Legos and toys no longer litter the living room floor. After watching a bit of TV (tonight was an old episode of Star Trek: Voyager while responding to e-mails), it's time to start getting ready for bed.
I refill my tumbler with 30 ounces of water (plus juice of half a lemon squeezed in) and head to our room. I close out all the browser windows and apps on my phone and plug it in to charge – airplane mode, unmuted, and bedtime mode enabled. I return to my reading chair to complete my night entry of the Five Minute Journal, trying to recall memories beyond "strong workout" or "reading and snuggles with Rho" to write down. Tonight, I can't think of any.
I brush and floss my teeth, wash my face (first with this oil, followed by this cleanser) and apply a mixture of serums, creams, and moisturizers. Today I'm feeling dry, so I apply both the Goop face oil and Glossier Super Bounce before topping it off with this Bliss gel. I take out a workout outfit for the next day and lay it on top of the dresser, and head into the bedroom.
I climb into bed (having changed into my pajamas hours ago) and grab my Kindle. I'm about a quarter through My Lady Jane, and can't get enough of the hilarious prose and the clever alternate history of Jane Grey.
"Da da daaaa" chimes my phone. I turn off the Kindle, slip off my glasses and slip on my eye mask, and settle on my left side. Deep breath in, hold, deep breath out…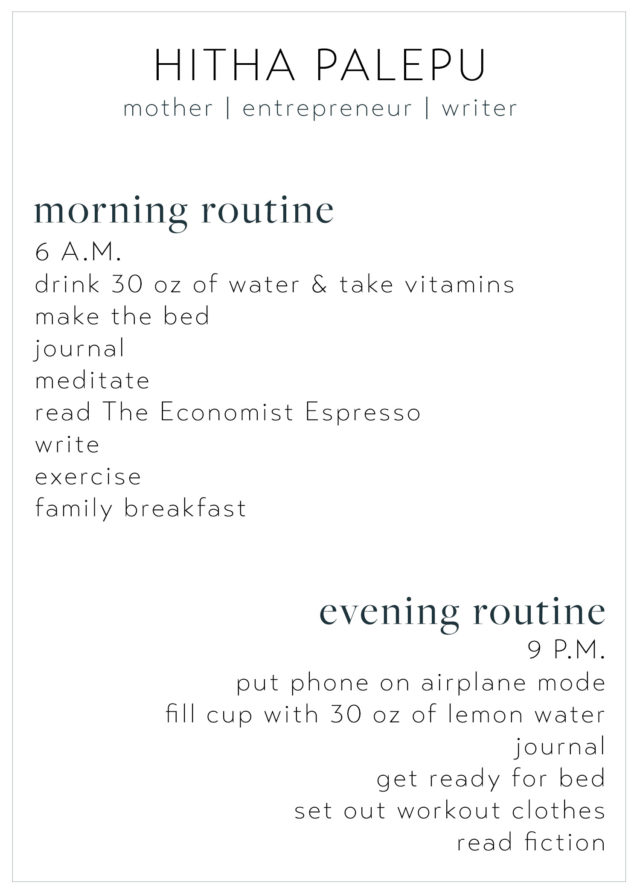 Who would you like to see profiled in A.M/P.M? COMMENT below and let me know!
P.S. – my morning routine a year ago, how I keep up with the news and established my meditation practice, and a day in my life.
A.M / P.M ESSENTIALS
Vitamin case – TumTum tumbler – reading chair - Five Minute Journal – Samsara – The Economist Espresso – Kayla Itsines' BBG – Peloton cycle – Nespresso machine & steamer – Daily Harvest smoothies – Vitamix blender - Washington Post – One Love Organics cleansing oil – Neocutis cleanser – Goop face oil – Glossier serums – Bliss gel cream – Kindle Voyage – Perpetual Shade sleep mask

thumbnail image via