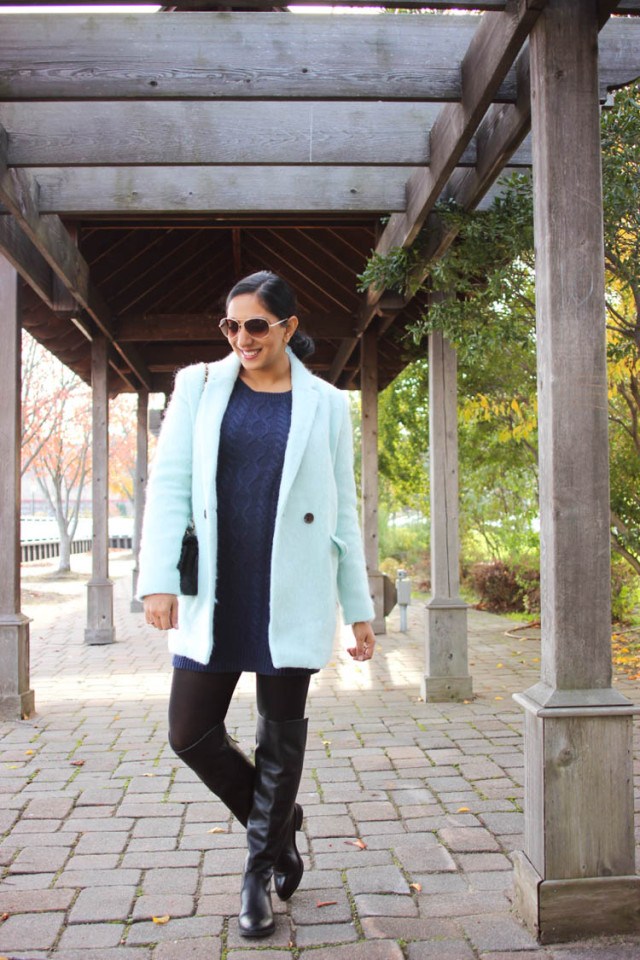 – Old Navy coat and dress (30% off with EARLYBIRD) – Sole Society boots c/o – Chanel bag –
– Marc Jacobs sunglasses – Alanna Bess earrings –
– Loren Hope bracelet and cuff c/o – Gemvara ring –
There's only one rule I follow when it comes to packing and dressing for Thanksgiving – comfort is key.
That doesn't give you the license to show up to a nice meal in your sweats. Or, in my case, an Eagles shirt (#flyeaglesfly) and jeans.
This outfit has been on heavy repeat since the weather cooled down for its stylish comfort. The dress and coat are absolute STEALS from Old Navy, and over-the-knee boots make every outfit instantly cool. The whole look is bump friendly – whether it's a baby or turkey. Or both. I don't judge.
Also, jewelry. Because I'm my mother's daughter and can't leave the house without several pieces of sparkly baubles.
A little #traveltip for you – travel with boots that have a back or side zipper, as they're easier to remove during a security screening. Attempting to remove and put on pull-on boots is something for the brave, the unapologetic, or the balanced. Of which I am none of those three.
For more maternity style posts, click here
Photography by Hallie Wilson