This post was one of my most popular on the blog, and I'm terribly tardy on a follow-up.  Better late than never, right?
Wedding season is upon us – I flew home Sunday from attending one in Dallas (coincidentally, so did Grace!), and have one this month, and several more over the course of the year. Â A consequence of being at that age, I suppose.
Because they're so short and oftentimes filled with activities (especially if you're a member of the wedding party), random essentials often are left behind at home. Â Because I love you all so much, I have your back with my top 12 essentials to pack for a wedding weekend.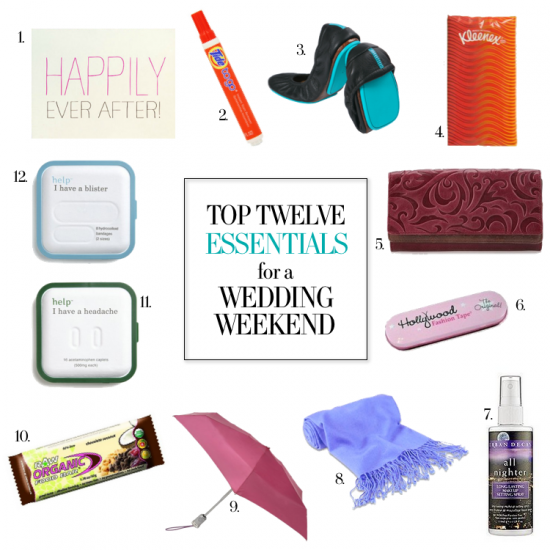 1. Â A sweet card for the happy couple. Â I like to purchase them in bulk on Etsy at the beginning of each year.
2. Â Stain remover sticks are necessary, particularly when you love red wine and shaking your thing on the dance floor.
3. Â My Tieks were the MVP of the weekend. Â Not only are they immensely comfortable and fold up into a small packet, they also come with a collapsible bag for your heels. Â (Bonus – they also make for great travel shoes!)
4. Â Between allergies and heart-wrenchingly sweet toasts, tissues are a must-have.
5. Â If your idea of giving a wedding gift is writing a check, make sure you have one on hand with this checkbook wallet.
6. Â These tape strips work double duty for mending clothes and ensuring your outfits stay in the "appropriate range"
7. Â Want your makeup to last all day and night? Â Never travel without this travel-sized setting spray.
8. Â A pashmina are necessary for cool evenings, aggressive air conditioning, and for chilly flights home.
9. Â Never, ever, unpack a travel-sized umbrella – you never know when it'll come in handy. Â (Also, replace it immediately if you lose it. Â We keep 3 backups at home).
10. Â A lifesaver for early morning ceremonies, late night munchies after a reception, or for your perpetually starving husband. Â These protein bars are organic, all-natural, and ridiculously tasty.
11. Â Take 2 of these pills, along with lots of water and a food bar as soon as you return from the reception to keep hangovers at bay.
12. Â The absolute best bandages for painful blisters. Â Dance on!
Talk to me – what do you always pack for a wedding weekend? Â How many weddings are you attending this year – and what is your record for most weddings attended in a year? Â I have 5 confirmed weddings that we're attending, but our record for most weddings in a year was 10. Â 11, if you count our own. Â