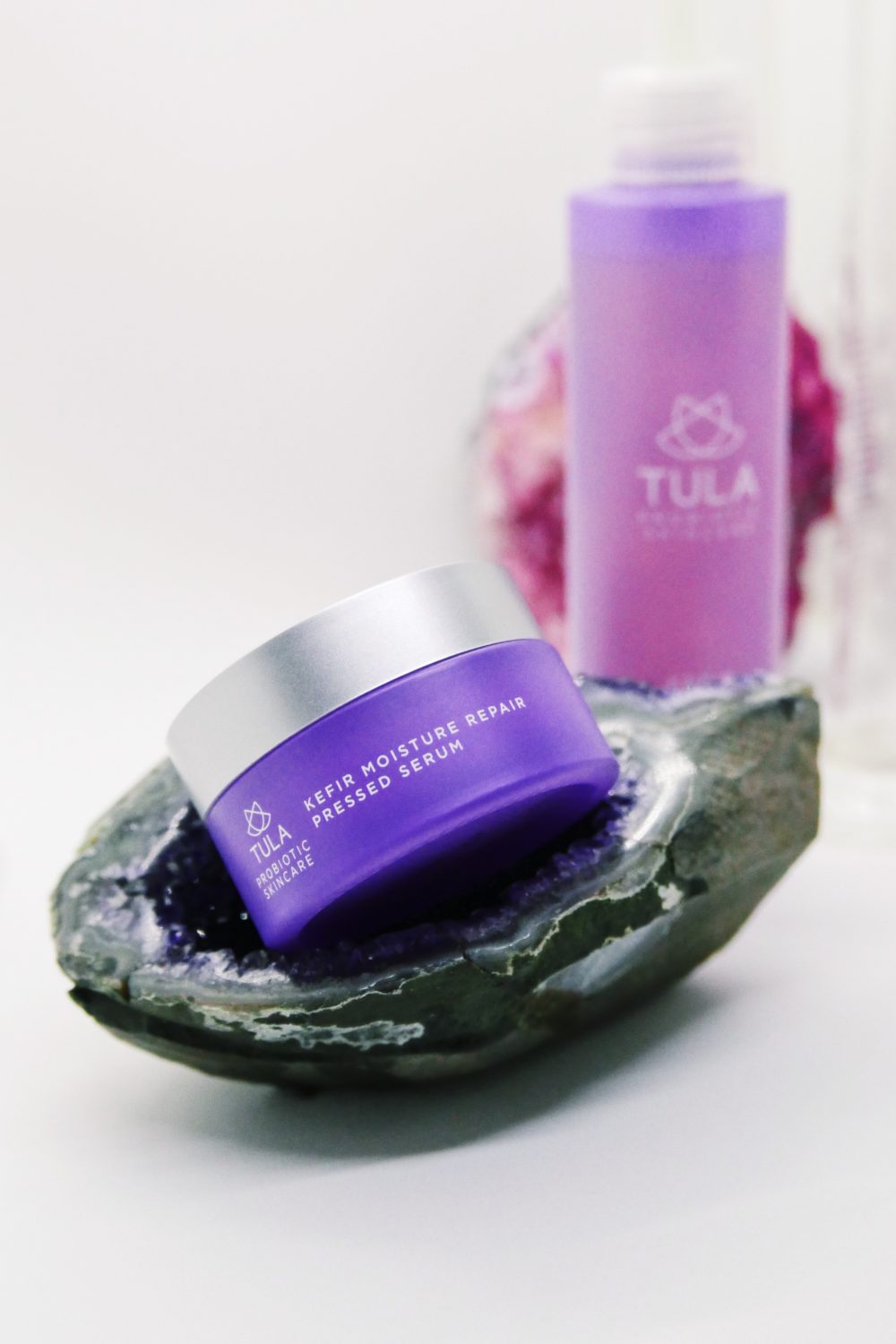 Cashmere socks. Via rides. TULA's Kefir line.
These have been my saviors this winter.
Warm footwear and inexpensive (shared) rides are obvious, but kefir skincare is not.
What's Kefir?
Kefir (and yogurt) is a fermented milk product. The difference between the two are the type of probiotics in them, and the amount of probiotics in each serving.
Both are great for you. But kefir definitely has an edge over yogurt, delivering up to 20 types of probiotic bacteria and yeast and 40 billion probiotic organisms per serving.
Yogurt? It delivers up to 5 types of probiotics, and only 1 billion organisms per serving.
Kefir's benefits over yogurt aren't limited to your gut. They also translate to your skin – in a big way.
What Does Probiotic Skincare Actually Do?
Much like your gut, your skin has gram positive bacteria and yeast living on it. A healthy skin biome means the resident bacteria fights against harmful organisms or bacteria, maintains skin barrier function, and even affects your immune system. If anything should adversely affect the biome (changes in pH, hydration among other factors), it'll literally show up on your face.
Acne, anyone?
Topical probiotics have demonstrated a significant improvement in skin function. TULA's main probiotic strain, bifida ferment lysate, has clinically demonstrated a decrease in skin sensitivity and increased resistance. The most obvious benefit was a decrease in skin dryness. The root cause is fascinating – the probiotic reduces neuron activity and accessibility by inhibiting CGRP (calcitonin-gene-related peptide), a neurotransmitter which is also believed to cause migraines.
Sounds pretty incredible. But compared to kefir, it's minor.
TULA's kefir complex contains lactobacillus and lactococcus, two actives that easily convert carbohydrates into lactic acid. Lactic acid is one of the most powerful alpha hydroxy acids on the market, which break apart the adherens junctions that hold the dead skin cells together. While lactic acid is already one of the more gentle AHAs, using your own body (with the help of these actives) to create lactic acid makes it even more tolerable for your skin.
And that's just two of the five kefir actives in TULA's line.
Kluyveromyces, one of the other kefir bacteria, activates SIRT1. This enzyme interacts with XPA (xeroderma pigmentosum group A), which is responsible for repairing the nucleotide excision in UV-irritated cells.
TL;DR – kluyveromyces helps repair UV-damaged skin cells.
Leuconostoc has natural antimicrobial benefits, and clinical trials show saccharomyces increases skin moisture and microrelief, with long-term benefits.
Exfoliation. Skin cell repair. Anti-microbial benefits. Increased hydration.
Name another product that can do all that.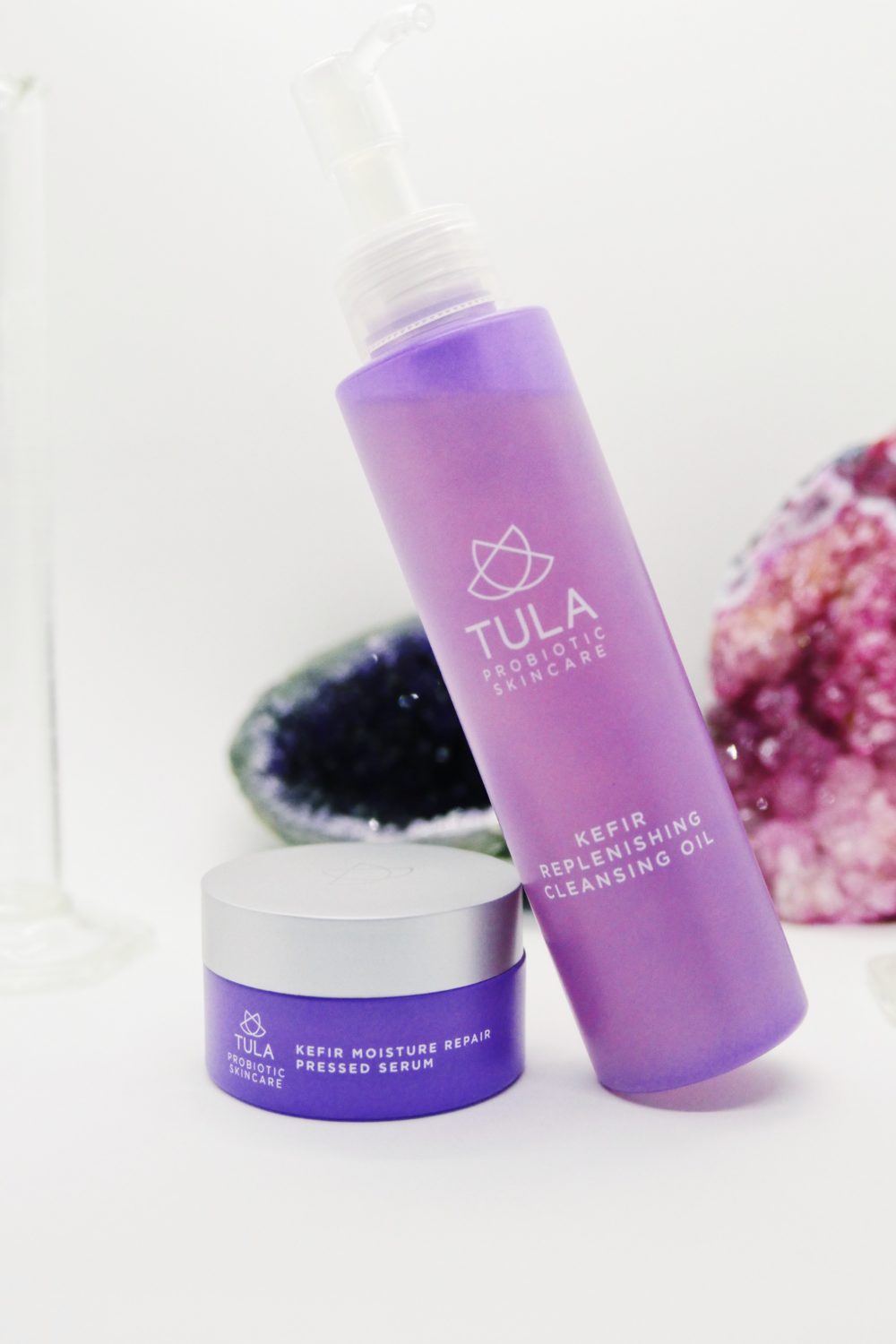 I love this cleansing oil. It's lighter than my other favorite cleansing oil, and gently removes makeup and dirt from your face without stripping it of its natural oils. I use it every night (after my micellar water, before a gel or exfoliating cleanser), and spend a solid minute or two massaging it into my skin (with extra attention paid to my blackhead-prone areas).
I've noticed an overall improvement in my skin texture and a reduction in my blackhead sizes. The oil from the cleanser binds to the oil making up my blackheads. The second cleanse helps wash away the blackheads more efficiently than a cleanser or chemical exfoliation alone. I've tried a number of oil cleansers (this one and this one), but the TULA kefir oil is by far my favorite – and the most effective, for my skin type.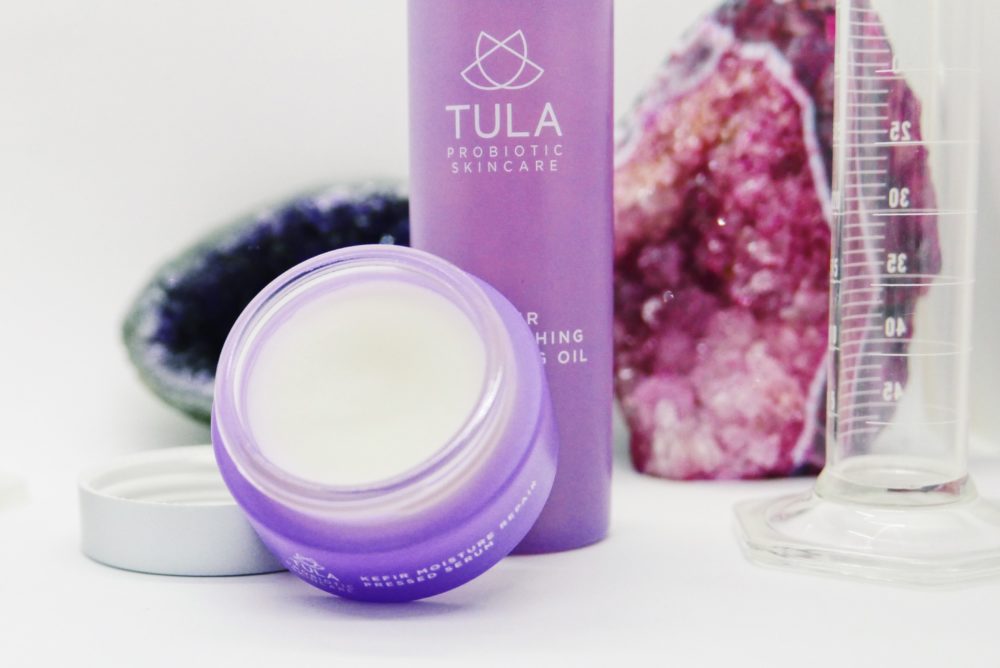 This is one of those holy grail skincare products.
Hydrating, but not greasy. Deeply nourishing. Very lightly fragrant (and a lovely one, at that). And it works.
I scoop a small amount of the pressed oil every night (after cleansing) and melt it in my hands. I lightly tap it into my skin, paying special attention to blackhead prone areas and any dry spots. I typically follow it up with another serum, face cream, and the all-essential eye cream.
My skin feels much more hydrated, even with the cold weather and dry air of the heaters. My skin also feels stronger – it's more resilient to the weather, and I've noticed fewer blemishes. The few I do get seem to heal faster.
Short of permanently affixing a Snapchat filter on my face, my skin has never looked better.
Kefir. I'm telling you – it works.
Other key elements in my skincare routine – these black washcloths (no more makeup stains!), this headband (keep that hair dry), and this roller (supposedly to aid absorption, but I just think it feels nice). Some of my other TULA favorites are this face cream, this mask, and their oral probiotics (I love that it's just one daily pill).
SHOP MY TULA FAVORITES