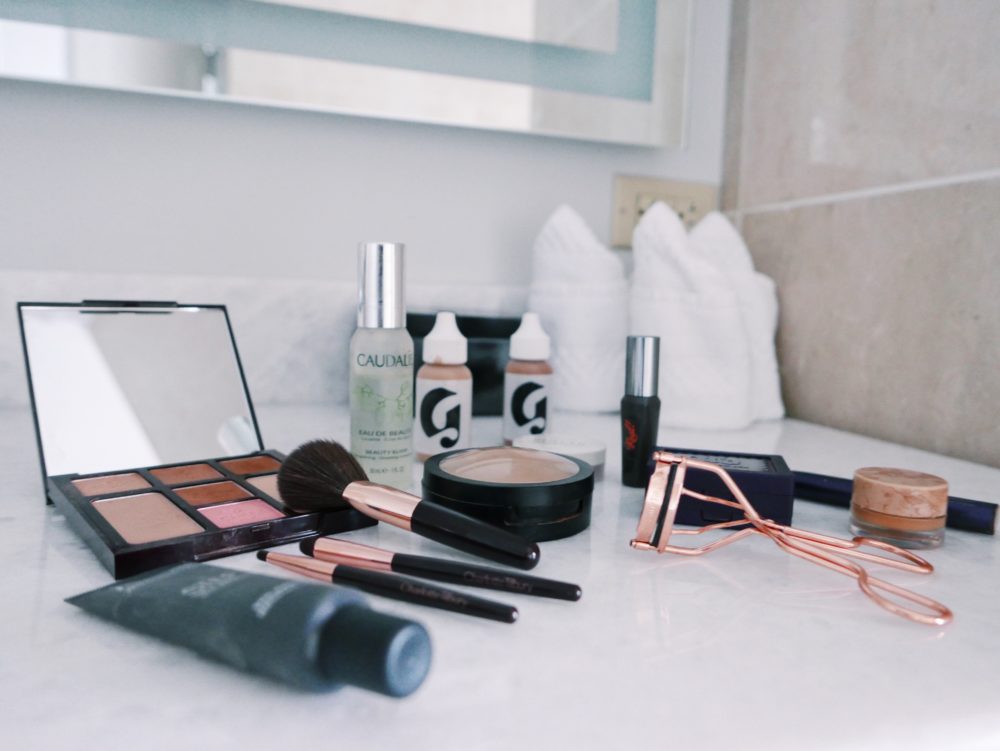 When it comes to applying my makeup, I'm a simpleton.
As in, I keep it simple. And I'm physically incapable of complicated techniques.
My daily routine is basic. I even out my skin with concealer and tinted moisturizer. Attempt to give myself cheekbones. Play up my eyes. Fill in my brows. Forget to apply lipstick.
Bonus points if I remember to apply said lipstick. It makes me feel like a new woman.
There's a comfort in routines, and a comfort in certain looks. A day can't begin without a quick meditation and making my bed (even when I'm in a hotel!), and I find solace in looking in the mirror and seeing me wherever I go.
The 'distinguished' nose. The wide eyes. The moles in the shape of Cassiopia on my left cheek.
Makeup has the power to transform, but I prefer seeing myself. With properly filled in brows and my dark circles camouflaged.
In an effort to streamline my packing even more, I've kept this makeup bag stocked and ready to pack. Whether I'm headed to Newport for the weekend or need to do my makeup in a Lyft, I've got everything I need to look presentable and feel my best.
And if I'm being honest, the latter happens a lot. Like, all the time.
I digress. Here's what I always have packed in my travel makeup bag.
Lip balm. I need lip balm. I dab it on and examine my face.
I was ambivalent about primer – until a makeup artist at Sephora pressed this one in my hands when I told her about my 'shiny face syndrome.'
"This will fix all that. Trust me."
She was right. It creates the perfect matte canvas, and prevents a sweat-stache from ever happening in the first place. I'll spritz my face with the Caudalie elixir, and smooth the Makeup Forever primer on my face. While it sinks in, I mix Glossier's Perfecting Skin Tint (10 drops of dark, 5 drops of deep) to get my exact shade. I spray my face again with Caudalie and apply the tint with my fingers, starting on my cheeks and moving to my forehead, nose, and chin. If I need more coverage, I'll cut a foundation (Laura Geller's Baked Liquid Radiance Foundation in sand) with 3-5 drops of the Glossier's skin tint in deep and mix. The tints are my secret weapon in matching my foundation or tinted moisturizer perfectly.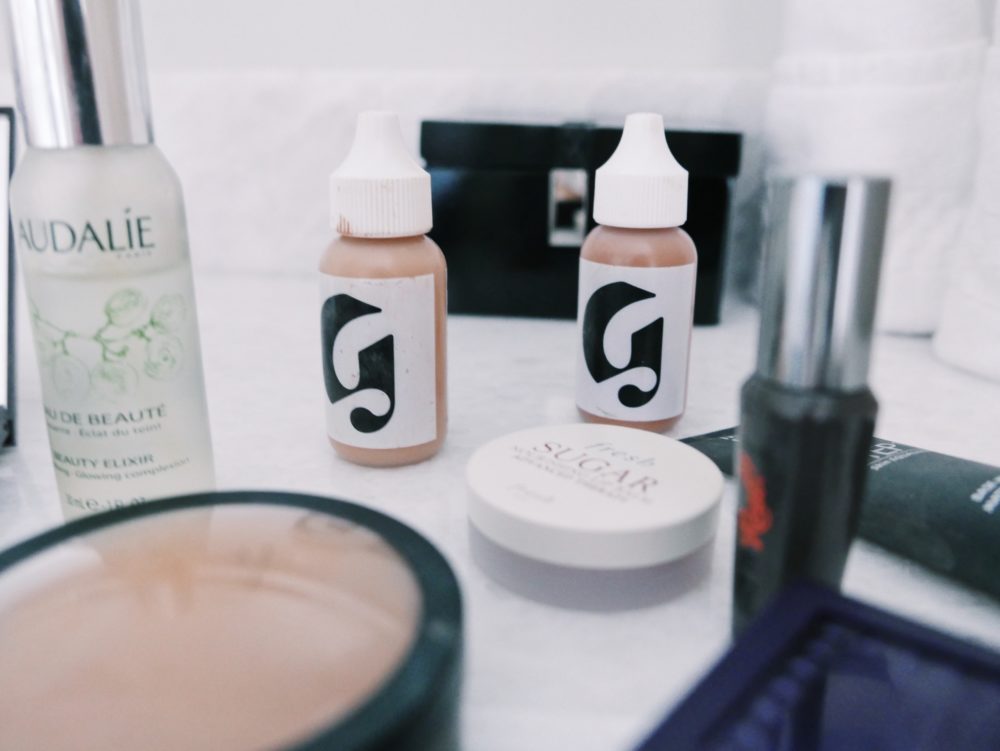 Another spray of Caudalie, and concealer. I dab on Laura Geller's concealer under my eyes, and dot my blemishes and scars with Tarte's Amazonian Clay concealer. I blend the concealer in with a damp Beauty Blender until I look like I've drank a gallon of water and slept 12 hours.
I wish.
Using the powder brush from the Charlotte Tilbury set, I dust my forehead, nose, and chin with powder. Another spritz of Caudalie, because Kavita Kaul did this for a video shoot and my makeup has never looked better. I dust on the bronzer and illuminator from the Charlotte Tilbury palette, which is the only contouring product that I've been able to master.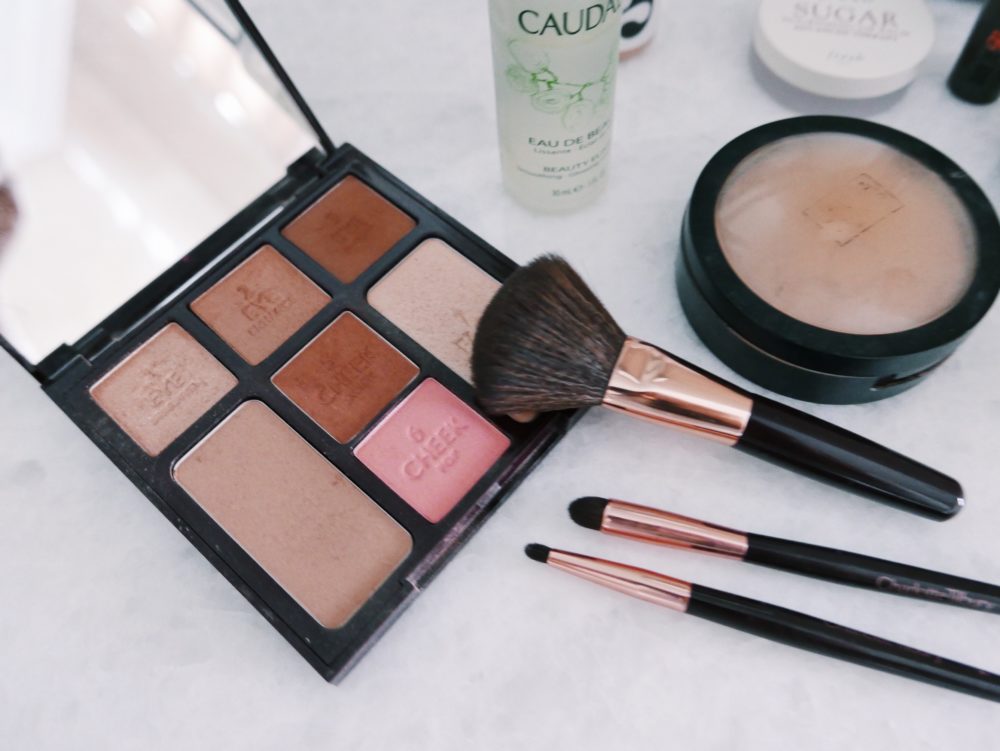 Urban Decay's Brow Box has been a beauty gamechanger for me. I groom my brows with the gel, and fill in the sparse areas with the darker powder. I thicken the ends of my brows with the lighter powder, and tweeze any stray hairs.
Brooke Shields, I am not, but it's close.
I curl my eyelashes with the Charlotte Tilbury curler, and apply Benefit's They're Real on my upper lashes, starting from my lash line and wiggling upwards. Applying mascara this way gives my eyes the illusion that I'm wearing eyeliner – but without wearing it. Win.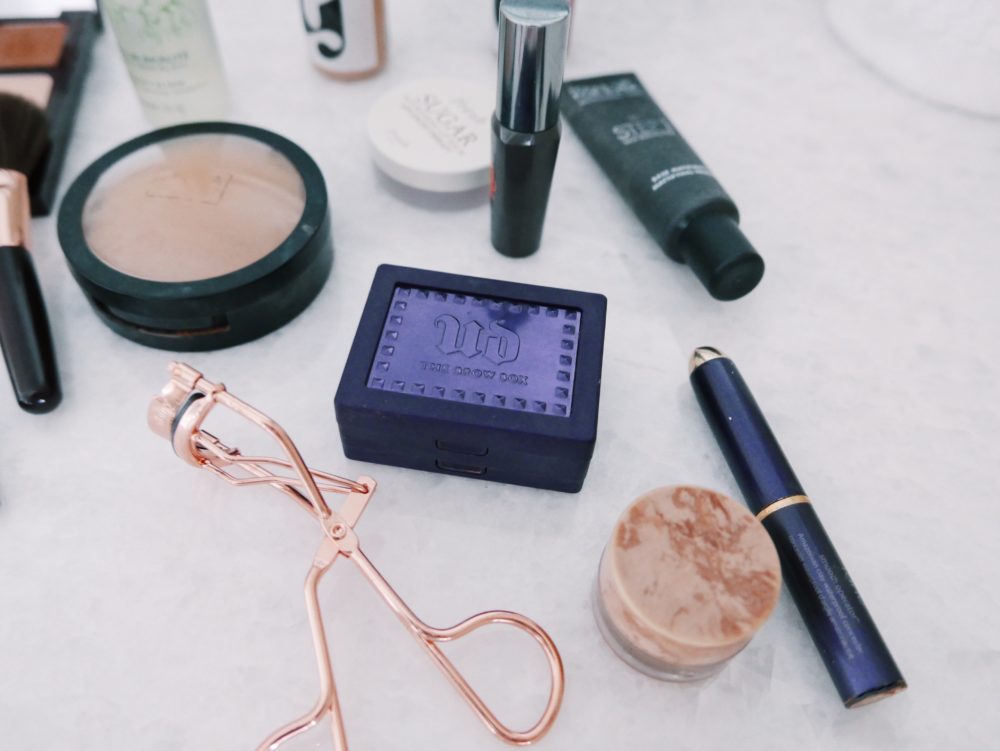 If I remember (and I often don't), I'll swipe on a bit of lipstick. Urban Decay Vice in Moshpit is a matte berry that I can wear with everything.
I take one more look in the mirror, and blend the inevitable creases that my concealer forms right under my eyes.
Spritz. Wash hands. Done.
What are the beauty products you always have on hand? COMMENT below and let me know!