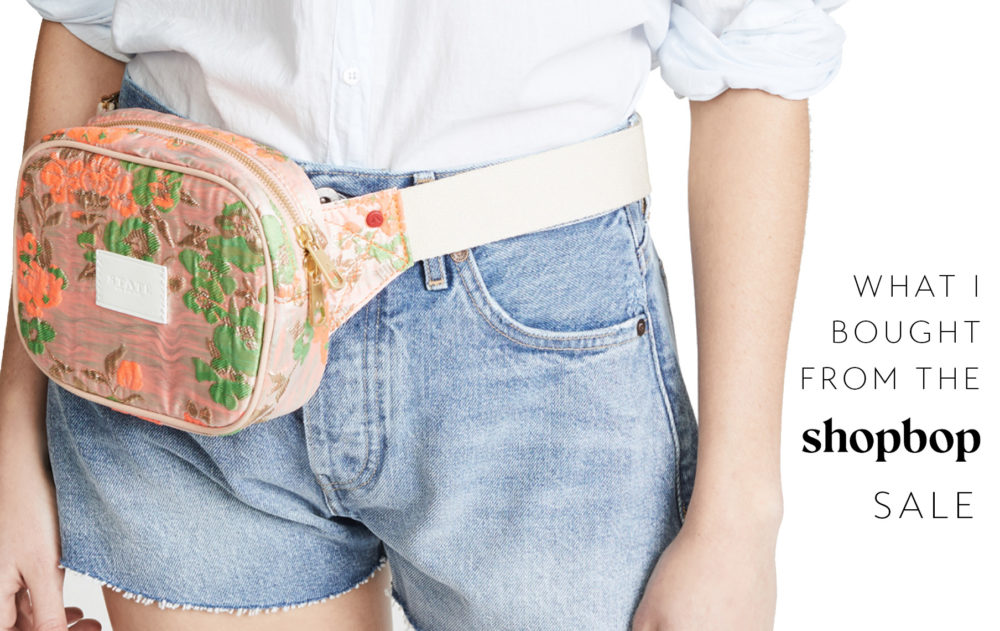 I can't resist it. You can't resist it.
So let's make this brief and I'm going to share the things I bought from the Shopbop sale, in all their glory.
Presented without comment. It's still cold and mama needs some tights. Jury's out on this, still.
I've had my eye on this collaboration since it launched, and finally bit the bullet with this long t-shirt. I'm especially excited to pair it with this jacket and skirt in the warmer months.
I love my blue light reflecting glasses, but I forget them at home all the time. I bought this pair to keep in my work bag at all times.
I am so here for the fanny pack. And this brocade one from STATE is all kinds of perfect for spring and to jazz up my otherwise basic outfits. Bonus – one backpack, filled with essentials and school supplies, is donated to a kid in need for every STATE bag purchased.
With a few trips on deck (San Francisco, Tulum, and Los Angeles), it was time to upgrade my travel notebook. This one from Smythson is perfect (and fits perfectly inside the aforementioned belt bag).
Delicate, wear-them-all-the-time pieces are my jewelry MO lately. I never take off my thin wedding band or this necklace, and I have a feeling that these earrings are going to join that collection.
Not too big, not too small – this coin necklace is just right. I've been eyeing it for months, and finally bit the bullet.
My friend Merritt swears by these earrings, and they've been on my 'to buy' list for a while now. I love how simple and classic they are, and Kenneth Jay Lane's quality is stellar.
I've been itching for a slip dress, and this one is perfect. The color is bold, and I plan to wear it all spring and summer – with a black oversized turtleneck and boots, with a leather jacket worn on top, and even with the following purchase.
I think this is the perfect layering piece for this low-cut sweater, for oversized Oxfords, and even for the aforementioned slip dress I just bought. Alina, I blame you for this purchase. You make me want everything Anine makes, starting with this bralette.
Other things I've bought and loved from the Shopbop sale – my liquids bag for travel, a petite work bag (that holds everything – see it here), the best ballet flats, and my favorite skinny black pants. Get up to 25% off with the code GOBIG18