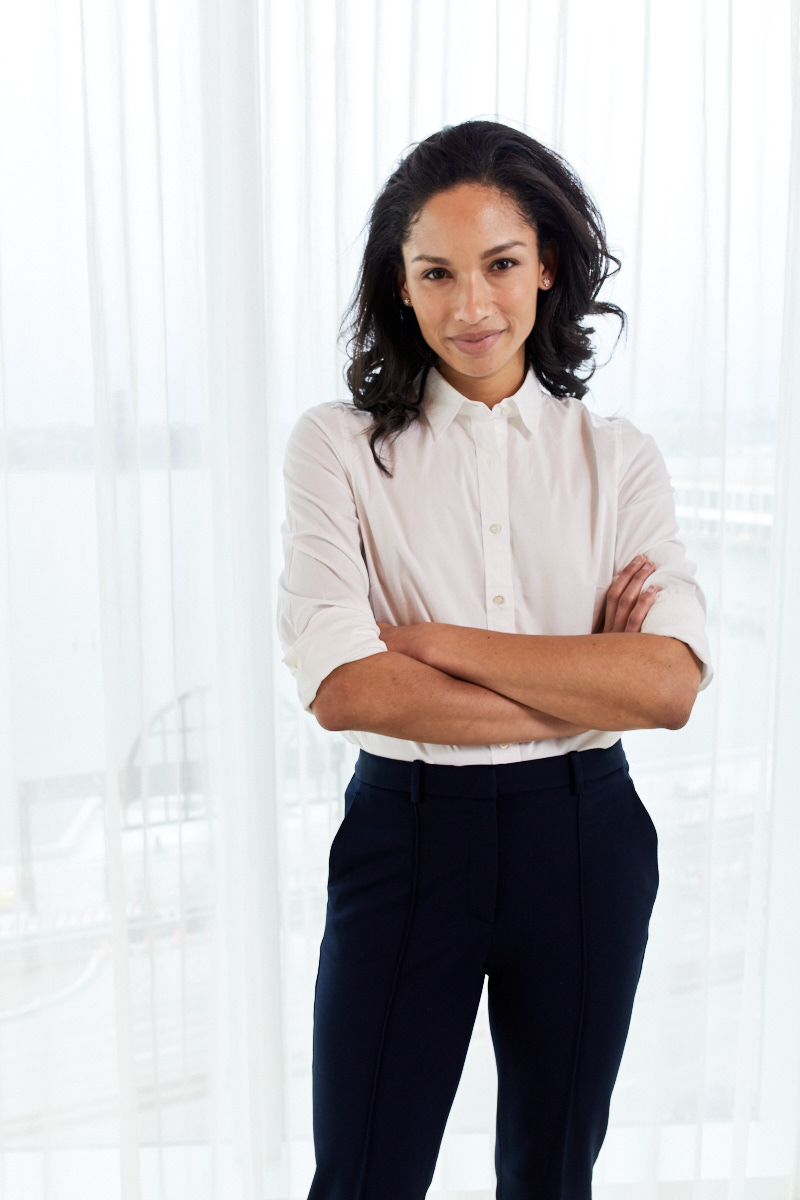 Rebecca Allen is the entrepreneur behind The New Pump, a nude pump for every skin tone. While working in the finance industry, she was frustrated by the lack of shoe options for women of color. She developed the timeless design to help every woman walk into the office with confidence. These are her morning and evening routines. 
a.m.
I wake up between 6:30 and 7 a.m. in the morning, and while I don't actually hit snooze, sometimes I take a couple moments before actually rising. I always think, "why can't I be more of a morning person?" Once I do get up, I'll check emails and usually let my cat, Montell, into the bedroom for a brief morning snuggle.
Breakfast takes about 30 minutes of my morning, making stovetop espresso in my Bialetti Italian Percolator and eggs, Early Bird Granola, and yogurt or oats. I'll skim the New York Times on my phone and mark stories to read later.
Then I shower and get ready, listening to Reuters on my Amazon Alexa in the bathroom. Keeping essential oils to mist in the shower makes a quick, steamy shower feel like a little escape. I try to be very disciplined about showering and getting ready first thing. Since I work from home a fair amount, it's easy to just start working a realize that it's the afternoon and I am in my pajamas and haven't brushed my hair…or teeth.  My closet is very edited, so I don't have a ton of options, but I'll pick out my outfit the day before if I have an important meeting.
I keep my beauty routines simple, easy, and all-natural. My favorites include RMS, True Botanicals,  and my friend Tara Foley's line, Follain. After a recent bout of crazy acne, I'm trying out True Botanicals' acne line. I very much believe in using natural deodorant and like Schmidt's Stick Deodorant. Light makeup takes four minutes or less. For hair, I get a blow out from Drybar or Amika once a week and try to get through the rest of the week without washing it. Their terry-cloth lined shower caps protect my hair from moisture in the shower and I like Oribe Dry Texturing Spray as dry shampoo.
My commute is about 25 minutes when I work out of The Wing Soho location. I might take a Via if I have a morning meeting or hop on the subway, depending on the time differential. Almost every morning I listen to The Daily with Michael Barbaro of the New York Times, saving RadioLab, This American Life, and 2 Dope Queens for the evenings.
There is no typical day, especially right now as I am getting ready to launch my initial offering. Most days start with emails, making sure I've gotten back on anything outstanding or done the outreach that I've intended to do.
I'm at the mercy of a lot of people's schedules so I try to be as strategic as possible. If I have a meeting in midtown I'll park myself at a nearby coffee shop rather than go to The Wing Soho. It saves me an extra commute.
The Trello phone app is great, I don't have to be sitting in front of my computer to make sure that social content is lined up. Tracking of my networking, spheres of influence, prospective investors and brand identity happen in Google Docs. Generally, I block everything out on my calendar so that I know how I will be spending my time and can stay focused. I like Boomerang for sending emails at specific times and tracking responses. Dropbox is great for storage and sharing files, and I use Upwork to hire freelances for anything I need.
p.m.
Around 8pm I try to be done with everything as long as I don't have any evening events to attend. I may watch an episode of something, but I try to catch up with my husband and have IRL face time with him. Someone has to feed the cat.
Before bed, I'll take off my makeup with a 100% cotton washcloth and use all-natural beauty products like in the morning. Eberjay and Gap pajamas are my favorites to wear, especially Gap's long sleepshirt. On my bedside table I keep a glass of water, a Post-It pad and pen for middle-of-the-night ideas and a cuticle moisturizing pen.
I try to get to bed by 10:30pm so that I can read a little before lights out. I read on my Kindle as well as physical books. Right now, I'm finishing the Orphan Master's Son by Adam Johnson on my Kindle and a physical copy of Setting the Table by Danny Meyer.
Most days I try to get to sleep by 11pm, but it's often 11:30. Before I close my eyes, I make sure my alarm is set for the next day.
You can check out Rabecca Allen's New Pumps here and be sure to follow Rebecca Allen on Facebook and Instagram. For more morning/evening routine inspiration, click here.