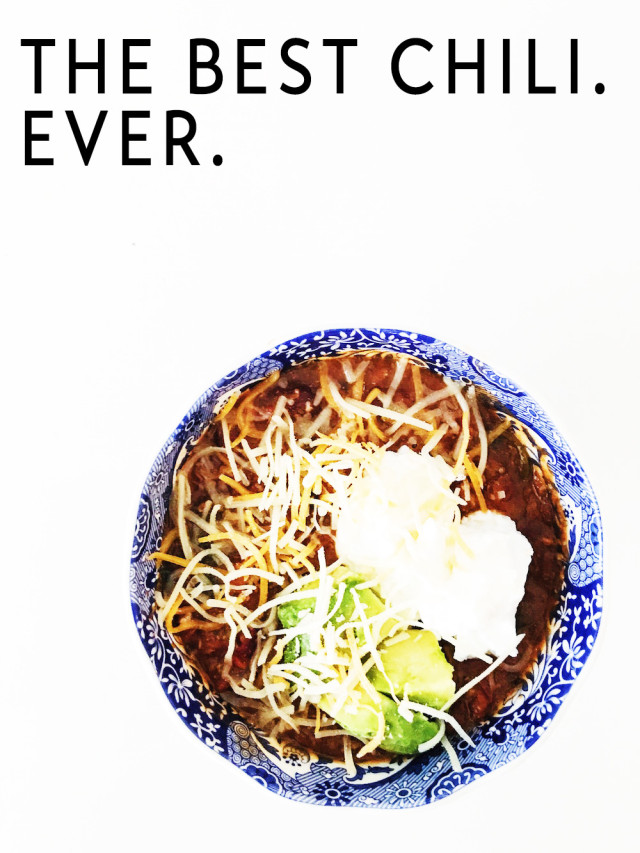 Everyone's got a chili recipe they swear is the best.
Mine really is.
A bold claim, yes. But after sharing it with friends for the past 10 years, I thought it was time to share it with the wider world.
I don't prepare the meat in a specific way, or scientifically measure out my spices. Instead, it's a single, somewhat unexpected ingredient that gives my chili a depth and heartiness that has everyone reaching for seconds. And thirds.
Why am I finally sharing the recipe? Because I finally had time to shoot a pretty picture of it. Chili, while delicious, is one of the most ugly dishes to photograph. Ever.
Make a giant batch of it. You won't be sorry.
Secret Ingredient Chili
serves 6 as an appetizer, 4 as an entree
Ingredients
1 small onion, diced
4 cloves of garlic, minced
2 jalapeños, sliced (leave seeded if you like it spicy)
1 lb of ground meat of your choice (I prefer turkey)
1 can of beans, rinsed (both black and pinto work great)
1 can of refried beans << the secret ingredient!
1 28 oz can of crushed tomatoes
1 container of fresh spinach
Salt & pepper, to taste
1 teaspoon of cinnamon
1 tablespoon of chili powder
1 teaspoon of cayenne and paprika each (add more if you like it spicy)
1 tablespoon of cumin
3 tablespoons of olive oil
Juice of 1 lemon
Optional: sour cream, shredded cheddar cheese, avocado, cilantro
Directions
1) Heat up olive oil over medium heat in a heavy bottomed pot. Add onion, garlic, and jalapeños and cook until fragrant
2)Â Add meat to the pot and cook until browned
3) Add refried beans and cook until the mixture is softened
4) Bring heat to low. Add beans, tomatoes, and spices. Simmer for 45 minutes to an hour
5) 10 minutes before serving, add the spinach and lemon juice.
6) Serve with optional garnishes. Enjoy!
For a slow cooker – follow step 1, and add all the ingredients (except for spinach and lemon juice) to the cooker and cook over low for 6 hours or high for 3 hours. Add spinach and lemon juice 10 minutes before serving.
What's the secret to your favorite chili recipe? COMMENT below and share the tasty knowledge with everyone.