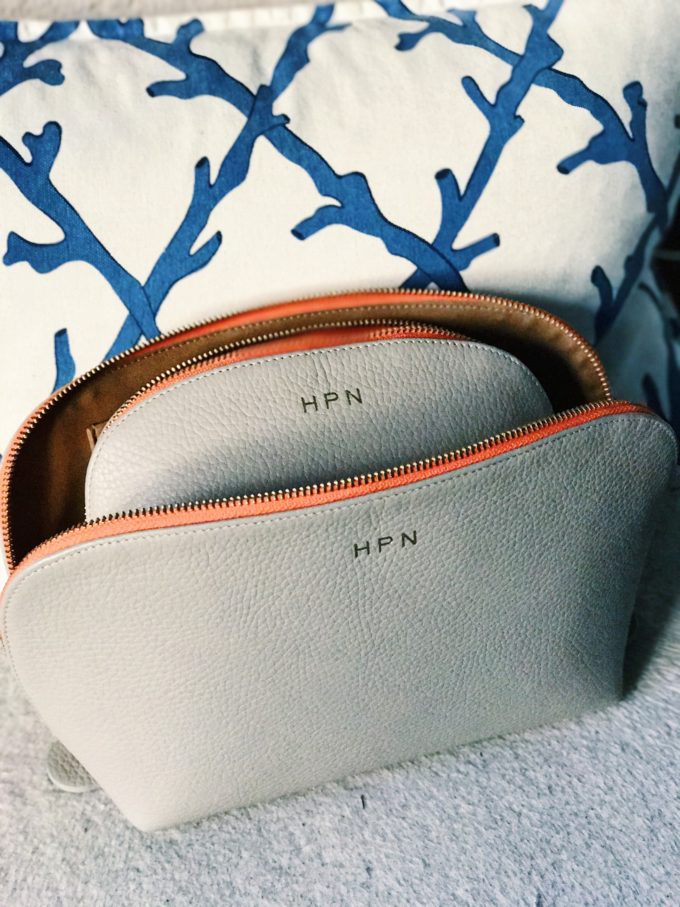 The Cuyana travel set is my most-used packing tool – for myself, for Rho's things, every day.
They hold a lot more than they appear, and their thin design makes it easy to slip in thinner bags. They're easy to clean. The quality is fantastic, from the durable pebbled leather to the strong metal zippers.
And they're *beautiful*. Which is important – when you're running around all day, grabbing a beautiful bag makes the day a little more enjoyable. Even if you're grabbing hand sanitizer after being stuck in a crowded subway car.
Here's how I pack my Cuyana travel set – for every day and travel, and for Rho. It's perfect for the entire family – truly.
SMALL POUCH – ON-THE-GO ESSENTIALS
Pouch – OLIKA Birdie – By Terry Baume de Rose – Yogi Kava Stress Relief Tea – Whish Deodorant Wipe – Lipstick Queen 'Hello Sailor' – iCloth Cleansing Cloths – Drybar hairbrush – Tata Harper Aromatic Stress Treatment – Kiehl's Ultimate Strength Hand Salve – Charlotte Tilbury Airbrush Powder – It Cosmetics Powder Brush
Whether it's boarding a flight or riding the subway, I rely on the same essentials to look and feel fresh. There's the necessary hand sanitizer (the Birdie from OLIKA) and hand cream, extra sanitizing wipes for my devices, and a deodorant wipe to freshen on the go. I also keep a small hairbrush, powder, and lipstick for touch-ups – which happen a lot more with the warmer weather. By Terry's Baume de Rose is the best lip balm ever, and this little post lasts forever. I also keep a Tata Harper aromatherapy rollerball and my favorite tea bags. I get stressed and overwhelmed. These help.
LARGE POUCH – CHARGERS Â & ELECTRONICS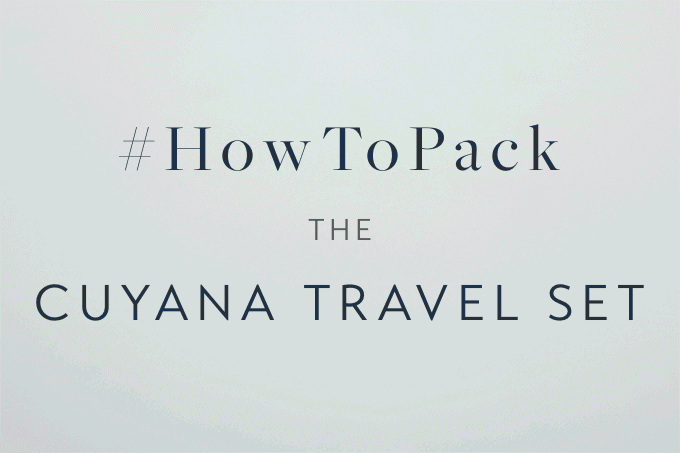 Pouch – Kindle – Apple Watch charger – Apple Lightening cable – micro-USB cable – multi-USB wall charger – AKG noise-cancelling headphones – Apple ear buds – MacBook charger – Mophie – iTassel – Lightening/micro-USB/USB cable
Like my essentials pouch, this electronics pouch is permanently packed with everything I need – whether it's for a weeklong business trip or a long day running around the city. Chargers for my laptop and other devices (along with this multiple USB wall charger) are always packed. Thanks to the iPhone 7 (sarcasm), I keep a pair of Apple earbuds along with my noise-cancelling headphones. Equally excessive (but sometimes necessary) are my external chargers. I always have my Mophie and my iTassel charged and ready for use, along with this small Apple/micro-USB/USB cord that can charge my gadgets as well as the chargers. And my Kindle goes anywhere I go – whether it's for the day or for a month.
SMALL POUCH – KID'S ENTERTAINMENT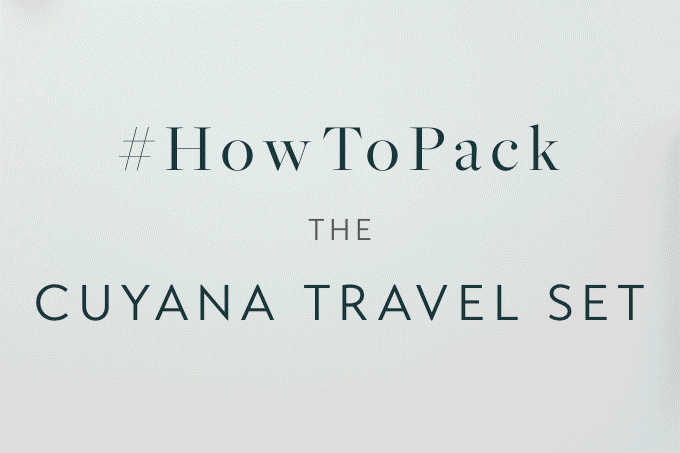 Pouch – Fire truck – Toy car – Ambulance – Crayons – Notebook
A small bag of toys, for Rho, is as essential as a sippy cup or diapers. They settle a tantrum, occupy him in a restaurant, or just bring a smile to his face when he's grumpy. Trucks and cars are a new interest, and we keep a few vehicles from this set and from his Easter Eggs (um, genius) tucked inside the small Cuyana pouch. His obsession with crayons (or "mines!", as he calls them) Â is going strong, and holding a crayon in each hand brings a giant smile to his face. I keep a small notebook tucked next to them to keep his creations off the wall and on the paper.
LARGE POUCH – DIAPER ESSENTIALS
Pouch – Diapers – Wipes (these are my favorite) – Disposable changing pads
My obsession with pre-packing definitely extends to how I pack for Rho. We have two diaper bags, each with its own stash of diapers, wipes, and changing pads. One set is housed in this Anya Hindmarch baby essentials pouch, and the second is in my large Cuyana pouch. New York City bathrooms are infamously small, and being able to grab Rho and this pouch makes it easier to maneuver and change him when we're out and about. Tip – I wrap the dirty diaper and used wipes inside the changing pad and throw it away to absorb odors and mess. Once Rho is potty-trained, I'll repurpose this pouch for extra snacks or more toys.
Do you own the Cuyana travel kit? How do you pack yours? COMMENT below and let me know!
SHOP THE POST