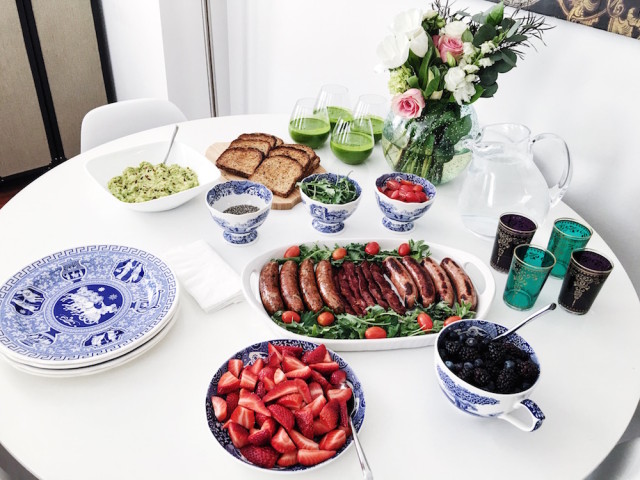 We don't get out much on the weekends anymore.
We go out – to the park, for walks, and for necessary coffee runs. But the whole get-dressed-up-go-out-to-eat thing? Nope. If given the chance, we'd much rather chill at home in sweats with a great Pandora playlist and playing on the floor with Rho.
With the clichéd coffee (or wine) in hand.
We've started to invite friends over to join in the fun, whether it be for an early dinner (with the kids), appetizers and drinks (with Rho sleeping peacefully and his noise machine cranked up to high).
The best kinds of get-togethers? Brunch.
It's easy to throw together (this menu especially). Coming over in pajamas or sweats can (and should!) be encouraged.
Also – mimosas.
We had our friends Sonia and Viv over on Sunday, and served up an an avocado toast bar, a platter of protein, and some green smoothies to start the day on the right foot. They brought the fruit and the open arms to entertain Rho as we finished setting up. Thanks guys!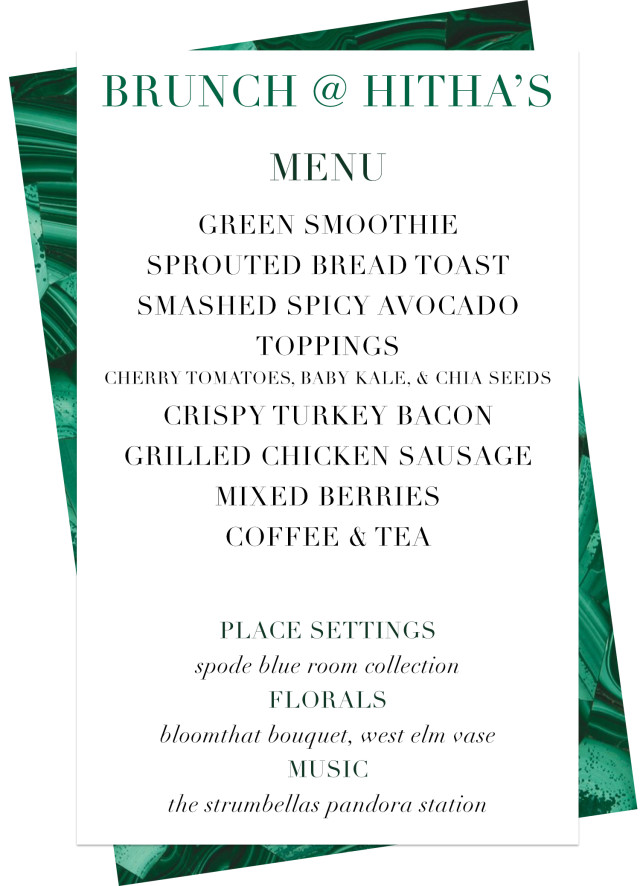 GREEN SMOOTHIES
Ingredients
1 container of baby spinach, washed
2 cups of water
1 honeycrisp apple, chopped
Juice of 1 lemon
1 inch piece of ginger, peeled and chopped
3 tablespoons of coconut oil
Handful of ice
Directions
Blend the spinach and water on high for 3-5 minutes
Add all remaining ingredients, and blend on high for 1-2 minutes
Pour smoothie into glasses and place in fridge until you're ready to serve
SMASHED SPICY AVOCADO
Ingredients
3 ripe avocados
Juice of 1 lemon
Salt & pepper, to taste
1 teaspoon of cumin
1 teaspoon of cayenne
1 tablespoon of red chili flakes

Directions
Roughly smash the avocado until it's slightly chunky
Add the lemon juice and spices, and mix together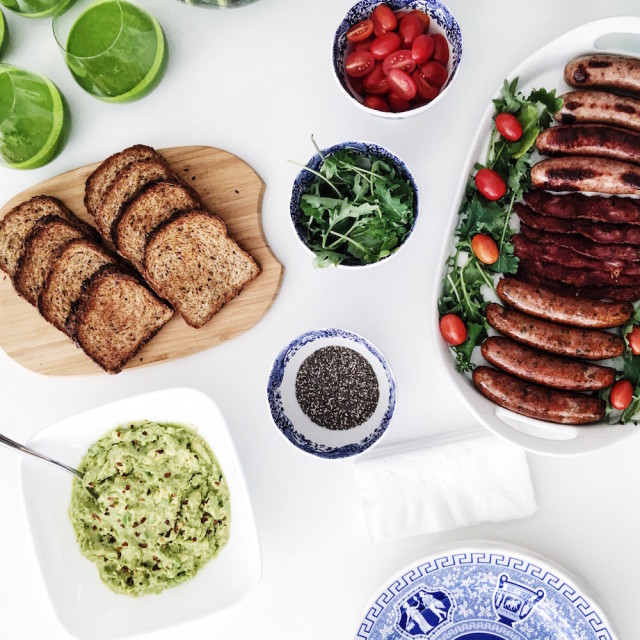 This brunch also gave me the chance to break in some new kitchen goodies – this clean white bowl and beautiful platter, which were gifted by World Kitchen at my friend Amanda's event. I also broke out our 'fancy' dishes (Spode's Blue Room plates, bowls, and jumbo cup and saucer). A BloomThat bouquet and Moroccan tea glasses for water added some more color to the table.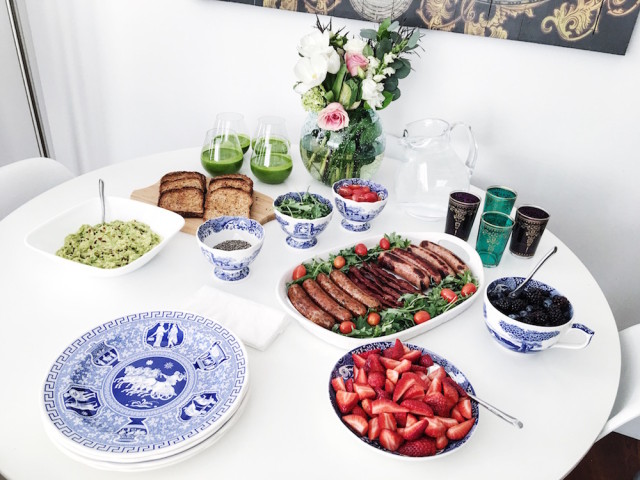 It was an ideal afternoon – relaxed, chill, and delicious. And one I highly encourage you to replicate for yourself.
Did you like this post? Want to see more? COMMENT below and let me know!
SHOP THE TABLE

malachite pattern via.