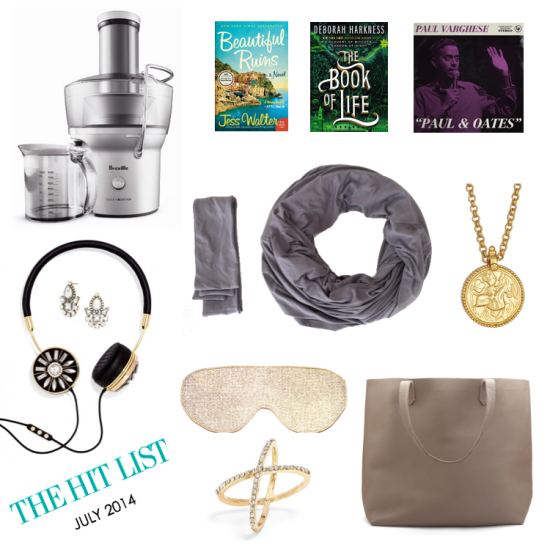 Should we call this the grey and gold edition of The Hit List?  Because…it is.
I can't believe we have a week and a half left of this month!  As usual, time is going by way too fast.  However, I couldn't be more excited for August  – it's a relatively relaxing month (famous last words) and brings us one month closer to AUTUMN.
I digress.  Back to this month, and my favorite things from it.
I wore out this Sole Society tote after some heavy duty use during vacation, so I splurged on Cuyana's full leather version.  Best decision.  The leather is gorgeous, the tote is roomy, and the bag can withstand my heavy duty abuse.  Another vacation item that spilled over into day-to-day life is my Chrysalis cardigan from encircled – I wore it nonstop in Scandinavia, and have been throwing it on at home when I have those "I should get dressed but I don't know what to wear" moments.  Which are often.  I can't-stop-won't-stop wearing my blinged out BaubleBar x Frends headphones – the sound quality is outstanding, and the extra sparkle just makes me happy.  I love that the headphones come with a plain gold cap as well, in case you'd want to swap them out (which I do, depending on my mood).  BaubleBar also killed it with its collection with Grace of Stripes and Sequins.  Instagram shows that I wore this necklace all the time, but I also love this delicate Crystal Mason ring from the collection.  I've been eyeing this Julie Vos necklace for a while, and I'm so glad I finally pulled the trigger on it.  It's simple, but adds just a little extra something to an outfit in a season where I'd like to be wearing as little to nothing as possible.
On the non-fashion front, I'm having a love affair with my juicer.  After spending far too much money on bottled juices, I finally took the plunge and purchased this compact model that pulverizes any vegetable or fruit I could want.  Best part – it was $100 and most of the parts are machine washable.  (Sidebar – let me know if you'd like me to share some recipes I've found or made up on the juice front).  I've been sleeping so much better with the help of this Perpetual Shade silk eyemask.  I've tried nearly every eyemask on the market, so believe me when I tell you that this one is THE BEST.  Period.  Finito.  I use it every night, and sleep like a baby.  Paul Varghese is a new-to-me comedian that my cousin recommended, and I've been literally laughing out loud (in public, no less) to his album.  Embarrassing AND entertaining for me – a combination you don't see every day.  I've been eagerly waiting for the release of The Book Of Life since I finished the first two books of the All Souls Trilogy in January, and the last book does. not. disappoint.  If you haven't picked up that trilogy yet, I highly recommend it. #bookcrack at its finest.  Beautiful Ruins is our book club's latest choice.  While it took a few chapters for me to get into it, I ended up being sad when the book was finished because it was just so beautiful.
What are some of your favorite discoveries or items this month?  COMMENT below and let me know!