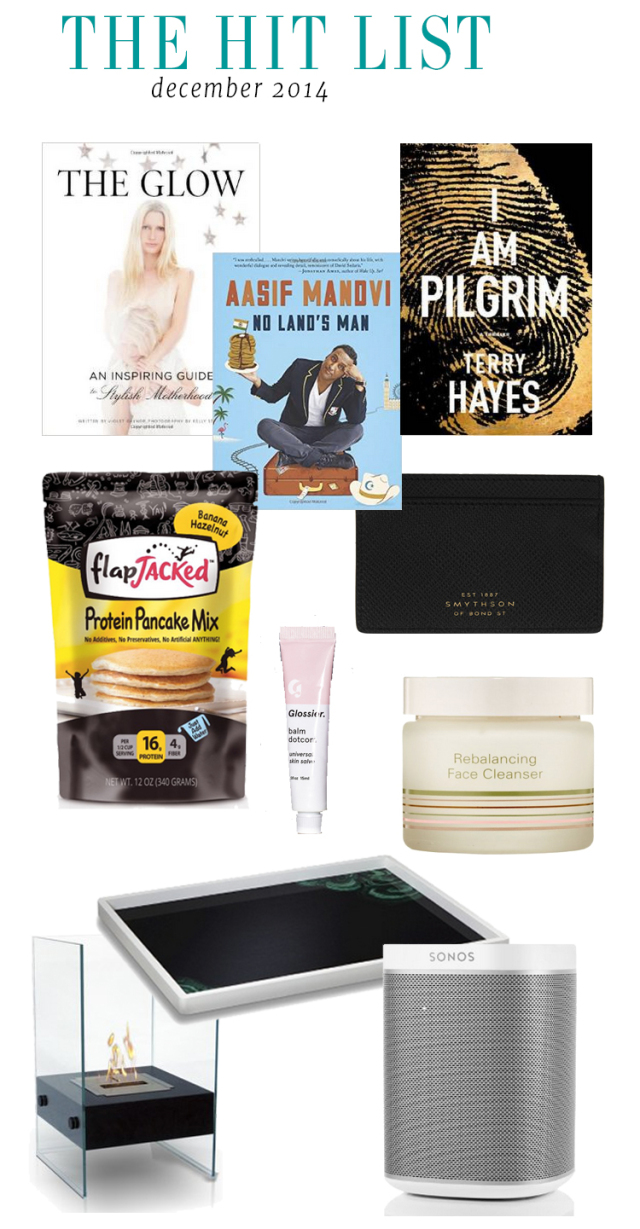 Well, that year flew by. As did that very last month.
I'll spare you the "new year! big changes! new outlook on life!" pleasantries. To be honest, no one needs to mark life changes by with a new number on the calendar. If you want change, change. And please spare us all and don't talk about it until it's a done deal.
With that Yoda-ism out of the way, let's move onto the good stuff – my favorite things from December.
Many of you have asked about the little fireplace that's been a frequent appearance on my Instagram feed. It's the Hudson fireplace from Anywhere Fireplace, and it may be the best thing I purchased for the apartment in all of 2014. Coming in at a close second is the SONOS speakers we purchased (a joint anniversary gift). The sound quality is superb, and I love how easy it is to set up and manage via the iOS app. The downside? My husband can ambush my ears with bitchy, whiny rock (i.e. Nickleback – *shudder*) from the other room whenever he feels like torturing me. This malachite tray neatly corrals our remotes and candles while adding a touch of glamour to our coffee table. It's also a steal, at $15. Two new beauty discoveries (that are now permanent fixtures in my routine) are the Glossier balm (stays on your lips overnight AND treats over-Kleenexed noses) and the BASQ rebalancing facial cleanser (exfoliates, removes makeup, leaves your skin SO fresh in one step).  My streamlining efforts have spilled into my wardrobe, having gotten rid of a significant chunk of it over the holidays. I've been paring my on-the-go essentials and ditched the wallet for this Smythson card case. Just enough room for my essential cards and some cash – no room for any extraneous clutter. Any day that begins with pancakes is bound to be a good one – and these protein pancakes are virtuous enough to help you adhere to any healthy eating resolutions. They also couldn't be simpler to make – just add water and cook. Rounding out my monthly picks are three books I was obsessed with. I Am Pilgrim washed away all the negative feelings I had about the Homeland finale. The book brings together murder, geopolitics, terrorism, biological warfare, and far-flung destinations in a truly addictive read. 600+ pages has never felt so short. An excellent (and necessary) mental palate cleanser after that novel is No Land's Man, Aasif Mandvi's truly enjoyable book of essays. A quick read that will have you (literally) laugh out loud while reflecting on timely issues like race, career, and brunch. Yes, brunch. I received The Glow as a Christmas gift and loved the combination of beautiful photography with tangible advice on pregnancy and motherhood. It'd make for an excellent gift for any mother-to-be in your life (or, if you're expecting, a perfect gift for yourself).
Your turn to share – what random discoveries did you make last month that you're still obsessed with now? COMMENT below and let me know!