If you can manage to ignore the shouting and pettiness between the leading presidential candidates, you may have noticed that the embedded reporters for these candidates are young, amazing women who are pushing the envelope. Kasie Hunt is one of these women. In addition to being a fellow Philadelphia native, she's been following the Sanders campaign for the past 8 months while looking flawless on camera, whether she's reporting from Des Moines or Washington D.C. In honor of today's BIG primary contests, I'm thrilled to be bringing you a very special edition of En Route With.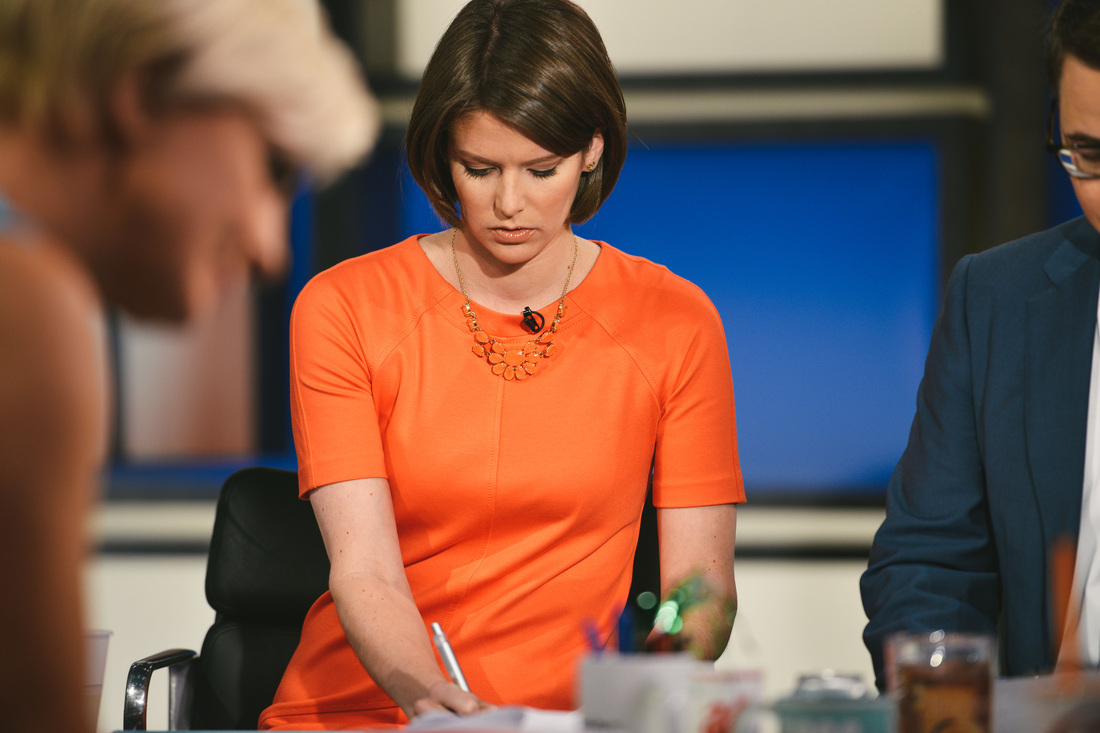 Kasie Hunt
MSNBC Political Correspondent
I am definitely, without question, an overpacker. Every time, I try to minimize…and every time I either end up missing something that I left out or simply adding more at the last minute. I travel with a large rolling suitcase (Tumi, because it needs to stand up to a lot of abuse!), a rolling laptop bag and purse. And I definitely check a bag! I don't pack in a set order — but I keep everything I need to be ready to go on TV (outfit, hairbrush, etc!) in my carry-on luggage. Because I travel so much, my suitcase basically stays packed all the time…when I'm at home I just switch out a handful of things.
I get to the airport an hour in advance to have time to check a bag. As for lines — I fly so much I can usually breeze through (yay Delta Sky Priority) and I swear by TSA PreCheck — I don't know how I would survive without it. I'm quick through security, except when the tracking microphone I keep in my carry-on gets flagged as suspicious. Once I'm through security, I usually stop for a newspaper and peanut M&Ms — or if it happens to be a flight home, I hit the bar.
On the plane, if I'm not working, I sleep! I swear by Bose noise canceling headphones and old-fashioned ear plugs, and I almost always get a window seat. My snacks err on the sweet side - Biscoff, or peanut M&Ms. My favorite drinks are water, or when I'm heading home, red wine!
My travel essentials are:
Scarf – the purple one you see me wear often is Missoni, which I scored off The Outnet (my favorite discount designer site)
Flat shoes -Â Nike sneakers if I can get away with them! Otherwise, I actually often wear cowboy boots, because they work in a zillion different campaign settings. Only problem, they make airport metal detectors beep so you can't leave them on in the PreCheck line
Light jacket, usually my leather one from Set. It's a German brand, and I love it because it's super soft and lined inside with cotton so it feels like wearing a t-shirt.
iPad stocked with bad TV shows
iPhone stocked with more bad TV shows
Updated Spotify playlist
Chargers and extra batteries
Change of clothes
Sunglasses
Work essentials: tracking mic, earpieces, makeup
Follow Kasie on Twitter and Instagram. Catch her on Morning Joe and on other MSNBC programs. And get to know her better by listening to her interview on Oh Boy.
first image via, remaining images courtesy of Kasie Hunt
SHOP KASIE'S TRAVEL ESSENTIALS: