It's been a long time since I've written an introduction to an En Route With post. Then again, this isn't a typical ERW feature.
I'm very lucky to have gotten to know Erin and her incredible organization, Sundara. Her nonprofit collects soaps from luxury hotels, thoroughly cleans them, and distributes them to villages while providing comprehensive hygeine education. Sundara was one of the first organizations to join Bridge2Act's database (B2A is the startup I've been working on over the past year). It was only fitting to not only share Erin's story here, but use this feature as an opportunity to share the goal of B2A – making charitable giving easy, fast, and informed. A $5 donation to Sundara provides packaging materials for over 200 bars of soap. If you feel compelled by Erin's story, please consider making a donation (powered by Bridge2Act) here.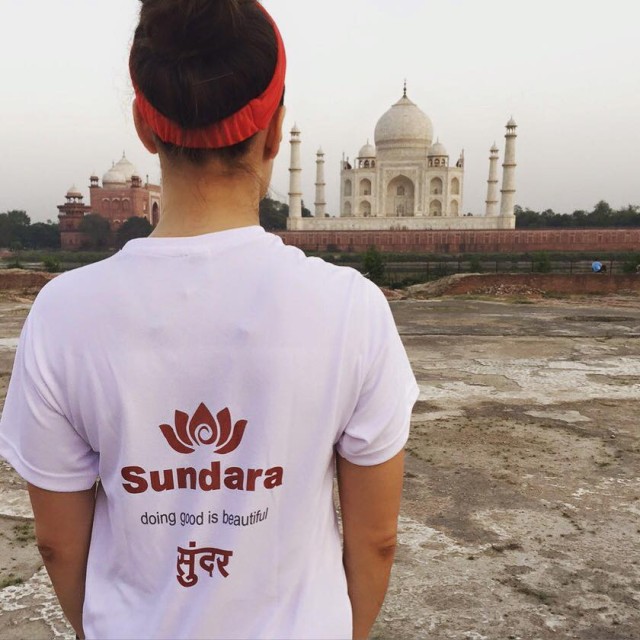 Erin Zaikis
Founder, Sundara
Have you ever worn the same shirt for 6 days? It's not a good look, but that's what I did when a certain airline lost my checked bag on a recent trip to Mumbai (I'm looking at you KLM). I was wearing the same green v-neck t shirt in 95 degree monsoon weather and you can bet no one wanted to be near me. My clothes, computer and phone charger, presentations, snacks, basically EVERYTHING was in that one bloody suitcase…oh the misery and frustration…and this concludes my epic lesson to only take what I can carry (on).
I have a trusty
bright pink wheeled carry on
that my grandmother gave me several years ago and it's become my one and only travel companion. Part duffel, part roller, very lightweight – you can't beat it. It's so darn easy to get your luggage mixed up with someone else's when everyone's carrying that same Tumi case. Get luggage that sticks out – the brighter, the better!
When it comes to packing I save it all until the day (ok, let's be honest: the night) before. I'm a major procrastinator in all aspects of my life and packing is no exception. What's in my bag? Anything that doesn't need ironing and can be spilled on. So that means lots of yoga pants, black leggings, jean jackets, a windbreaker and some comfy t-shirts. Oh and socks! Lots of socks. I have this odd fear of having the bottom of my feet be dirty so if I'm staying in a yucky hotel I'll never go to bed barefoot. I also try to comfort myself by saying that wherever I go I can buy what I forget.  I will say that my head doesn't always fit into the head holes of local clothing…sigh. #firstworldproblems
The places my nonprofit, Sundara works in (Uganda, Myanmar, India) are hot and casual. If I have a meeting with a hotel, or something that calls for being professional, I bring one blazer (black obviously), black skinny jeans (thank goodness for stretchy pants) and some lightweight strappy heels so I can look put together. You would be amazed at all the places I've worn this outfit: at a boardroom meeting, an engagement party, a club at 3 am, the list goes on…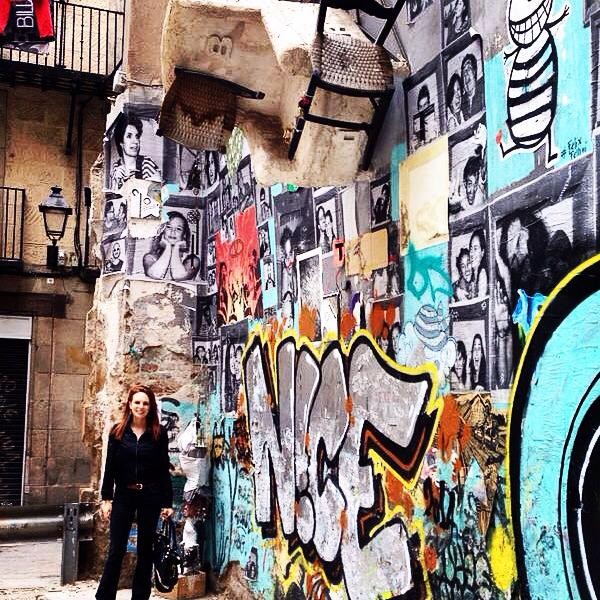 I get to the airport as late as possible. I used to really love the whole airport experience, yes…right down to the security line and throwing out my bottled water (call me insane!) but as I've gotten older I have less tolerance for the TSA lady shouting at me to take off my shoes, so I try not to make the experience take longer than it needs to.
Once I pass security I try to find something healthy like salad and fruit since I find airplane food so salty. I always buy a bottle of water before my flight and trying to drink as much of it as possible so I don't get dehydrated on the plane. I head to the nearest newsstand and pick up one of those celebrity gossip magazines to read during my flight. I wish I could say I read War and Peace in times like this, but I'm clearly no intellectual on a flight.
I get to my gate and usually swallow a melatonin or two before boarding so I can get a few restful hours of sleep at the start of my journey. And I've recently discovered the joys of an inflatable neck pillow. Somehow I always get a middle seat and I have this way of putting the neck pillow on my tray table and sticking my face through the middle so it doesn't touch the table (like your face is in the middle of a donut) – and it ain't a pretty look but I swear you don't wake up with a kink in your neck.
Once I wake up, I do a few hours of work on my laptop and chill out for the rest of the time. I'm not a huge movie person but I really love it when the airline has Travel Channel or Food Network shows. Anything with Anthony Bourdain – doesn't that man just have the dream life? I also like to listen to new music and just enjoy not having to look at my phone for a few hours. There's something so comforting about being sealed off in a plane and not expected to be reachable or do any real work.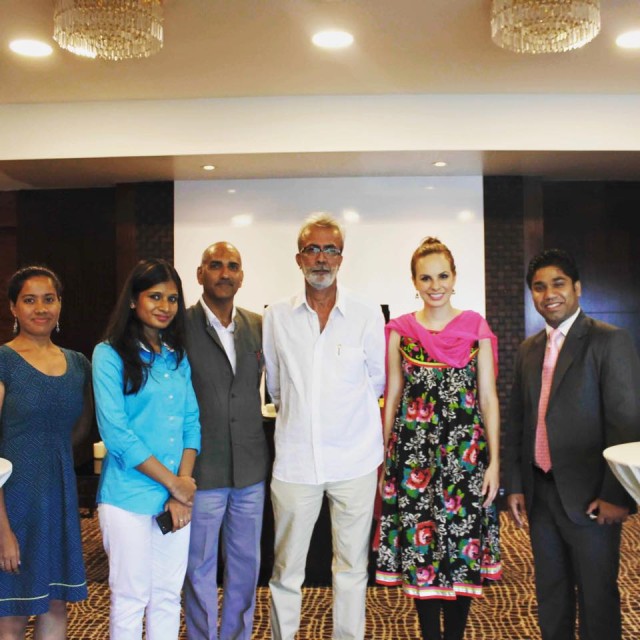 I keep a few must haves in my purse while I'm traveling: Rosebud Salve for my lips, Real Beauty for a Cause lotion bar (also doubles as a lavender fragrance), Tiger Balm rub for bug bites, a bar of unscented soap from SoapBox, and the natural face cleanser from one of my favorite companies, Town & Anchor.  A pair of Tweezerman tweezers and this bomb brow maker from Chosungah 22 will make you look put together no matter where you are. I always have to pick up some kajal when I'm in India. I like the texture of this stuff better than the eyeliner I find in the US, especially if you want to line the inside of your eyes. Alright but last not least, my ultimate secret for good skin on the go is Amore Pacific's control cushion compact. It has SPF 50, smells delicious and you can't even feel it on your face. I was a BB cream addict until I discovered this stuff…so much better. Give it a try, I've turned so many people onto this.
If I've had a stressful day while traveling, I have a simple ritual that helps me decompress anywhere. I'll put on a Korean sheet mask and play some relaxing music. My favorite face mask is this new one I discovered with, get this, donkey milk, in it. I also carry a small spray bottle with equal parts rosewater (from my local Indian grocer) and water to spray on my pillow before I go to bed. The scent is so soothing and helps me relax and feel at home wherever I go. I take 10 or 15 minutes of "me time" at the end of the day and say at least 3 things I'm grateful for. This time to myself keeps me centered no matter what kind of day I had, and is really the best secret of all when it comes to traveling for work :)
It's such a privilege to be able to travel around the world for the work that I do. I hope that some of these tips and tricks will help you on your next journey! Get in touch @erinzaikis if you want to learn more about what I do, get coffee or just connect.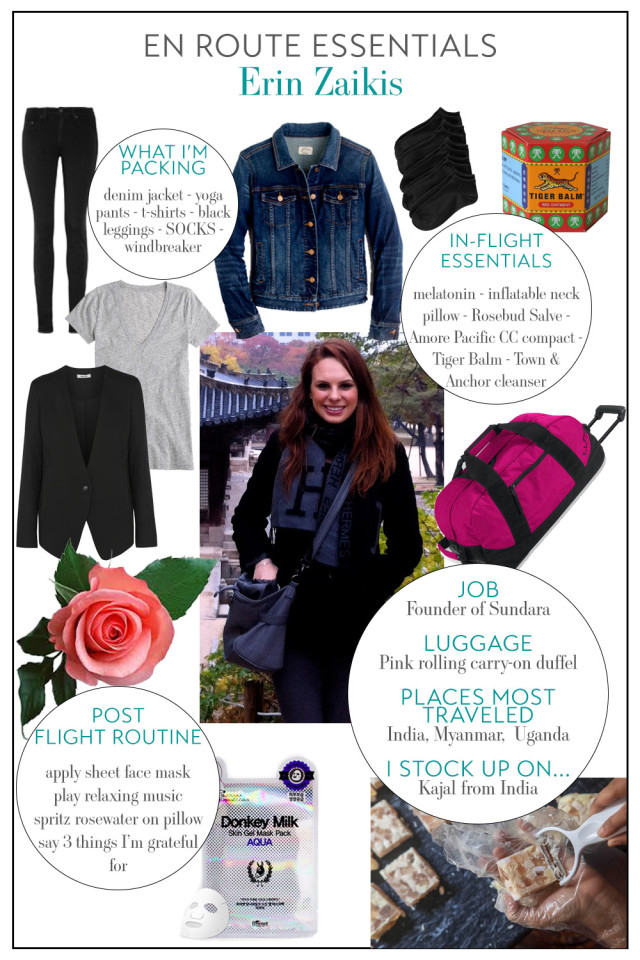 Inspired by Erin's work? Please consider making a donation to Sundara through Bridge2Act. I'd also love to know your thoughts and experience on Bridge2Act. Thank you for your support!
Shop Erin's travel essentials below: