I know. I know. There's been a lot of baby talk this week, and it just kind of ended up that way.
I promise you, it's not going to be a regular thing. And I have another Travel Tip coming your way this afternoon to make up for it.
But for all the jetsetting parents out there – this post is for you.
We took Rho on his first flight over Labor Day weekend to Canada. Given that it was a short trip (just three days), I felt confident that we could do it in a carry-on.
Especially since we stayed with family that has young kids – we had access to a travel crib, high chair, and a washer/dryer.
I packed the weekender bag (for myself and Rho) the day before the trip. I use my Catalina weekender for Rho, which is pre-packed with his bath sling, bottle brush and dryer, spoon, and toiletries (I use this set and stuff the healing balm, dish soap, and coconut oil in the pouch). I added two swaddles (these bamboo ones are my favorites), clothes and pajamas, a new pack of diapers and wipes, bottles and a tub of formula. I packed my clothing, non-liquid toiletries, and hair brush inside my SpacePak and placed it in the bottom section of the Catalina. Both Rho's and my liquid bags went at the top of the bag, for easy reach during security screening.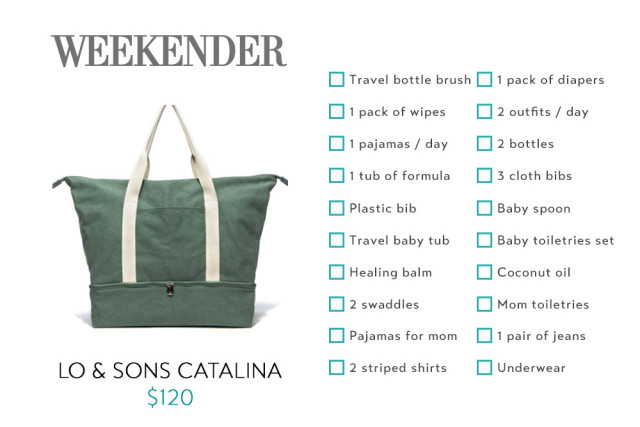 Other weekender options: Sole Society Lacie, Longchamp Le Pilage duffel, Everlane Twill weekender, Tom Bihn Aeronaut 45, Osprey Talon 44, Herschel Supply Novel duffel, MZ Wallace Large Metro
I also packed my tote (Lily Jade Madeline bag) the night before. Instead of using the Lily Jade insert, I packed up my Anya Hindmarch baby kit with the essentials – diapers, wipes, deodorizing bags, sanitizer, and an extra outfit for Rho. I know how ridiculously expensive this pouch is (and full disclosure – I purchased mine with gift certificates from Shopbop during a friends-and-family sale), but it made for easy diaper changes in a very tiny bathroom. You can use a giant Ziploc baggie and fill it with the same essentials for the same convenience. Next in was an empty bottle and formula (in this handy dispenser) went in first, followed by a swaddle, bib, burp cloth, and toys for Rho and a clean t-shirt for me. I packed the Solly baby wrap last, given that I'd need it the second we got inside the airport. Once we got through security, I purchased a bottle of water for Rho's formula.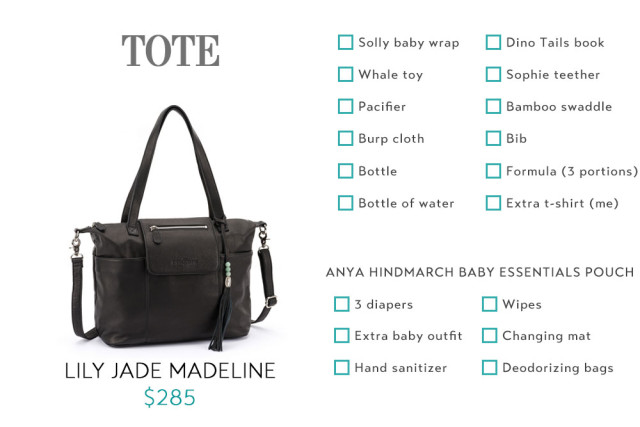 Other tote/diaper bag options: MICHAEL Michael Kors Morgan tote, Longchamp Le Pilage tote, Poverty Flats tote, Cole Haan Signature Weave tote, Gap Carryall tote, Sole Society Eline tote, Skip Hop Chelsea  
I keep a Truffle pouch filled with the essentials: wallet, hand cream and lip balm, sanitizing wipes, charger, and headphones. In it went into my purse, along with our passports and my phone in a side pocket (for easy reach for security and boarding). I rounded it out with my Kindle and some Nourish Snacks (get 15% off with code HITHAONTHEGO).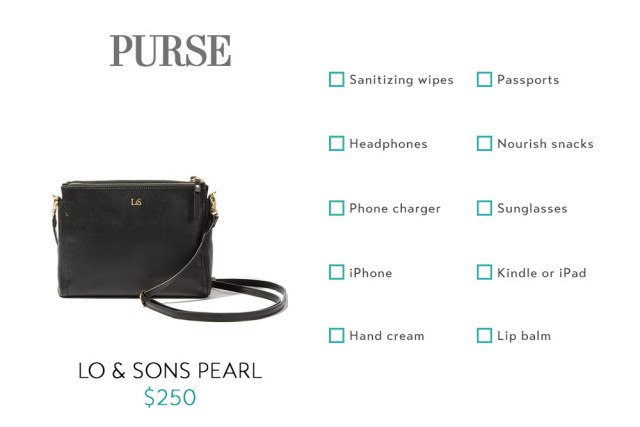 Other purse options: Sole Society Wilson, Old Navy Double-Zip crossbody, Hermes Evelyne, Lipault Paris crossbody, Topshop Embossed Faux Leather shoulder bag, MZ Wallace Paige, Prada camera bag
We traveled with our Doona (the single best baby item we own), which took care of our car seat and stroller needs. A regular car seat + Mountain Buggy Nano combination also works just as well. I wore Rho through security and put him back in the Doona once we were in the terminal. My husband and I took turns pushing it around to keep him calm, and we let him snooze in it before boarding. I purchased Rho his own seat and buckled the Doona in his seat relatively easily. I fastened his bib and kept a prepared bottle and pacifier in hand during boarding and landing. I attached the toys to his carseat and downloaded his favorite songs to my phone for offline playing (playing J.Lo's Booty and Rotten To The Core from Disney's Descendants helps calm him down, always). Once our neighboring seats were filled, I quickly apologized in advance and offered Nourish Snacks to everyone sitting around us.
The early apology and snacks did help, as Rho cried during takeoff (both ways), and during the flight and landing (on our way home). In the future, I'm likely to keep him in my lap during take-off to keep him calm. Feeding him during take-off and landing did help prevent his ears from getting blocked.
In the future, I'm going to make these bags for neighboring passengers before we fly with Rho again (complete with earplugs, Herban wipes, and nut-free snacks). There's only so many times you can hear "big big booty, 'cause you got a big booty" before going insane. To the fellow passengers on my EWR << >> YOW flights, I thank you for being so cool and chill.
Fellow traveling parents – what gems of wisdom do you have for traveling with a baby? Leave them below! We have a trip to India planned next year, and 15 hours on a plane with a toddler is starting to freak me out. Already. 
Special thanks to Lo & Sons and Lily Jade for gifting me these bags. I love and use them regularly.