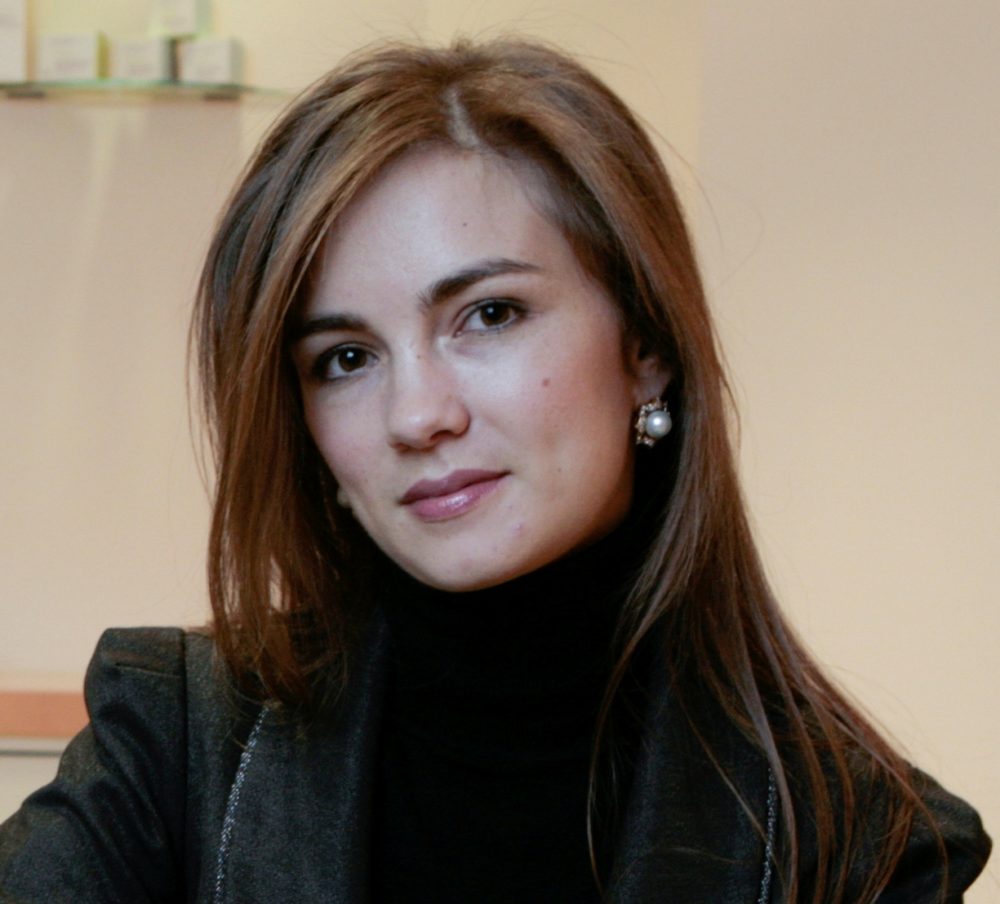 Ada Polla
CEO of Alchimie Forever
I don't write down my packing lists, but I may have to change that strategy! I pack by laying out my clothes on the bed, per day and per outfit. When I'm going to be away for three days, I lay out an outfit for each day and round it out with with shoes and accessories. I try to minimize shoes as much as possible, although they are kind of an outfit maker for me. There are times that I end up traveling with a different pair of shoes for every day. My black Manolo Blahnik BB pumps make any outfit look really sharp and also work well with my conservative work outfits (a suited look, usually). I wear mostly black, and pack mostly black. It just makes it much easier to mix and match different outfits. I've worn white pants when traveling before, and my white pants don't look white at the end of the day. I love dresses, and I will re-wear a dress as long as I'm not meeting with the same people twice. I do mix and match pants with different tops – both shirts and layering pieces (blazers, sweaters in the winter). I also really like switching up accessories. Silk scarves are a new addition to my daily uniform, and I'll always pack a few. I find if I'm wearing black pants, a black blazer, and a black shirt underneath, a different color scarf will make the outfit look completely different from one day to the next. I swear by my Tumi suitcase – it's technically a carry-on, but can be expanded and checked in as well. My travel bag is a tan Celine tote that my husband gave me a few years ago. I stuff it to the brim, but it's held up beautifully and still looks brand new.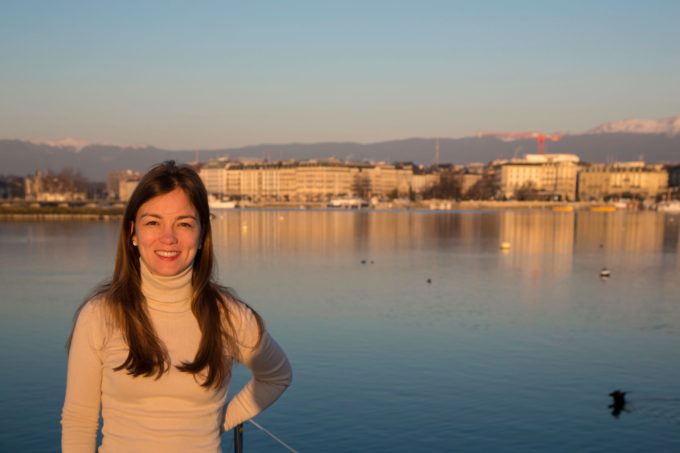 Due to the business I'm in [CEO of Alchimie Forever], I am very selective about my toiletries and always pack full-sized beauty products. I end up checking in my suitcase (a no-no in the world of frequent travelers!) but I just haven't been able to find a way to get around that. I am very particular about my hair care, and pack my Aveda shampoo and conditioner in their full-sized bottles. I'm a big fan of serums and use several. We have one in our line that I love, but I also love the Naturopathica vitamin C serum and a Dr. Dennis Gross retinol serum that I use in the evening. Our mask is my #1 favorite travel beauty item. If a flight is longer than 2 hours, I'll apply the mask – it helps keep my skin hydrated during the flight. One thing I do when I travel (but not at home) is a bath. I always travel with bath salts – Kneipp is a favorite of mine. I'm on the road 75% of the time and a hot bath is something I look forward to. It brings a little bit of joy and pleasure to my travels. Red lipstick is a must-pack (and must-have for life!). For 20 years, I wore the NARS pencil in Cruella. I've started wearing two new shades – MAC Mangrove and Lucie & Pompette lip pencil in Creme de Paris Rouge La La. Both of these are a little more orange than Cruella, but my husband has commented on them several times! I may have to stick with these two for a while…
I always arrive early to the airport, for two reasons. One is to avoid worrying and stress. The second reason is because I'm incredibly productive when I'm traveling, and I get a lot of work done before I board the flight. I plan and schedule my work calls and the projects I'm going to work on once I get to the airport and get into the lounge. TSA PreCheck helps me get through security fast, even though I end up having to remove my shoes (I end up wearing my heels during the journey).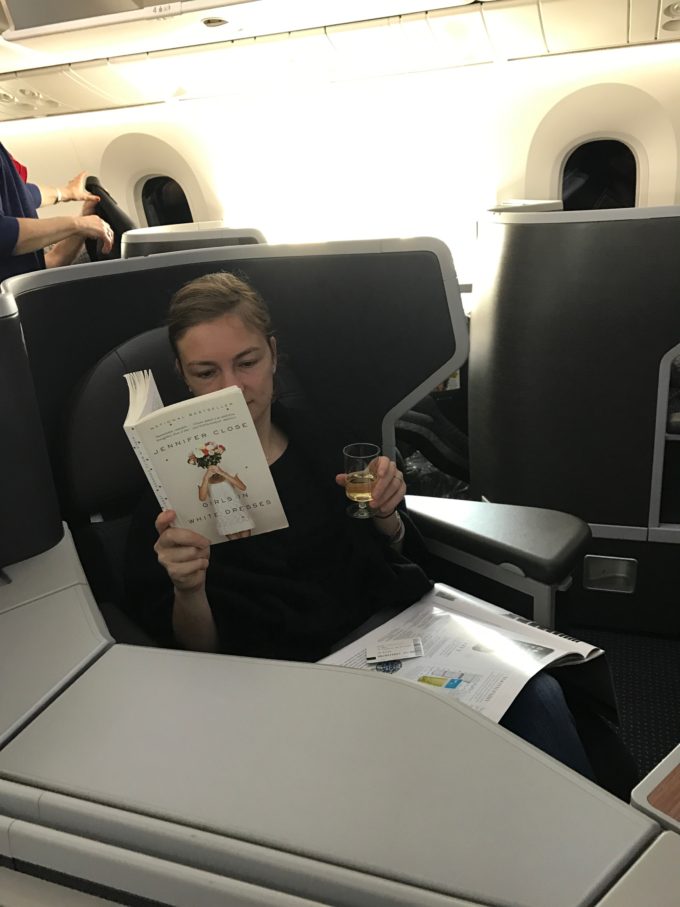 I used to always sit in a window seat, but that changed about 2 years ago. I discovered that the UV exposure at such a high altitude can cause damage to your skin, even through the window. I confirmed this with my father (Switzerland's best dermatologist) and have been an aisle person ever since. Get me as far away from the window as possible! On short flights, I try to avoid eating and will just drink coffee and water, or water and wine. But on longer flights, I can't help but eat the meal that they provide (especially in business class!). I don't know if it's because the meal is usually warm or nicer on international flights, but I can't resist them. I'll always eat the salad and the main, but will skip dessert. Dessert would be taking it too far.  I typically work on the flight. A rule I have is to work if I get upgraded. If I don't get upgraded (only about 10% of the time, as I'm a million miler on American), I'll read a book or sleep. I always fly with my pashmina – either a thick black one for colder months, or a lightweight dark purple one from Louis Vuitton in warmer months. For overnight flights, I also bring a special sleep mask a friend gave me about 10 years ago. It's really silky and not too tight, and it's just perfect for me.
Someone once told me "it's better to be on the ground wishing you were flying, than to be flying and wishing you were on the ground." I keep this in mind when the inevitable delays or missed connections happen, especially when there are mechanical issues with the flights. Even though most of my travels go according to plan, it's still frustrating when these issues do come up. This mantra helps keep things in perspective for me. I also exclusively fly American and would rather connect and fly American than take a direct flight on another airline. Even if something happens, the airline will take care of me.
SHOP ADA'S TRAVEL ESSENTIALS

See how a fashion entrepreneur and the founder of Wander Beauty pack and travel