The downside to getting older is that every year seems to go by faster. Â I'm in denial that the year is already halfway over. Â I'm also in denial that I turn 29 next Tuesday (eek!).
Upside – it's been one hell of a year. Â Each month is better than the last, and June was no exception. Â The biggest highlight was a grocery store opening in our building, along with news that spin and boxing studios would open later this summer. Â I'm quite certain that I'm never leaving this building.
Please don't judge me that a grocery store is the highlight of my month.  It's a very nice store – completely organic, an incredible prepared foods section, and open 24 hours a day.  My stomach has never been happier.
Other things that I loved this month include: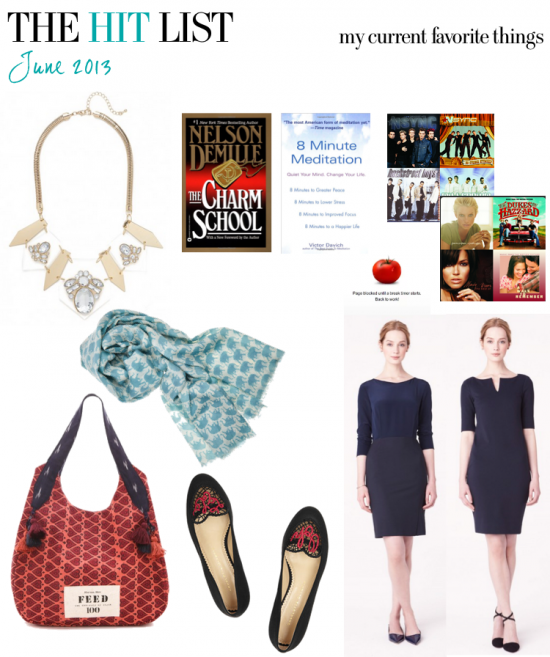 This BaubleBar necklace has rarely left my neck since I received it – it goes with everything (the rest of the lucite collection is pretty amazing too).  I've been playing my Boy Bands and Pop Tarts playlists non-stop – and by listening, I mean singing and dancing to them like a fool.  American Idol and So You Think You Can Dance are not in my future.  I'm always on the hunt for great historical fiction, and I can't remember who recommended this book to me (but THANK YOU!).  The Charm School by Nelson DeMille is just that – a compelling story and so well-written.  I'm admittedly a Cold War history geek and a fan of The Americans, so that may have contributed to my unabashed love for this book.  Another great read I devoured was 8 Minute Meditation – it's the only resource I've found that has taught me how to meditate.  And meditate I do, every night, before going to bed.  *deep breath*  This super soft Julie Vos scarf lives in my Rachel Roy x FEED India tote, two items I carry with me everywhere these days.  This weather isn't conducive to lugging a heavy leather tote, and the cheeky wrap wards me from oppressive air conditioning.  The luxury sales have been so good  – my favorite score were these Charlotte Olympia flats.  Strict Workflow has done the impossible by keeping me laser focused on work – a combination of the Pomodoro technique and website blocking, it forces you to #getshitdone.  I love/hate this plugin (currently available on Chrome).  My work travel schedule has picked up again, but packing has been a breeze thanks to my beloved M.M. LaFleur dresses – I own the Yoko and the Narie.