Love at first sight – the Prada large saffiano tote, my apartment's walk-in closet, Williams-Sonoma, my husband.
Love at first taste – pad thai.
I lived the first 18 years of my life not knowing the tangy, slightly sweet, and spicy deliciousness that is pad thai.  But on a September afternoon in Seattle in 2002, at a dubious appearing restaurant, I took one taste of those noodles and my life was never the same.
Living in Hell's Kitchen in Manhattan, we have our fair share of good Thai restaurants – that deliver, no less.  But after eating the real deal in Thailand and learning how to make my own, there's no going back.
Welcome home, food love of my life.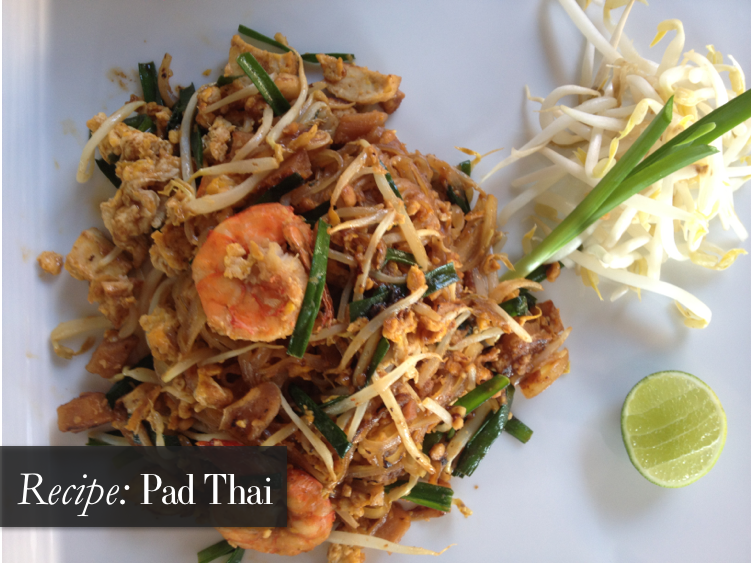 Pad Thai with Chicken
serves 1
Ingredients
1 chicken breast (boneless/skinless), cut into bite-sized pieces (use a protein of your own selection, about 100 grams)
15 mL of vegetable/grapeseed oil (peanut oil is also a great option)
10 grams of tofu, cut into bite-sized cubes (firm or extra firm)
15 grams of shallots, sliced
100 grams of thin rice noodles (soaked for 20 minutes at room temperature water and strained)
20 grams of bean sprouts
10 grams of finely chopped peanuts
1/2 of a lime
10 grams of garlic
10 grams of chives
1 egg
50 mL tamarind sauce (mix all ingredients except for salt and lime juice and simmer for 20 minutes.  season with salt & lime, strain, and keep refrigerated)
– 200 mL tamarind juice (also found at Indian stores)
– 200 mg palm sugar
– 150 mL lime juice
– 100 mL soy sauce
– 50 grams tomato paste
– 1 tablespoon salt
Directions
1.  Heat oil in the wok or a stainless steel frying pan.
2.  Add chicken, shallots, tofu, garlic and egg and stir fry until chicken is cooked.  Add noodles and half of the bean sprouts, with a tablespoon of water.
3.  Once the noodles are soft, add the sauce and coat the noodles and vegetables evenly.
4.  Remove from heat and add the remaining bean sprouts, chives, peanuts, and juice from 1/2 a lime.
Another Thai recipe here