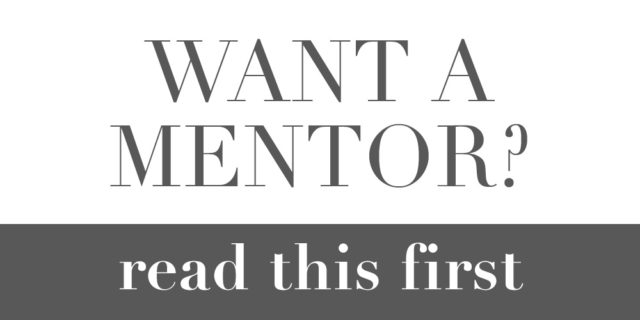 "Does this make me look fat?"
"Who are you voting for?"
"Will you be my mentor?"
"Can I take you out to coffee and pick your brain?"
These are all questions you should never ask. Because here are the answers…
"No."
"None of your business."
"If you have to ask, the answer is no."
"Ain't nobody got time for that."
Like any good relationship, a good mentorship happens naturally, and over a period of time. There should be a mutual benefit to both parties. And it should never, ever, be asked for.
That said, you can be mentored by anyone.
I learned this invaluable practice from Nely Galán, a powerhouse executive, producer, author, and queen of the one-liners ("Don't buy shoes, buy buildings!").
[Tweet ""I've never met 90% of my mentors. I pick them, and then I study them." @Nely_Galan"]
While I have pages of notes from her talk at Barnard, this was the one piece of advice I put to work immediately.
Who did I pick to be mentored by? Nely herself.
Before we dive into the process, here's a little more about her:
She was the first Latina network president, having run Telemundo from 1998-2001.
She's a fellow Drybar enthusiast.
She's gone toe-to-toe with Donald Trump, having been a contestant on the first season of Celebrity Apprentice.
She was suspended from school on a false plagiarism accusation. It lead to an essay being published in Seventeen, an expulsion, a profile on her being a First Amendment advocate, and a guest editorship from the magazine.
She's a prolific real estate investor (hence the "buy buildings!" advice).
She never gives up. When she returned to college after competing on Celebrity Apprentice, her professor gave her a copy of "The Elements of Style" and told her she needed to learn how to write again. Rather than give up, she kept going.
She is, hands down, one of the warmest and loveliest women I have ever met.
She gives back – in a big way, through The Adelante Movement and through the Hispanic Scholarship Fund.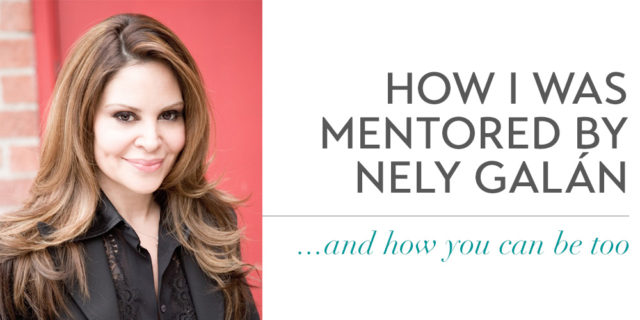 Step #1 – pick one quality/attribute you admire from your mentor.
In this case, I picked Nely's successful, multiple businesses. While she's most known for her work in television and entertainment, she's also a prolific real estate investor.
No joke. She proudly admitted that she's made more money through real estate than she did in television.
Her first real estate deal came from a personal pain – rent for her office on the Fox lot. She found a fixer upper in the not-yet-gentrified Venice, negotiated a great deal with its musician owner, and moved her company there.
Just imagine what that building is worth now.
Step #2 – trace their steps and follow their advice.
If you're choosing a mentor that's in the public eye, chances are they have plenty of press hits. Use those aforementioned Googling skills and search the web for articles and in-depth features. My Google-stalk looks like this:
[Tweet ""You should always pursue things you are good at AND you're cold about." @Nely_Galan"]
Step #3 – read, read, read, and listen.
And take notes. Here are my biggest takeaways from researching Nely and her parallel career as a real estate investor:
Embrace what you don't know – so you can learn. Nely was a tenacious learner, from calling up universities to ask for their best-written businesses plans (when she didn't know how to write her own) to hiring coaches and teachers for subjects she didn't understand (like finance)
Spend your money wisely. Embrace frugality and diversify whatever money you make in a mix of things – especially one that you're good at, but not as passionate about.
Exercise the entrepreneurial gene once a week. It doesn't have to be coding an app or writing a business plan. Driving an Uber, cooking food to sell, or helping someone with their social media all counts as entrepreneurship. Build your self made muscles over time.
Choose yourself first. When you do that, you're never in a position to be disappointed by others.
Step #4 – take action.
Going through this exercise led me to realize that writing (this blog, additional books) is my parallel hustle. I truly love it, and it does bring in a nice income that helps pay for childcare and contribute to household expenses.
But to ramp it up, a few things need to change.
Eliminate any unnecessary expenses. Right now, any extra money I have goes to our new home, and the occasional Kindle purchase.
Build up my writing muscle again. I took a break after I finished the book, which was a mistake in hindsight. Rebuilding this stamina has been just as hard as getting back into shape. Nely says "to be chosen, you have to choose yourself first." No one is going to read this space unless I keep updating and writing it, so my work day now begins with creating a full blog post – the copy, links, graphics, images, and social.
Use "lost time" more effectively. Instead of getting sucked into a Snapchat binge or scrolling through Instagram while waiting for the subway or sitting in a cab, I use that time to brainstorm posts, jot down items I'm currently obsessed with for future Hit Lists, find and save links of specific items.
Step #5 – find an 'ass-kicker'
Even with the best of efforts and desires, we lose our way. I've found that idetifying an 'ass-kicker', or something to reference to get my bum back into gear, can help me refocus on the task at hand.
It can be a collection of quotes or highlighted items from a book. But I prefer a video – it feels like you're doing something naughty, but it's extremely effective to get me reinspired and back to work.
For my recommitment to writing, it's this video:
I was lucky enough to be in this audience (and to join Nely for dinner afterwards), and it never fails to get myself back into "I'm going to work my ass off and make something incredible happen" mode.
Nely – thank you for your incredible guidance and for your endless inspiration.
And for being my mentor.
Purchase your copy of SELF MADE, download the companion app (iOS, Android), and join the movement. Adelante!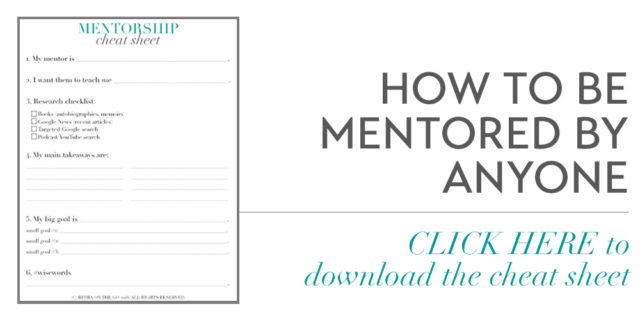 Who are you picking for your next mentor? COMMENT below and let me know!
thumbnail image via