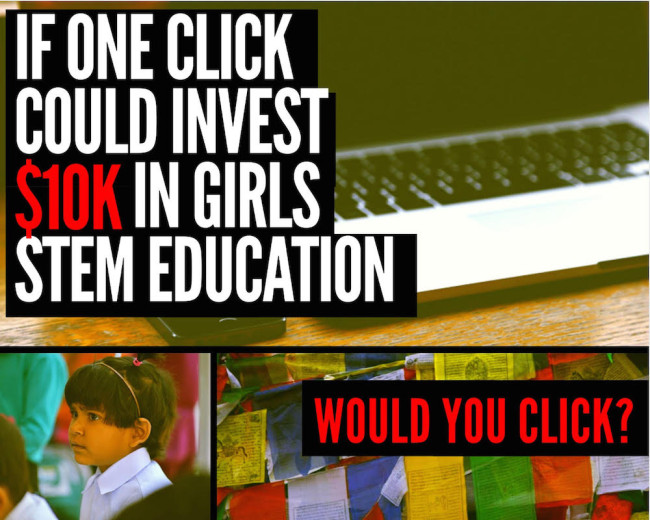 The TL;DR -Â Hundreds of thousands of girls in Nepal are out of school and in danger of being trafficked. Children and Youth First provide safe lodgings and education to impoverished Nepalese kids through their Life Vision Academy. They plan to build a computer lab to teach girls and women coding. Support their newest initiative by voting in this content (free) or making a donation here. I'll match all the donations made for the next month, up to $500.
It happens all the time.
An awful natural disaster happens somewhere in the world, capturing the world's attention. We make donations or sign petitions, We feel good about ourselves in giving more to others that need it. And we go on with our lives, pushing that tragedy further in the back of our minds.
We all do it. But I, for one, would like to stop.
My one big New Year's resolution is to cultivate a habit of giving back, regularly and with small actions. In addition to giving to reputable organizations when something terrible happens in the world, I want to also give my money, my time, and my voice to the organizations who need it.
The Nepal earthquake hit the nation about 9 months ago. And still, over a million of children are out of school. Many of these students are girls, who are constantly at risk of being trafficked into sexual slavery (
Over a million kids are out of school, 9 months later. Girls out of school, especially, are in danger of being trafficked and sold into sexual slavery. The numbers are dire – anywhere from 5,000-10,000 girls and women are trafficked out of Nepal every year.
If children are lucky enough to attend school, it's a depressing sight. The school itself is a tent or a ramshackle built among the rubble. The students must make do with limited supplies, sharing textbooks and notebooks. There's often no provided lunch. Technology education? It doesn't exist.
Life Vision Academy (created by Children and Youth First) is ahead of the curve in terms of getting impoverished youth educated – a stable and safe structure, all materials provided, and hot meals given to every student.
Not content with providing just these resources, they're now looking to establish a computer lab and teach women and girls how to code in Kathmandu Valley. A plan for self-sustainment is already developed (college students will be charged for classes to maintain the center and provide free classes to impoverished girls).
How you can help – vote for the cause in the Kind Causes contest, going through the rest of the month. It's free, and it takes just a couple of seconds.
If this cause speaks strongly to you, please consider making a donation to CYF directly here.  $20 provides a day student's full tuition and lunch for a month, while $65 provides full room and board to a student for a month.
I'll personally be matching every donation made through Bridge2Act, up to $500, for the next month.
[Tweet "Take Action. Educate girls in coding in Nepal with @CYFNepal. Change the world. #Give2016"]
thumbnail image via, post images by CYF Nepal