Sloane's Sailing the Sea in Style is another new blog for me, but it's one worth visiting.  Her perfectly preppy style is highlighted in the beautiful Connecticut countryside (after living in New York, anything filled with trees is considered the "country" for me).  Sloane is also an avid SAILOR – and her travel tips translate from airplanes to the high seas perfectly.  Did I mention that she's also in high school?  I was not this organized about travel (nor this mature!) when I was her age.  Meet Sloane, everyone!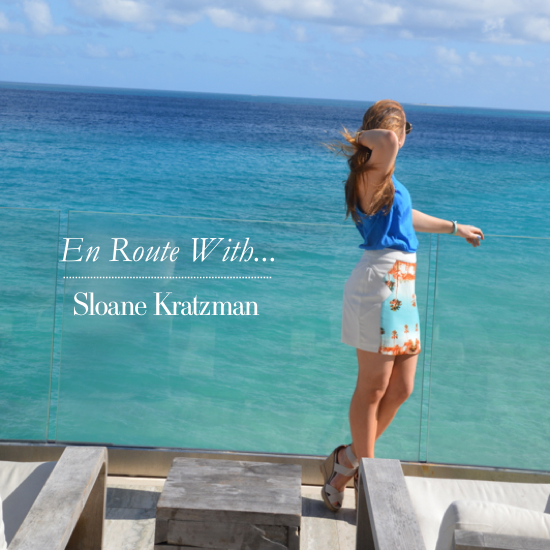 Sloane Kratzman
Student | Blogger, Sailing the Sea of Style
My packing style is pretty organized. I sometimes can over pack, but I rarely under pack. I always bring basics depending on where I'm going. When I travel, it's always with my family so my bag is usually a simple rolling suitcase. If I am going on a long weekend trip, I swear by Longchamp bags. They are so durable and never ever break. My mom taught me to always roll my clothes- it saves tons of space. I put my shoes in shoe bags at the bottom of the suitcase, it helps them stay protected and also creates a "platform" for all my clothes. From the bottom, I put the bulkier items on the bottom, and finish the top with my lightest items. I also use a roll-up jewelry case that I stuff in between items so the case doesn't move around while traveling. I tend to pack my clothes 2-3 days ahead.  Makeup, accessories, and all that other jazz gets packed up at last minute. I'm paranoid that I'll forget something!
My family and I always get there on time – not too early, nor at the last minute. Timing is key to avoid lines. Having your passport and boarding pass ready is key – you never want to be searching through your bag at security or at the gate!  I have been lucky to travel a lot – so security  has become very easy for me now. If we have enough time before our flight, I get something quick to eat and stop at the newsstand to stock up. Some international airports have the most insane lounges now. At Heathrow Airport, the Virgin Atlantic lounge is full of modern decor and pool tables. It even has a hair salon and full spa!
During the flight, I am always on my iPad.  I like to download a season of my favorite tv show to watch on the flight. I don't really mind where I sit, mostly depends on how I feel that day. On the flight, I love having my Bose headphones- they don't hurt you ears and block out all sound. I snack on something sweet- salty food can make you bloat- not the feeling you want while flying. I also make sure to have something minty or chewy. I have a serious sweet tooth!
My essentials are pretty basic and easy. I don't wear anything on my face except BB cream, lip balm, and mascara. During the flight I like to refresh my skin with this spray– it smells amazing. In my bag, I always have my Bose headphones, my iPad (pretty and protected in a Plum Street Prints case). I also keep little pouches for hand cleaner, eye drops, sunglasses, and other things. I also always pack comfy socks. I love to wear simple shoes while traveling. But, I hate wearing socks in the airport. I have strange pet peeves!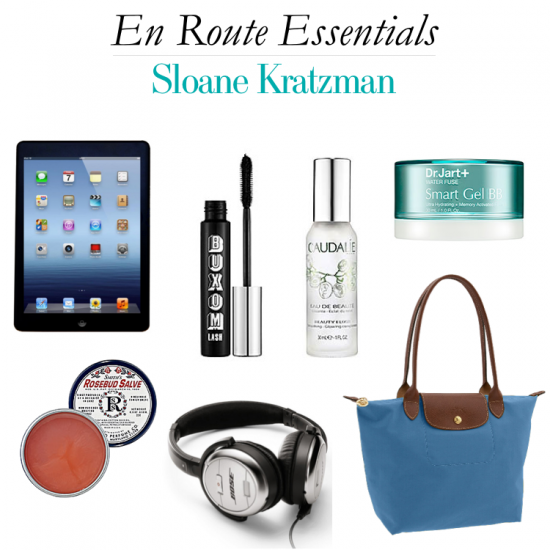 iPad – mascara – facial spray – BB cream – tote – headphones – lip balm