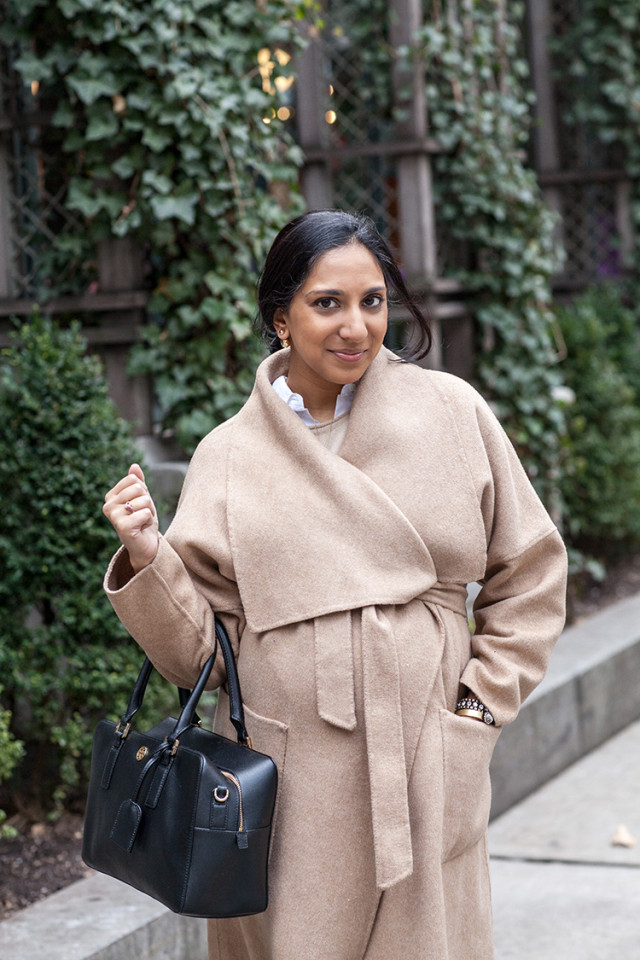 – Zara coat (similar) – Cuyana sweater c/o – Everlane blouse –
– J.Crew pants (non-maternity) – Tory Burch bag – Sole Society boots –
– Loren Hope bracelet and cuff – Gemvara ring –
– Jet Set Candy necklace (ICN – BKK) c/o – BaubleBar earrings –
I never used to care for camel. The color, not the animal. Camels are awesome.
It seemed so boring, so blergh. The same went for its darker sister, brown. Why bother when there's black and the countless shades of gray?
I turned a corner this fall/winter – mostly out of necessity. I needed a coat that could accommodate this growing belly. The only color Zara had in early fall was camel. The coat arrived during the September heat wave, and was promptly stashed in the bag of my closet until November.
It took a few wears, but a love affair was soon born.
I never appreciated the versatility or warmth of this hue. Especially when paired with my beloved black. Does it get more classic (or easy?) than an all-black outfit with a camel coat?
No. It really doesn't.
As lovely as it is, camel is not replacing my navy or gray addiction (by a long shot). But these pieces are a welcome addition to my monochromatic wardrobe.
For more maternity style posts, click here
Photography by Lydia Hudgens