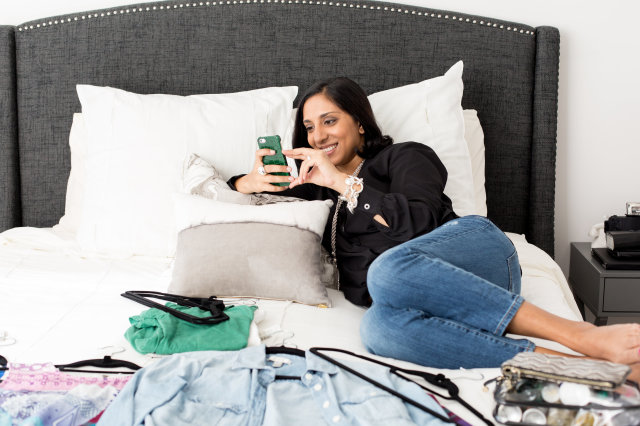 What exactly do you do for work?
From 2009-2014, I worked at a specialty pharmaceutical company, SciDose, in various roles.  I oversaw technical operations, program management, and most recently business development.  Currently, I'm working on a startup aiming to change the way Generation X & millennials give to charity.  I'm also a creative consultant to lifestyle brands, and run the website you're reading right now!
What makes you an expert traveler?
I traveled frequently during my time at SciDose – over 100,000 miles a year!  In the beginning, I made every packing mistake you could think of – forgotten items, too many shoes, wrong items of clothing, etc.  I didn't begin blogging about it until December 2012, but it's quickly become a key vertical for this website.  Plus, I love writing about travel and packing!
My husband and I are also keen travelers – we visit one new place we haven't been to every year.  Our most recent trip was Scandinavia, which was incredible.
What advice do you have for travelers?
Commit to an airline and hotel chain early on – I'm a United/Marriott loyalist.  Always travel carry-on.  Never pack jewelry or electronics in your checked-in suitcase.  Go on food crawls when traveling to a new city – eating a couple of appetizers at multiple restaurants over the course of an evening is a great way to acquaint yourself to the city and local cuisine.  Plan for an afternoon or evening to just wander.  Always purchase tickets in advance for major tourist attractions.  Print EVERY confirmation.  Always carry a paper map.  Instead of toting every beauty product you own, squeeze a small amount into a contact lens case – particularly if it's something you use little of (hair serum, cortisone cream, etc).  Never leave home without a first-aid kid – mine's filled with this Help! set, Mucinex, and Tums.
You're kidding with the carry-on comment, right?  What do I pack?
I'm not kidding!  I only check a bag when I'm traveling upwards of 3 weeks, and even then it's under duress.  I'm big on packing versatile basic items that can be worn for multiple occasions – silk blouses from Everlane, tees from J.Crew, dresses from MM LaFleur, dark skinny denim, at least two pairs of chic flats, and a blazer (Zara and J.Crew for the win here).  Throw a clutch filled with jewelry and a silk scarf into your suitcase, and you're set.
You can check out all my Travel Tips, watch packing tutorials, and download my guides on packing your luggage perfectly!
What luggage and packing tools do you use?
For most trips, I use my Tumi Tegra-Lite international carry-on and a large tote (I rotate between my Dagne Dover bag, my Lo & Sons OG, and Cuyana leather tote).  I'm loyal to my Hudson+Bleecker kit of shoe bags, cosmetic case, and toiletry bag.  For shorter trips, I'll swap my suitcase for my Everlane Weekender or MZ Wallace large Metro tote.  I'm fastidious about keeping my personal item organized, and rely on my Rebecca Atwood clutch, Cuyana travel set, and Graphic Image passport case to do so.
What has been your favorite place to travel to?
I'm admittedly biased towards India – it feels as much as home to me as the United States.  Russia, Thailand, and Spain are some of my favorite international destinations.  In the United States, I love traveling to New Orleans, San Francisco, Seattle, and my hometown of Philadelphia.  You can find all the details of these places (and more) here.
What's your dream trip, and who and what would you bring?
SPACE, with my husband.  Barring that, I would have to say Antarctica, an African safari, Turkey, Cambodia, and Fiji.  I'd want to bring my husband, (future) children and my parents.
I'm coming to visit New York City.  What should I see/do/eat/stay?
Stay at the Park Central hotel – great location and conveniently located to multiple subway lines.  Ink48 is another great option and has a terrific rooftop bar.  My favorites restaurants are Anejo, Capizzi, 44 & X, Junoon, Antica Pesa, Cookshop, Redeye Grill, and The Chester.  Visit the Metropolitan Museum of Art, the American Museum of Natural History, and Central Park.  My favorite things to do in NYC are taking a walk on the High Line, hitting balls at Chelsea Piers, and hunting for treasures at the Hells Kitchen Flea Market.
What kind of camera do you use?
I shoot with a Canon 60D, and use a Sigma 2.8/24-70 mm lens and a Canon 1.8/50 mm lens.   I work with Lightworks360 and Lydia Hudgens on most of the photography you see on this website, and I also shoot a lot of the photographs myself.
If you're looking to get into digital photography, I highly recommend taking Okello Dunkley's DSLR Workshops.  I've yet to find a better photography instructor and resource.
How do you make your collages?
I used SnagIt for a number of years, but now use Adobe Photoshop.
I want to start a blog.  Any recommendations?
A blog is a wonderful outlet, and I say go for it.  However, it's important to determine the intent of your blog from the get-go – is it purely a hobby, or is it something you'd like to develop into a business?  Regardless of the answer, putting together a high-level business plan is key for focusing the direction of your blog.  This is my go-to business plan template.  A posting schedule and editorial calendar keeps you focused, and I recommend having a month's worth of posts banked before you press publish on your first one.  Great photography and visuals are a key element in successful blogs, so play around with available free/discount resources – Fiverr for design/coding work, SnagIt, 1001 Free Fonts, Pinterest for compelling images, etc.  If you're serious about starting a blog, I do offer consulting services – shoot me an e-mail and let's talk!
Who designed your blog?
Victoria McGinley Studio designed the blog, and all development work was done by Elembee.  I highly recommend them both!
When did you start blogging?  How has it changed since you started?
I started blogging purely as a hobby in 2009.  At the time, everyone was exploring with different types of content and finding their own voice.  It took me four years to uncover my niche and prioritize blogging as a side venture.
It's much easier to start a blog now, from a technology perspective.  But the space has become all the more crowded, making it harder for a new blogger to stand out.  However saturated the space becomes, it's been proven that authentic storytelling, beautiful photography, and a unique voice is timeless.
I'm a brand.  How can I work with you?
I work with brands selectively on sponsored posts, consulting services, video projects, and producing/hosting events.  Shoot me an e-mail and I'll be happy to share my rate sheet with you.
What do you do in your spare time?
Since my husband travels frequently for work, I squeeze in time with friends when he's not home – meals, drinks, or a combination of both.  Weekends are reserved for the husband, whether it means binge watching House of Cards (every Valentine's Day weekend) or visiting our families.  We also explore the different neighborhoods around NYC, taking in an exhibit and eating at new restaurants.  Food crawls are kind of our thing – we'll try an appetizer or two at several restaurants instead of sitting down at a single one.  Autumn Sundays are reserved for watching football – the Philadelphia Eagles, specifically.  When I have a spare evening to myself, you can find me camped on the couch with my laptop, SportsCenter or Bravo blaring on the television.  I read for an hour before bed every night – fiction, biographies, essays, magazines.  A great book and a cup of tea may sound lame, but the combination brings me great joy on a daily basis.