The last two and a half weeks have been nuts – countless meetings, business dinners, and spending what little time I had with my poor husband. Last week, I attended an IP symposium in New Orleans (one of my favorite cities), and the weekend in the city reminded me of our mini-getaway to the Hudson Valley. When a few days opened up and a Jetsetter deal emerged, the hubs and I jumped on it and spent Sunday-Tuesday walking, eating, and resting a mere hour and half north of our Manhattan apartment. It was just what we needed – and we'll certainly be doing it again.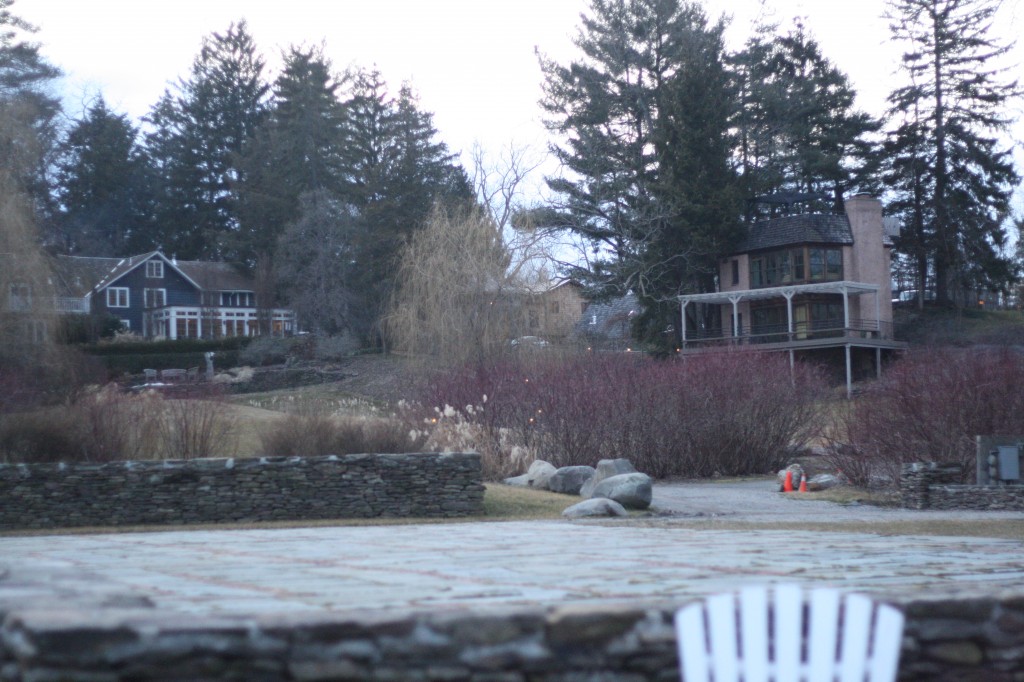 5:15 p.m – We pull up into the peaceful Buttermilk Falls Inn. We're checked in by a friendly concierge, who shows us our room. Ditching the dress I donned for a bridal shower for this outfit, we venture back downstairs and are welcomed by a light snack – though we missed the hotel's daily, complimentary tea. It was just what we needed before venturing outside to explore the grounds.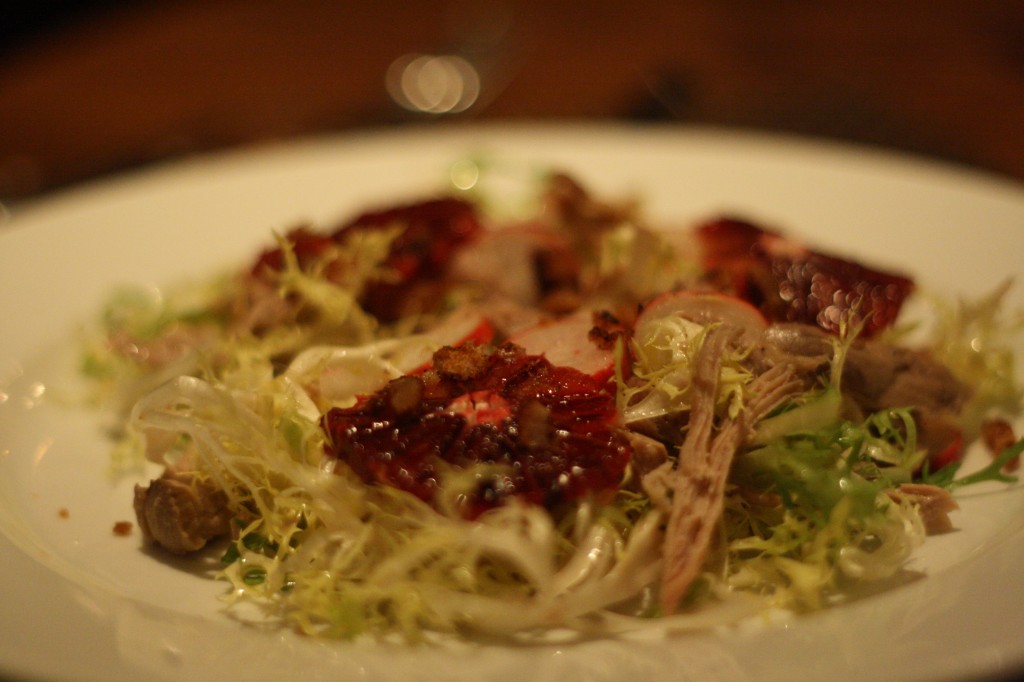 – frisee duck confit salad with blood orange –
6:30 p.m – We stroll into Henry's Farm To Table, the locavorian restaurant on the hotel's premises. We feast on the Hudson Valley's finest – and it is incredible. Given that the prestigious Culinary Institute of America is in nearby Poughkipsee, it's not uncommon to find NYC fine dining this far upstate. After an incredible meal, we trudge up to our room and promptly fall asleep.
7:00 a.m – We wake up refreshed, despite the horrendously uncomfortable bed (the ONLY downside to the Inn). Venturing downstairs for breakfast, we find some continental offerings (bagels, fruit, cereal) placed on the buffet, with a promise of a hot breakfast in the next hour. Dining on cheesy scrambled eggs, chicken apple sausage, and grapefruit was the perfect start to the day. My morning conference calls? Not such a perfect start.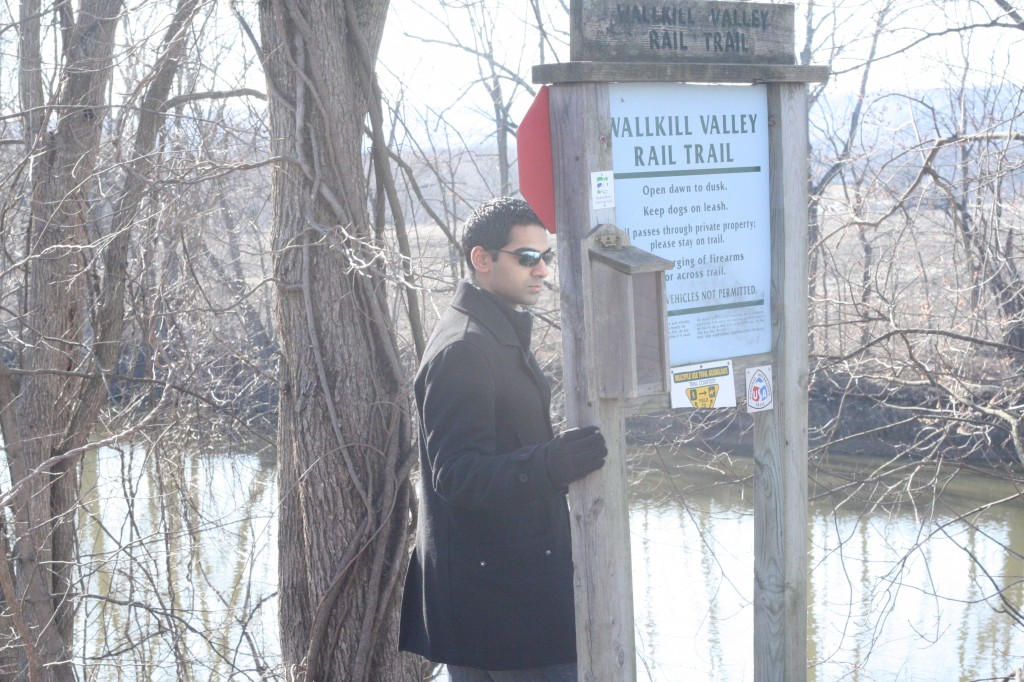 – Hubby checking the map of the trail –
12:00 p.m – I finally wrap up work, and we head to the college town of New Paltz. We walk into the first restaurant we find – Harvest Cafe. Is all food in Hudson good? This lunch was outstanding – and I left with the ingredients of the lentil curry soup, and a full belly. We venture on the trail steps away for a peaceful, pretty walk – promising ourselves we'll go for a challenging hike next time.
3:00 p.m – Strolling back into the (area with shops and cafes), we go to Mudd Puddle for cocoa and for me to hop on (yet another) conference call. Once work is wrapped up for the day, we wander into the nearby antique store. I'm tempted to leave with most of the store's wares, while my husband tries to keep me from spending any money at all. We compromise and he purchases me a mint-edition copy of The Satyricon (a favorite book of mine from my history studies in college). How I love that man :)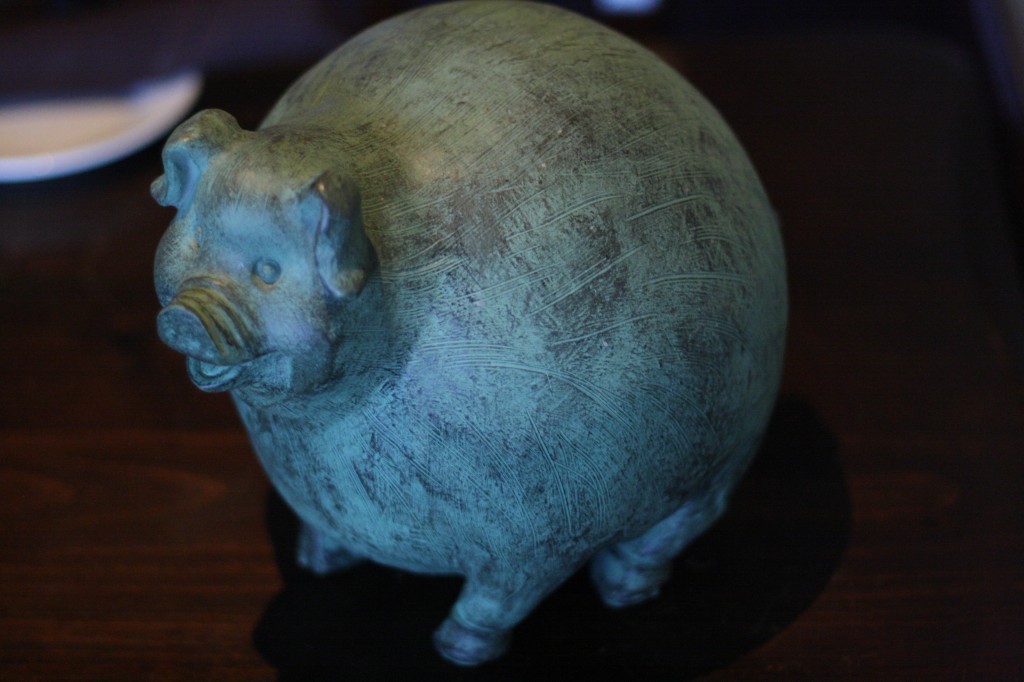 – obsessed with the pig decor in the restaurant –
6:00 p.m -Despite our relatively chill day, we're starving. We drive and park by our restaurant for the evening – the one our concierge said Manhattanites drive up from the city to eat at. A Tavola. At first glance, I'm in love with it. The rustic tables and floor, combined with the prevalence of pigs, charms me immediately. The menu bowled me over. The butternut squash gnocchi with wild boar ragu (topped with cocoa powder and fresh apple) was….amazing doesn't being to explain it. Transcendent, perhaps. Everything els is outstanding, but I still crave that gnocchi and sauce. Mmmm….
8:30 p.m – We drive back to our Inn, completely satiated and exhausted. We both are out cold by 10 p.m.
We wake up the next day refreshed, and indulged in another walk around the property to feed the ducks and visit the llamas and alpacas. After packing and loading the car, we wander into the spa for some final moments of relaxation, and treatments (facial for me, massage for him) before heading home. With no traffic, we're back in the city by 3:30 – and I'm already missing Hudson. With a firm plan to visit quarterly, my husband unpacks and I tackle e-mails. It's a good thing that the Hudson Valley is only 90 minutes away.