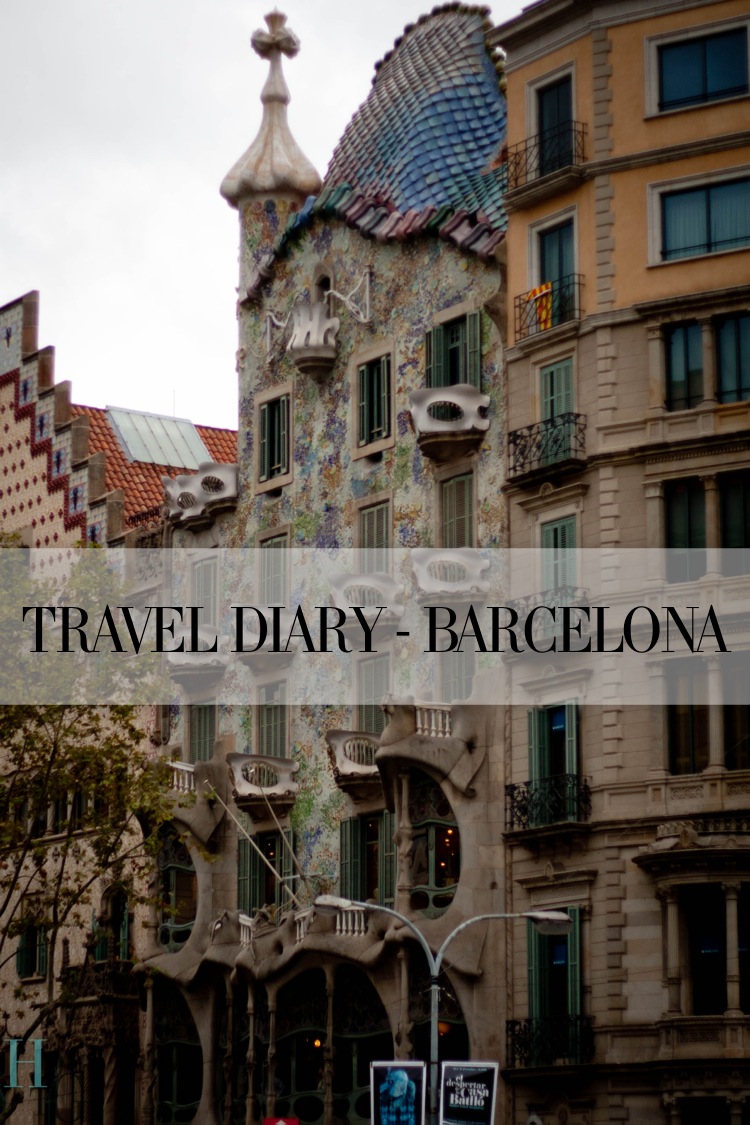 It's not hard to see why Barcelona is my husband's favorite European city.  The people are warm, the food is outstanding, and the city has a palpable energy that rainy days cannot dampen.
The fact that it's also visually beautiful doesn't hurt, either.
Like Seville, our time in Barcelona was too short.  Here's hoping our next trip to Spain isn't too far away.
We flew in Thursday evening, straight from my conference.  An authentic Catalan meal and a good night's sleep was all we had planned for the night, and En Ville and Le Meredien on La Rambla provided just that.
Friday morning was welcomed with rain – which meant I had zero qualms about staying in bed to watch the Vice Presidential Debate on YouTube and sip my strong cappuccino. The weather lifted just in time for our Gothic/Modernist Walking Tour, per Usha's recommendation.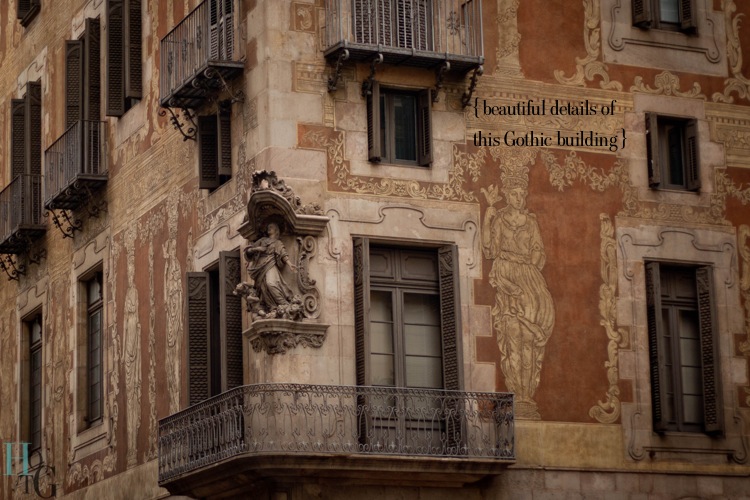 I loved wandering through the starkly different neighborhoods in the city, obnoxiously snapping pictures at each stop and along the walk.  Ominous rain clouds started to approach as we ambled back to our hotel, with just enough time to buy cups of gelato to enjoy in our freshly made bed.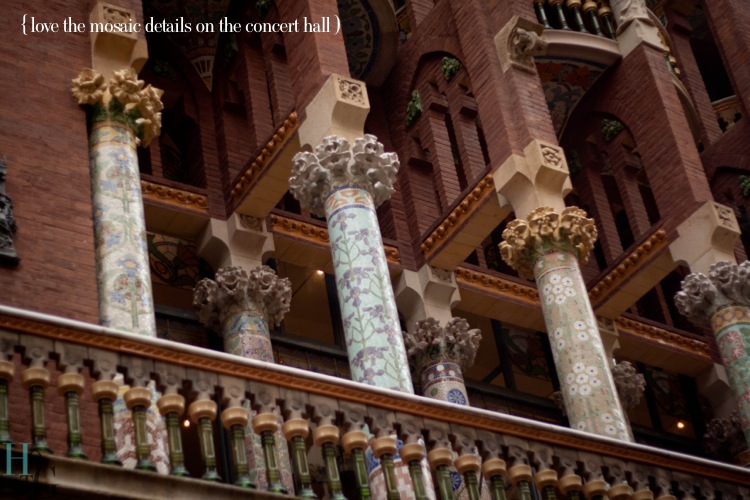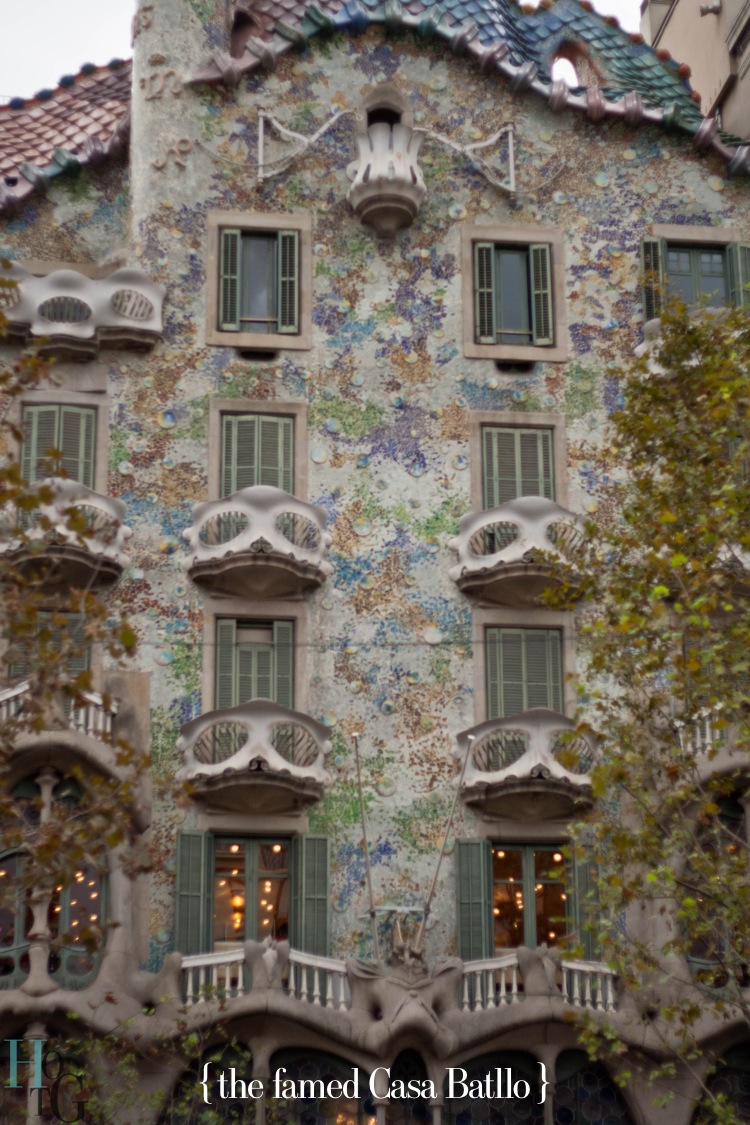 Dinner was at the excellent Luzia, right across the street from our hotel.  The continental menu was perfect for us, as we dug into our tapas (fried eggplant slices and potatoes smothered in cheese and spicy sauce), a salad, and a pizza.
Saturday was our last day in the beautiful city, and we set out early on our ambitious agenda.  First stop – La Sagrada Familia.  We were warned about the lines for Gaudi's final masterpiece, so we purchased our tickets on Ticketmaster and showed the receipt on my phone to gain admission.  Do it – you will be grateful. 
The church is truly extraordinary.  I've never seen anything like it, and I don't think I ever will.  The juxtaposition of the old and new construction is stark, yet somehow feels natural.  Sagrada Familia was Gaudi's final work, and his most tragic (he was killed, getting hit by a car, while constructing the church).  Splurge an extra few euros to climb the towers – the views are spectacular, and it gives you a closer look of the top of the church).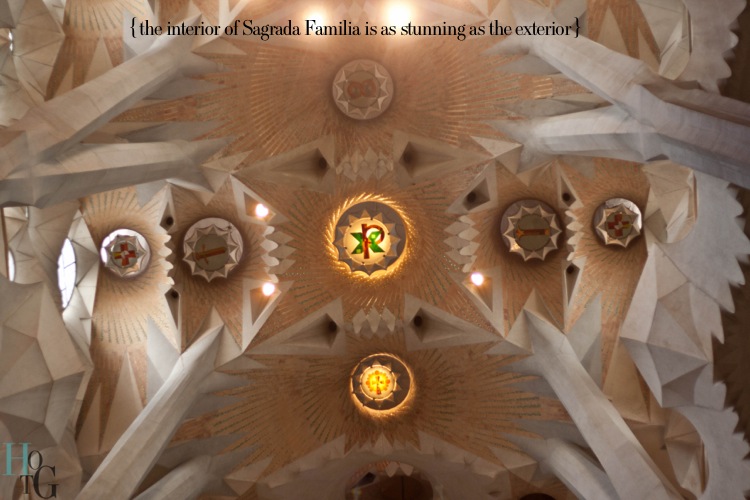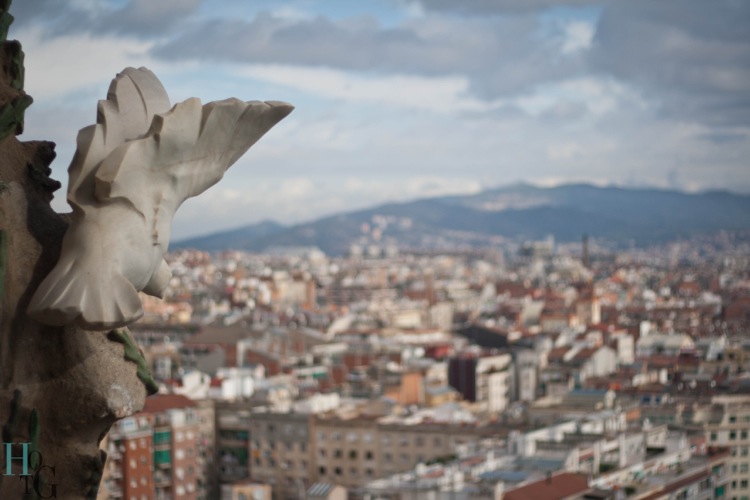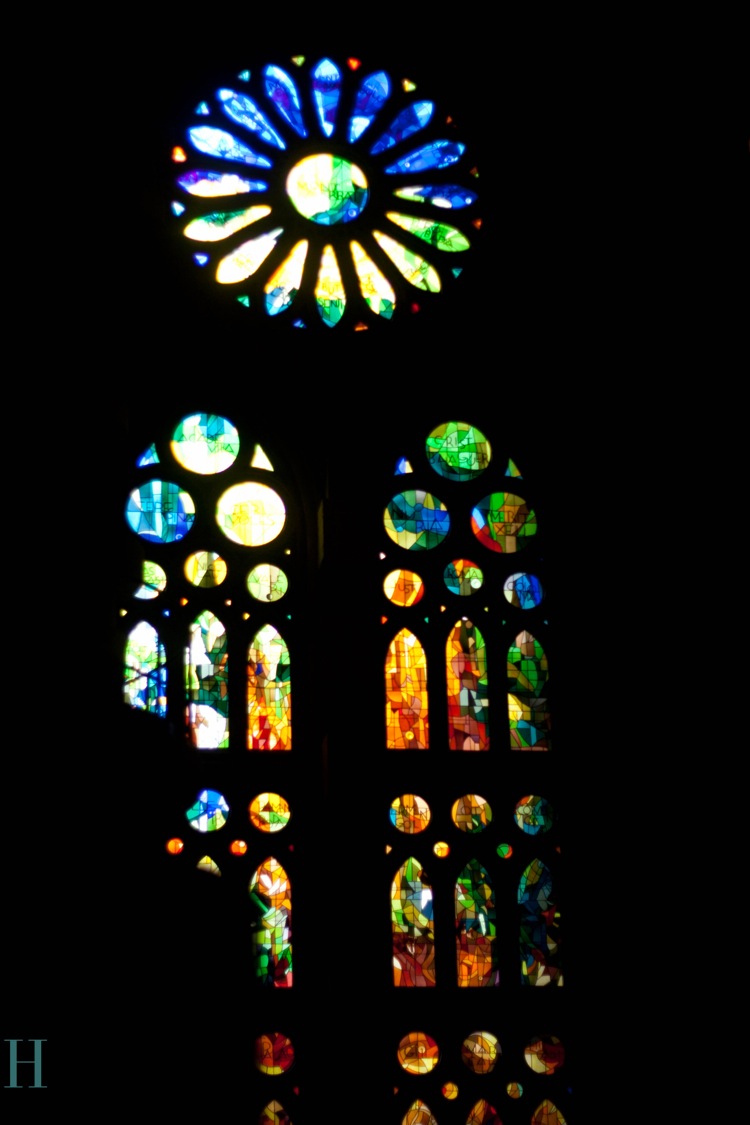 We indulged in chorizo-filled tapas in the park in front of the church, at the only food stand.  My husband had raved about it (he was in Barcelona a year and a half prior), and he. was. right.  Get the miniature chorizo and the chorizo enchilada and quesadilla.  All delicious.  All cheap.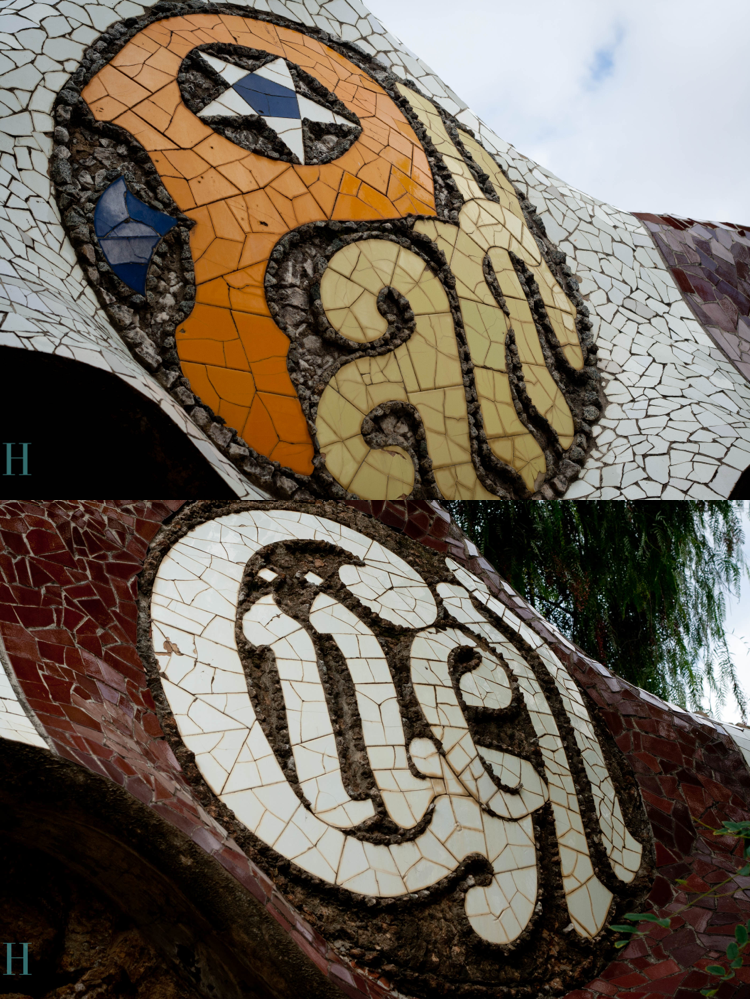 We made our way to the famed Parc Guell, via metro and foot. While the hike up to the park was a workout, the views of Barcelona were stunning.  My favorite part was the Gaudi mosaic-filled terrace.  Apparently a lot of people felt the same way.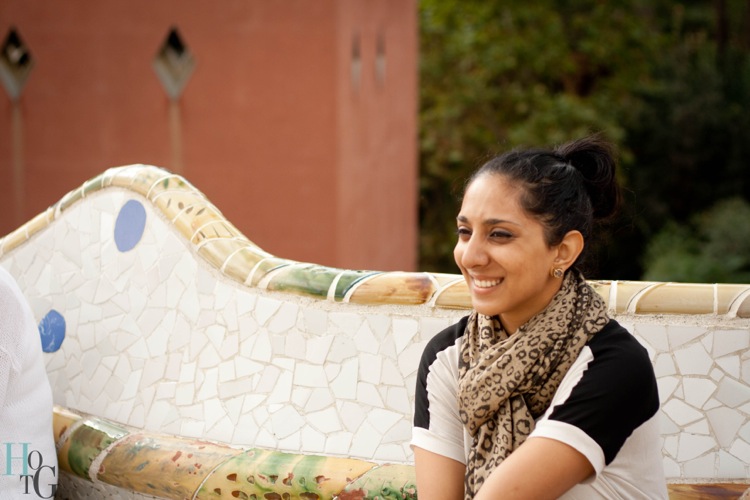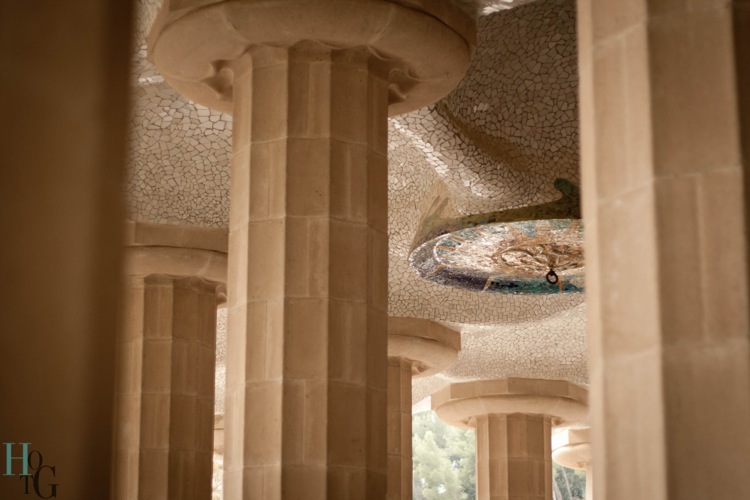 Our final activity on our ambitious day was the panoramic cable car ride above Barcelona.  It was the last activity my husband wanted to share with me, and I'm so glad he did.  Despite the beautiful views from both Sagrada Familia and Parc Guell, the cable car gave a wholly different perspective on Barcelona.  It was romantic as well…until strangers entered our trolley on the way back down.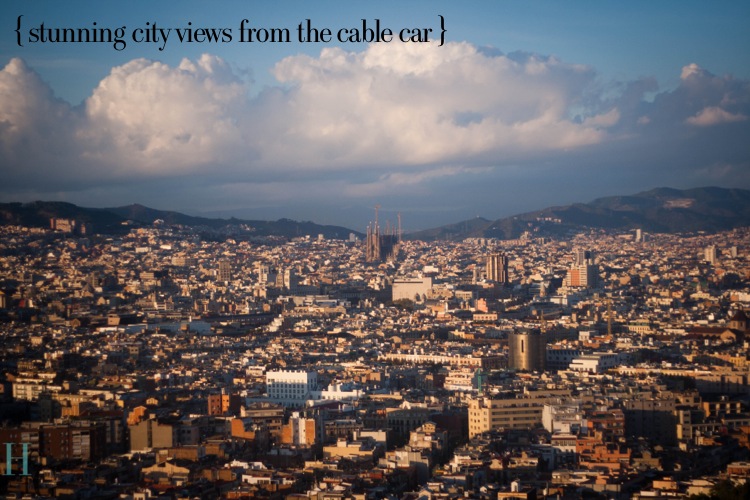 The evening ended with dinner with Grace and Stefan!  We had a great time dining on Catalan specialties and non-stop conversations.  It warmed my heart to look over and see Sri and Stefan as engrossed in their conversation about business as deeply as Grace and I were talking about blogging, entrepreneurship, and fashion.  The evening went by way too fast, and by 11 pm we dragged ourselves back to our hotel for our early morning flight back to Madrid, and then home to New York.