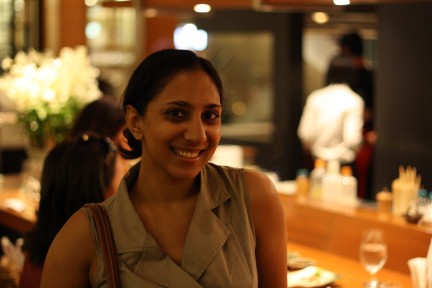 – at Siam Paragon in Bangkok, Thailand –
Thailand has always been on my bucket list to travel.  When I got the opportunity to travel to Bangkok for work (for a quick 36 hours), I jumped at the opportunity.  In between meetings, facility tours, and catching up on e-mails, I visited the famous Floating Market, wandered around and dined at Siam Paragon (Bangkok's equivalent to Fifth Ave), and marveled at the beauty of the Ayotthaya temple.  I try to fit in a bit of vacation into a work trip, turning all my business travels into workcations (previous vacations include Paris and Mumbai).
Here's how I plan my workcations:
Finalize your business trip itinerary. Having your work schedule confirmed allows you to gauge how much personal time you have. Make travel/accommodation plans (as necessary) for your personal time.
Align your interests with the destination's offerings. A consummate foodie, I like to find the local restaurant reviewer's articles and pick a few restaurants to dine at. I also ask the front desk at the hotel about local sights that are within my planned run distance. Museums are my go-to activity when the weather turns sour, or when I have a few extra hours to kill.
Ask – friends, Facebook, Twitter, passengers on your flight. Definitely ask the flight attendants – I've gotten some great recommendations from them, and also found myself with an extra bag of pretzels (score!).
Walk it out. As tempting as the hotel bed and Conan on TV may sound, an evening stroll gives you a whole new perspective on your destination. It also earns you a glass of wine or a decadent dessert in a cozy restaurant with a view of the street.
The goal of the workcation is to fit your favorite parts of vacation into a work trip. The balance between never leaving your hotel and departing in a food/booze/travel coma is a fine one. Have some fun, be safe, and definitely decline a round of Patron shots at 1:00 a.m – especially if you have an early flight.