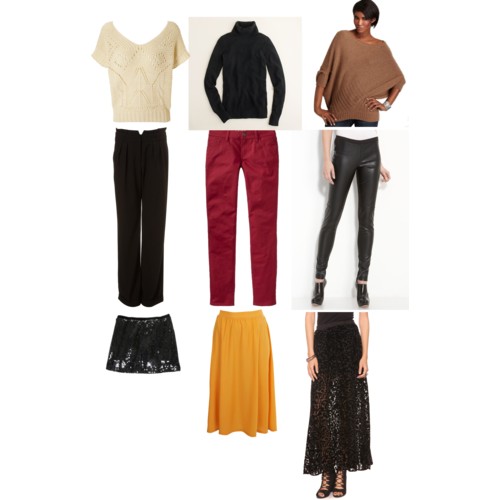 cropped sweater / turtleneck / oversized sweater
wide-legged trousers / red pants / leather leggings
sequin mini / mustard midi / velvet burnout maxi
Lucy posed a question on Twitter on fall wardrobe must-haves that got my shopping juices flowing.  While I'm abstaining from making any actual purchases (my husband has put me in a strict budget to help curb my spendthrift ways), I indulged in some virtual window shopping and put together a budget-friendly list of fall style essentials (all items, except for the turtleneck and oversized sweater, are under $100).  I'm loving knits (both chunky and sleek) paired with diverse textures and color.  These nine pieces can be paired interchangeably to create a multitude of ensembles for the season.  Next week, I'll be posting my picks for shoes, bags, and outerwear – stay tuned!