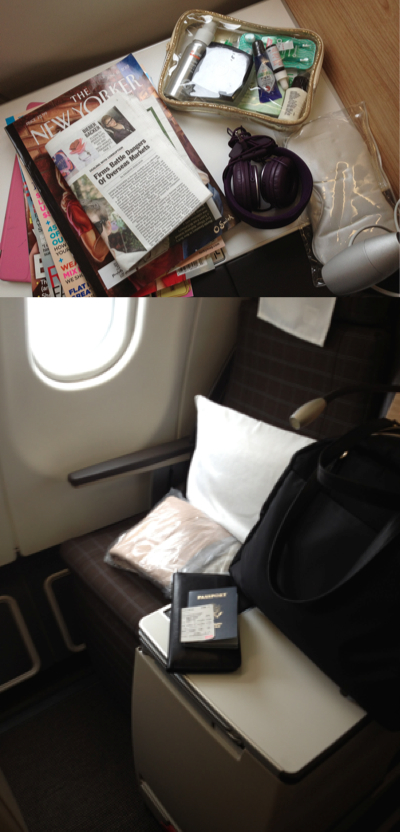 "Water, orange juice, or champagne, ma'am?"
Nestled into my seat with my iPad on my lap, I accept glasses of champagne and water with a smile.  My (dead) iPhone is plugged into my personal outlet, magazines and my beauty bag sit on the shelf next to me, and my Tory Burch travel sock-ensconced feet are propped up on my leg rest, with my legs stretched.
This, I think, is the good life.
A menu is handed to me, and I mentally select chicken as my dinner entree and fill out the breakfast menu, which I hand back to the attendant and swipe another glass of water from her tray of drinks.
Allowing myself another moment of relaxation, I knock back the rest of my champagne and reach for my notebook and pen, to jot down my airplane to-do list.  Finish development reports, review decks, outline development budget, update editorial calendars are jotted down  on my Moleskine to the ever growing list, and I sigh – too much to do, not enough time.
"Hot towel, ma'am?"
I gratefully accept, both for the refreshment of the steaming towel and for the break from the list.  Cleansing my face with the towel, I undergo my in-flight beauty routine and put away the list.  Take-off is soon, and I'd rather catch up on a magazine.
The plane jets down the runway and ascends as I lose myself in the fiction essay in the New Yorker.  As we climb into the air, I move my seat into a reclined position and finish the story, quickly moving onto an article about a hotly conservative radio host in the South (a fascinating piece, though I staunchly disagreed with everything the subject stood for).  Once electronics are allowed to be turned on, I grab my laptop from my tote and open it, losing myself into work and the new Best Coast album playing in my headphones.
"Would you like chips, or cashews?  And can I get you something to drink?"
Though sodium is my enemy while flying, I accepted the dijon-flavored chips and two glasses of water.  Mindlessly opening the bag and biting into the chip, I resumed work – only to stop when I realized the bag of addictive, mustard chips was empty.
Damn those chips, licking my fingers.  As the flight attendant made her way down the aisle, I quickly requested another bag.  She brought me two.
Fingers flying over the keyboard, I wrap up the work outlined on my to-do list.  With every intention of starting the B list, I glance up and see the flight attendants coming down the aisle with starched white tablecloths.  Though I'm satiated by my sodium and carbohydrate-filled snack, I figured a salad and grilled chicken would redeem my sinful snacking.  Dinner is being served, and I stow away my laptop to enjoy my chicken entree with 21 Jump Street – a movie (like most) I had every intention of seeing in the theater, but never got around to.  I also spot This Means War on the list, and I mentally note to view that film on my second flight.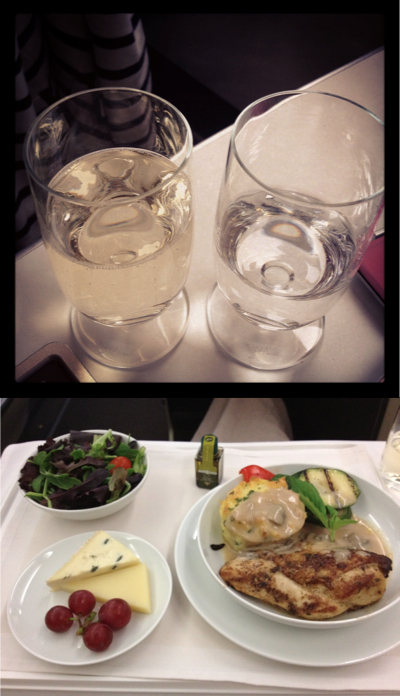 The excellent meal, complimented with another (or 3) glasses of champagne and the hilarious movie (Jonah Hill + Channing Tatum = movie magic), lulled me into sleep.  I hit up the bathroom to brush my teeth, marveling that individual face washes and creams were available in the basket next to the sink.  Teeth cleaned and face re-moisturized, I press the "flat" button on my seat, spread the thick blanket over me and pull on my silk eye mask, and fall into a deep slumber.
The unmistakable clatter of the cart wakes me up.  Lifting up my eye mask, I squint as the lights hit my tired eyes and blink quickly, my dry contacts uncomfortable after my four-hour sleep.  I stretch and yawn, hitting the "takeoff" button to move my seat back to its seated position. Shuffling to the bathroom, I quickly freshen my teeth and face and return to my seat.  A tablecloth is spread across my table, and the breakfast I selected a mere hours before is placed atop it.  A double serving of fruit, hot tea, and yogurt sit atop a cloth-covered tray, with utensils and a glass of water.  Quickly eating my breakfast while (still) reading the second book of the Game Of Thrones series, I start to wake up.  Fueled by the two cups of tea I sip, my mind begins to race, wondering what e-mails arrived during the flight and what I need to knock out during my (short) layover.  Breakfast tray removed (and another bag of chips graciously given to me by my n0w-favorite flight attendant), I pack my Lo & Sons tote and place it next to my Heys case in the overhead compartment.  Blanket kicked to the area next to me and flats back on my feet, I mindlessly flip through a gossip magazine as we land, mind still on my to-do list.
"Ladies and gentlemen, welcome to Zurich, where the local time is 7:30 a.m.  We hoped you enjoyed your flight, and we hope to see you on another Swiss International flight soon."
Oh, Swiss Airways, you will.  In approximately two hours.