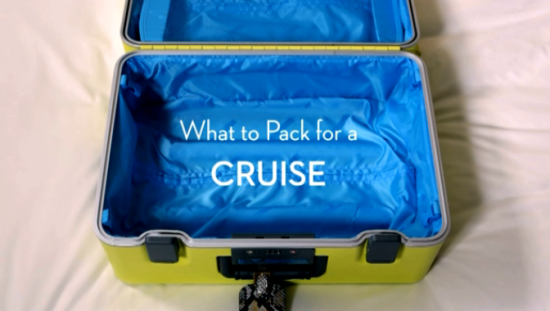 Even though it was 12 years ago, I remember going on my first cruise.
It was a big family trip, and we sailed from Vancouver to Alaska.  Highlights from that trip – horseback riding in the pouring rain, countless orders of french fries and fruit plates from room service, and marveling at how my mother managed to arrange a private room and homemade Indian food for dinner every night.
That Mama Palepu.  She's my hero.
The decided LOWLIGHT of the trip was my overstuffed suitcase.  It was filled with clothes I never ended up wearing, makeup I never applied, and heavy hardcover books that were never opened.  Lugging it through the Vancouver train station was challenging, to say the least.
Fast forward 12 years, and we're gearing up for another cruise.  This time, just my husband, my carry-on suitcase, and a brand new destination.  Scandinavia, we're coming for ya!  (Please excuse my cheesiness.  I can't control it).
CLICK the image below to watch my Cruise Packing List video with Divine Caroline.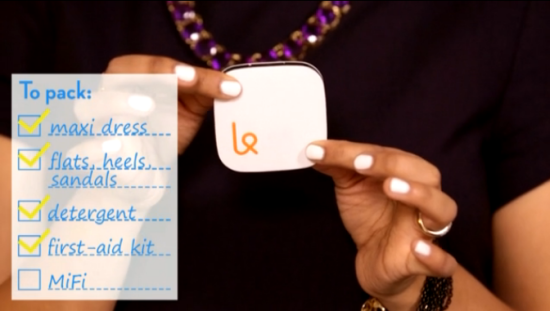 in the video >> suitcase // maxi dress // necklace // flats // heels // sandals // detergent // first aid kit // international mifi
Why a maxi dress?  It is one of the most versatile items to pack for a trip.  They're comfortable to wear on an airplane, and can be dressed up with a simple necklace and a pair of heels.  This one from Old Navy is my JAM (as seen here).  The jersey fabric is wrinkle resistant, the neckline is super flattering, and it's ridiculously comfortable.
My 3 shoes per trip rule continues to hold.  The shoes mentioned in the video (flats, heels, sandals) are intended for a beach cruise.  If you're headed to a colder destination, opt for flats, stylish sneakers, and a pair of heels to tide you through.  Make sure two pairs of the shoes are well-suited for the rain (or just pack a pair of Go-Go-Galoshes).
Travel detergent.  I don't go anywhere without it.  Laundry is crazy expensive on a cruise ship.  Save your hard earned dough for a cocktail and pack this travel detergent instead.  And never go an any trip without it.
Yes, there will be a health care professional on board.  Is that a reason to risk a visit to the infirmary?  Pack some basic medicines in a pouch – pain reliever, Band Aids, Pepto Bismol, Mucinex, Dramamine.  ESPECIALLY Dramamine.
Another thing cruise ships like to charge out the wahoo?  INTERNET.  If you have limited days out at sea, rent a global MiFi that will work in the countries you're visiting.  XCOM Global has a great European plan – I opted for that and added Russia as well.  Total cost?  WELL under what roaming charges would have been – plus my husband can use it too.  The device connects up to 10 devices, AND encrypts all your data.  WIN.
You can follow my travels on Instagram – thanks to my MiFi, I'll be posting up a storm.  Do svidaniya!