In light of the horrific events in Boston on Monday, it didn't seem appropriate to me to publish one of my usual posts yesterday.  Especially since I felt too unsettled and emotional to write about the events.  In addition to making a donation to the Red Cross, I've been sending positive thoughts to Boston (those who participated in the marathon, residents of the city, and everyone else affected).  If you'd like to give back in any way, I recommend visiting this link, which has rounded up a lot of options for giving back in some way.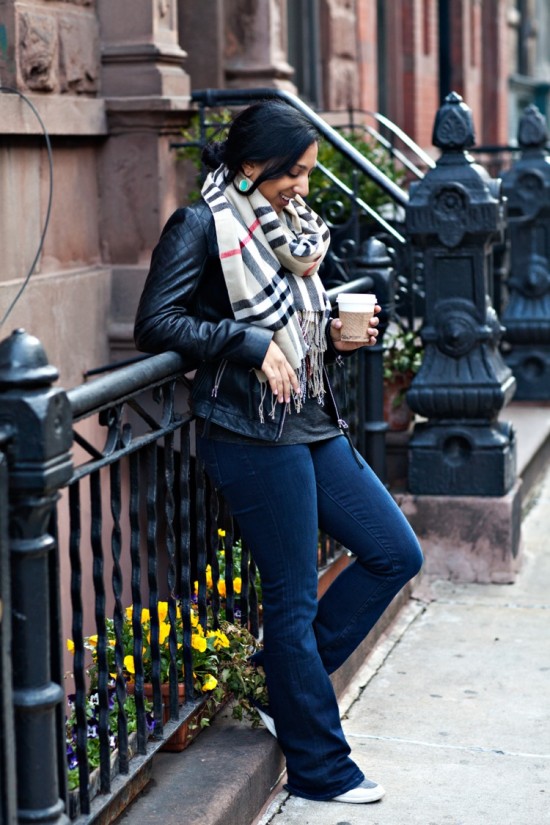 – Manifesto t-shirt, 7FAM jeans, old leather jacket,
Nine West shoes, Burberry scarf, Send The Trend earrings –
Looking at these pictures reassures me that I made the right decision to chop off my hair.  Between the messy bun, the attempted polished pony, and the inevitably loose-yet-frizzy locks, it was time for a hairstyle that's easy to manage.
Two-minute-vain rant over.  As much as I'm hating on my hair, I've been living in variations of this outfit for the past month.  It's still too cold to go jacketless, but the very presence of two layers (versus the normal wintertime 4) is a welcome change.  Far things beat a cozy t-shirt, a new denim silhouette, and a tough jacket to top it off.
That said, when the day comes when I can go jacketless until fall, I'll be dancing in the streets.  Likely those of SoHo, at around 9 am, when they're empty and I'm heading into the office.  I'll be the one doing some sort of strange Bollywood-hip hop-Tracy Anderson Method combination.
What are you most excited to wear this spring?  I'm excited for it ALL – skirts, dresses, open-toed shoes (though my feet would disagree), and most importantly NO OUTERWEAR!
Photography by Lydia Hudgens