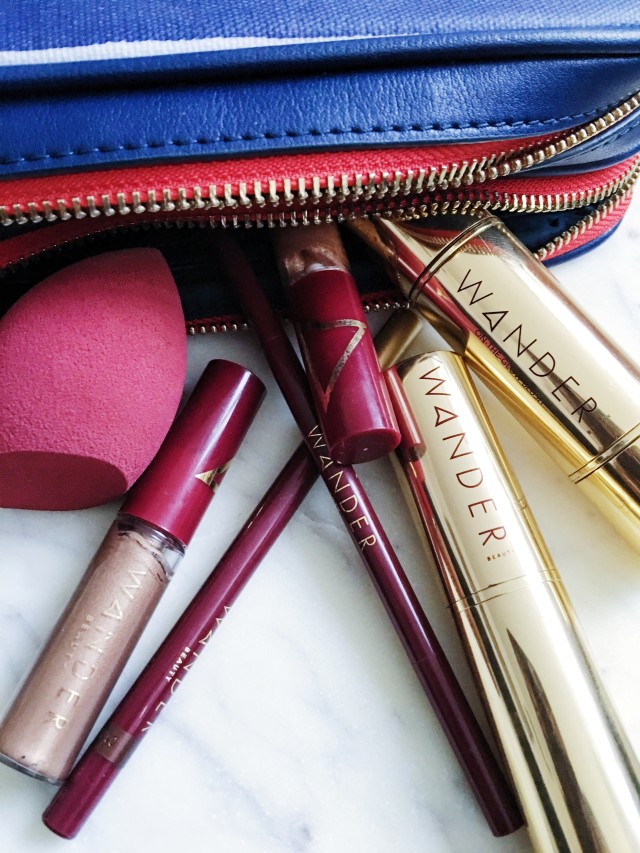 5 minutes. You can do a lot in such a short amount of time.
Make a cup of coffee. Pack a suitcase (once you follow all my tips). Putting on your makeup.
The secret to a fast makeup routine (particularly one you can do in a tiny airplane bathroom in a few minutes) are all about the products. Enter Wander Beauty.
There's a lot to love about this line:
It's cruelty-free, and made with a lot of naturally-derived ingredients.
All of their products (except for the foundation sticks) work on virtually every skin shade.
Every product glides on and blends easily.
Application is fast and every product is intended to be used in multiple ways.
The downsides? It is on the expensive side, and the staying power isn't as long as other luxury brands. But given how fast and easy the products are to apply, touching up your makeup is a quick endeavor.
I'm most impressed at how well these products travel. There's no dealing with leaky bottles. The line only has two liquid products (the eyeshadow and cheek tint), which can be swiped on with the applicator and blended with the Wander Cushion (which blows the other cult-favorite beauty sponges out of the water).
The products shown are the only ones I packed for my weekend in Miami. They kept me going through long days (and nights), various meetings and meals, and the humidity.
Ooooh, the humidity.
Don't believe me? See how Wander Beauty co-founders Lindsay and Divya thrive on the road with their products.