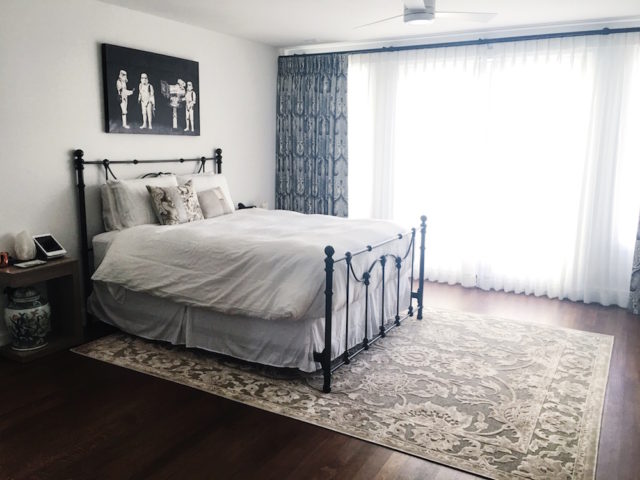 In partnership with Raymour & Flanigan
Since we moved into our place in June, we've had guests stay with us.
Every week, nearly.
Family. Friends. More family. Me, when I'm in the throes of a bad cold and spend all night blowing my nose.
I would mind – but the bed is insanely cozy, the blackout shades powerful, and it's the only bedroom with a TV.
This was one of the first rooms we finished in our home. Partly out of necessity, and partly because Raymour & Flanigan was truly a wonderful partner and helped furnish this room fast.
And thank goodness – it was completed just in time for my aunt and uncle's month-long stay.
With the holidays looming over us, getting ready to host our loved ones is just one of the many things on the lists (right before 'stock up on wine' and after 'drink all the wine'). Here are my 3 tips for hosting guests without losing your sanity – no matter how small your space.
I used these tips for hosting people in our studio apartment. And we survived. In fact, we had a pretty great time.
I hope you will, too.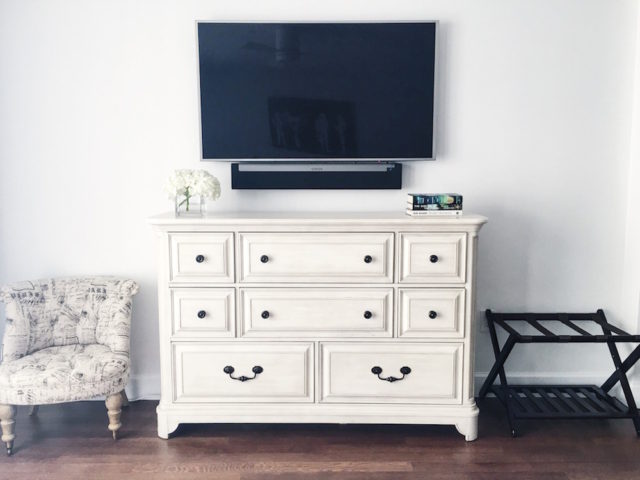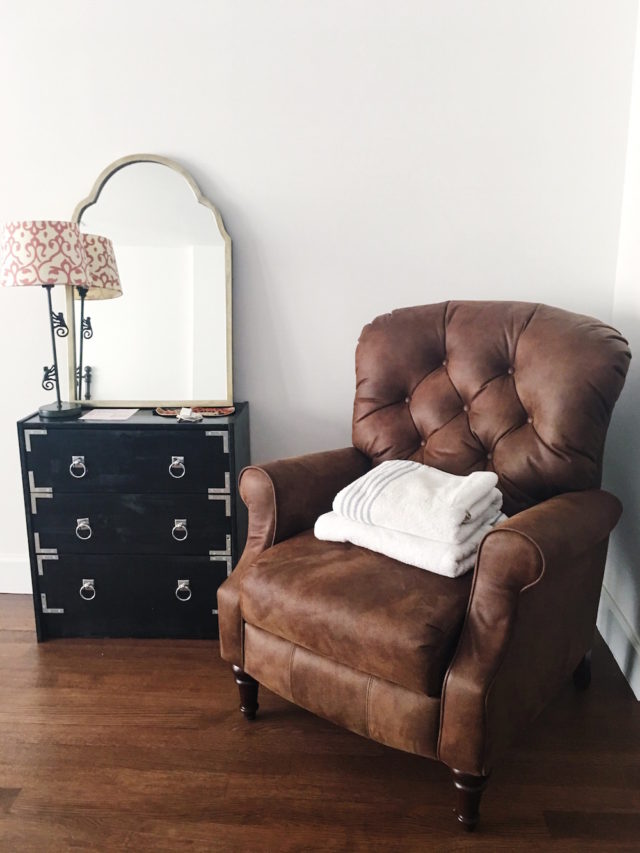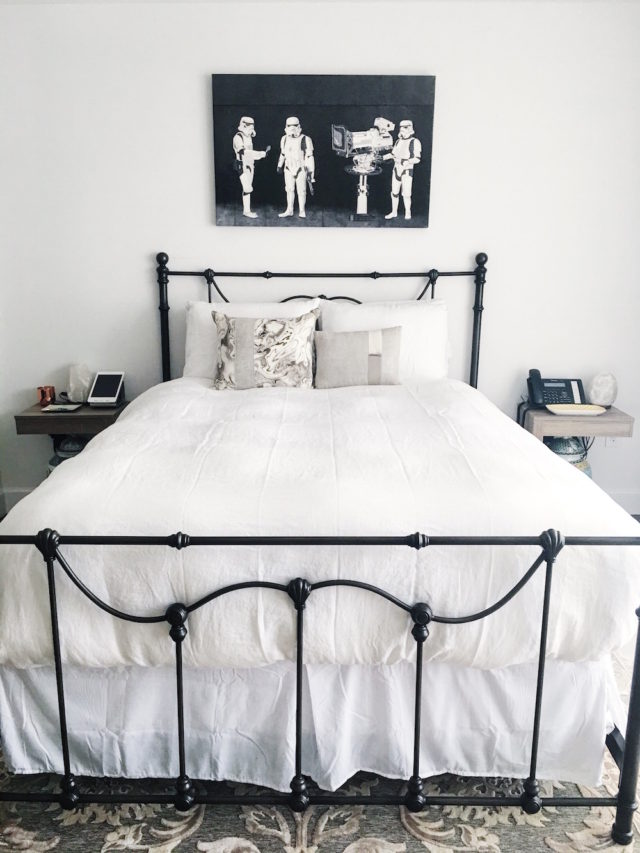 1. INVEST WISELY
A beautiful, comfortable room doesn't have to be expensive. Nor should it be.
The bed should be comfortable, the linens soft and breathable, and the space dark at night. That's it.
For this room, we splurged on great bedding and drapes that leave the room pitch black. We invested in a good mattress and bed. And we saved by adding some of our old favorites (the Stormtroopers, a slipper chair, and IKEA hacked-campaign chest) to give it a personal touch.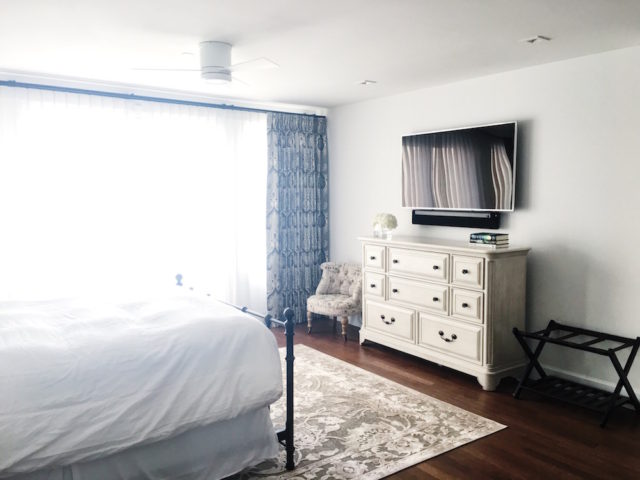 2. KEEP CALM…
…and always carry on ;)
But honestly – creating a calm environment, no matter how much space you have, is the key to making your guests truly comfortable.
It doesn't have to be a minimalist white room, or a corner of a living room that screams 'zen.'
But putting away your own stuff and leaving ample space for your guest to store their luggage, put away their belongings, and get comfortable in a clutter-free space makes a good stay great.
Case in point – one of my most relaxing stays was on Victoria's couch last month. This was why.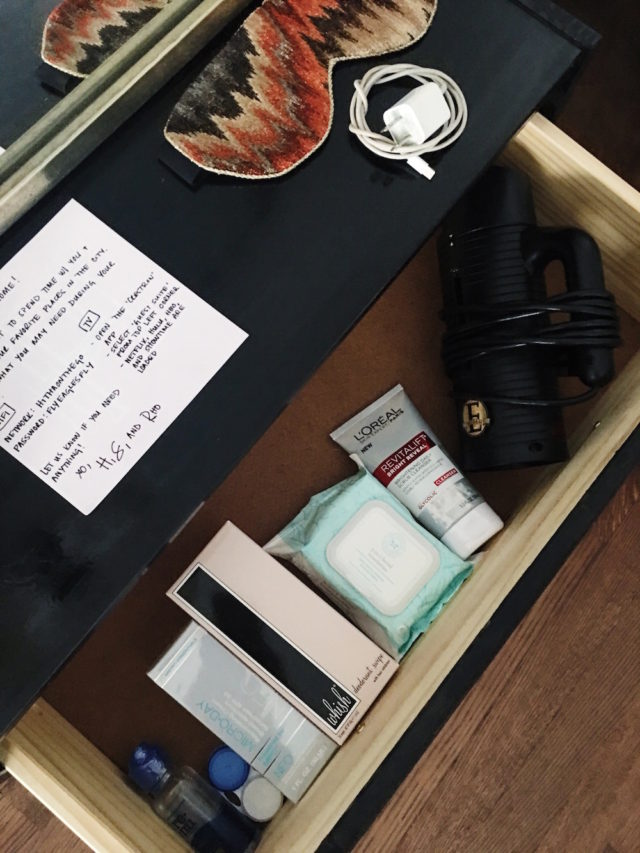 3. WHEN IN DOUBT, OVERSTOCK
In addition to the requisite extra toiletries and chargers, I also like to furnish the space with a steamer, an eyemask, and a luggage rack.
I also leave extra towels, a thick blanket, and a pile of books on the nightstand.
Common sense and the 21st century also dictates the need for writing down the WiFi details and the television instructions, which I like to personalize with each guest.
My #1 hostess hack is to ask my guest what their go-to morning jolt is – coffee, tea, an apple cider vinegar concoction – and to leave it out on a tray in the kitchen before I go to bed.
It's much appreciated. Especially if you (or your guests) aren't morning people.
SHOP THE POST
Queen Bed (similar) – Mattress – Dresser, nightstands, armchair, rug, mirror ℅ Raymour & Flanigan – Ikea chest + DIY – MYHABIT slipper chair (similar) – Luggage rack – HomeGoods lamps (similar) – West Elm linen duvet & sheets – Banksy Stormtroopers print
Do you have any tips for prepping for guests? COMMENT below and let me know!
Raymour & Flanigan gifted the denoted items; no other compensation was given. All opinions are 100% my own.