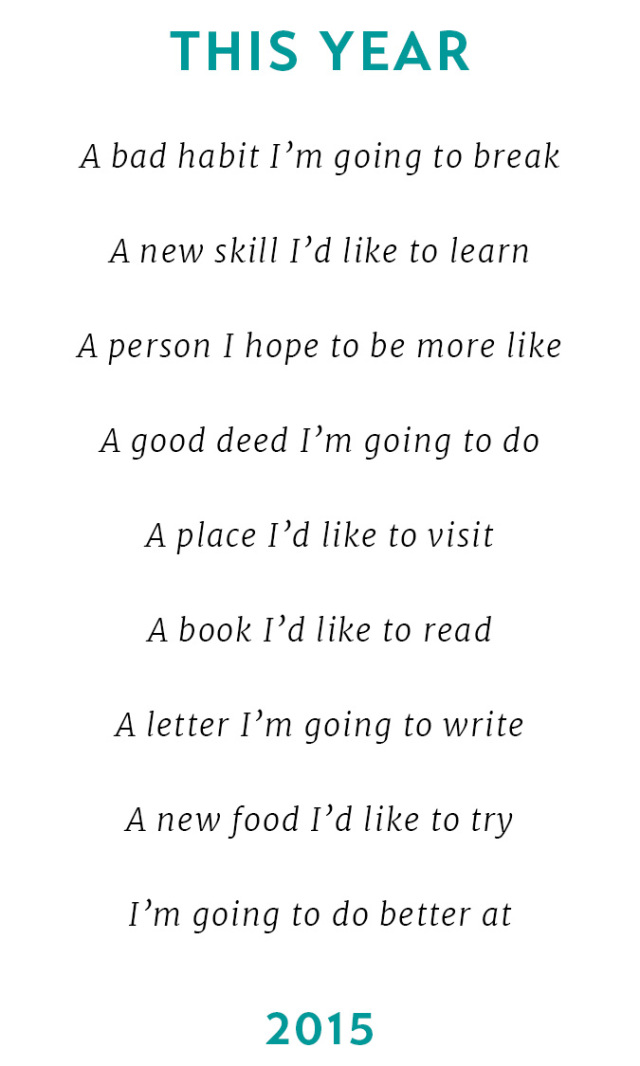 – printable version here–
One of my favorite things about writing this website is re-discovering old posts. Like this one.
I toyed with the idea of creating new questions. But there's something both satisfying and comforting about setting new goals from the same questions, year after year. I won't lie – it also makes goal setting less daunting.
Republishing this post also forces me to confess that I failed to achieve certain goals. Swimming and Omakase-style sushi didn't really happen. And I still work from bed (a rarity, but it still happens).
You win some, you lose some. I look back on 2014 with a sense of accomplishment and a heavy heart. I have a lot to look forward to next year.
Including accomplishing these goals. While they may not be as ambitious as the goals of years past, I'm excited to work on them all the same.
A BAD HABIT I'M GOING TO BREAK:
Checking my e-mail first thing in the morning.
A NEW SKILL I'D LIKE TO LEARN:
Coding! I'd like to not sound like an idiot when working with our developers
A PERSON I HOPE TO BE MORE LIKE:
My mother. If I'm 0.5% percent as good a mom as she is, my child will be very lucky.
A GOOD DEED I'M GOING TO DO:
Volunteer more with the Athena Center at Barnard College
A PLACE I'D LIKE TO VISIT:
London. Though it's not a new destination, it's one that both my husband and I are yearning to get back to.
A BOOK I'D LIKE TO READ:
J.R.R Tolkien's Lord Of The Rings – it's been about 15 years since I read the trilogy last.
A LETTER I'M GOING TO WRITE:
No specific one in mind, but I do want to send MORE letters, less e-mails. Sending a baby announcement in a timely manner is very high on that list!
A NEW FOOD I'D  LIKE TO TRY:
Senegalese. Never had it. Down to try it.
I'M GOING TO DO BETTER AT:
Being a more thoughtful daughter, wife, and friend.
I'd love to know – what are your goals for 2015? COMMENT below with one (or all!) goals from the prompts above. I'd love to know what you want to accomplish in the new year :)