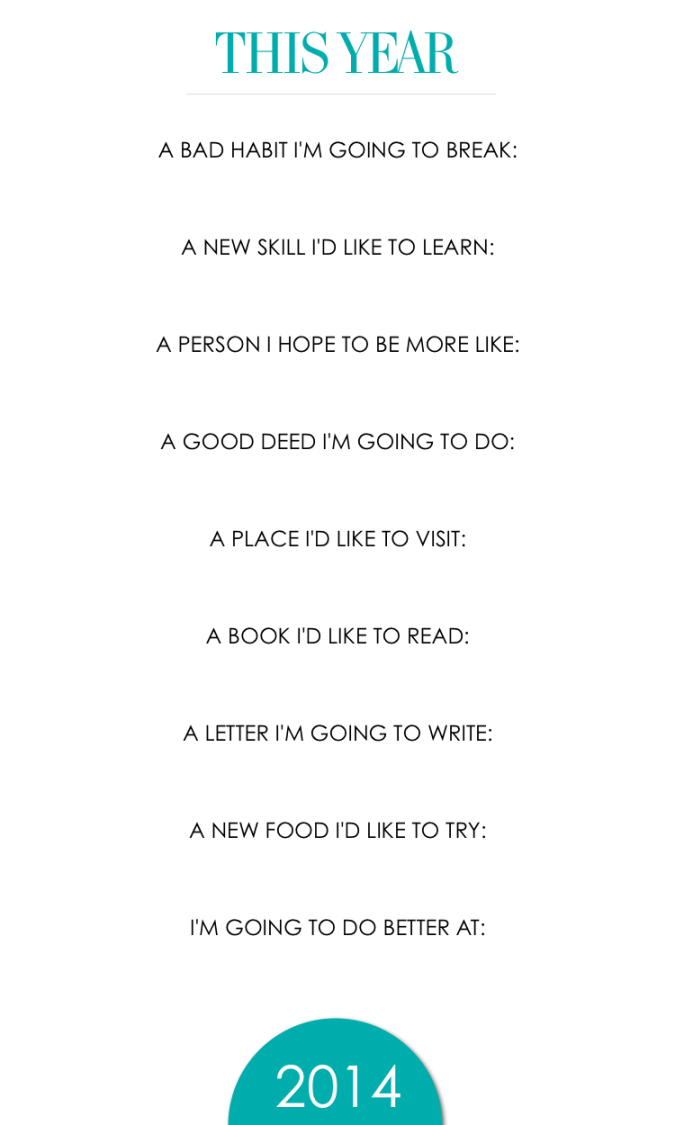 I'm always excited for the start of a new year.  2014 is no exception, and I can't wait to build on the achievements and growth from 2013 into this year.
I've always made resolutions and goals, but I decided to do them a bit differently this year.  I found this questionnaire on Raluca's blog and opted to set my 2014 resolutions this way.  Peep my answers below:
A BAD HABIT I'M GOING TO BREAK:
Stop working from my bed
A NEW SKILL I'D LIKE TO LEARN:
Overcome my fear of water and re-learn how to swim
A PERSON I HOPE TO BE MORE LIKE:
A better version of myself
A GOOD DEED I'M GOING TO DO:
Volunteer my time to a worthy cause
A PLACE I'D LIKE TO VISIT:
Australia – which is happening SO soon
A BOOK I'D LIKE TO READ:
Bhagavad Gita
A LETTER I'M GOING TO WRITE:
A handwritten note to a businesswoman I admire
A NEW FOOD I'D  LIKE TO TRY:
A sushi dinner, Omakase-style
I'M GOING TO DO BETTER AT:
Keeping in touch with business acquaintances and friends
What BIG things do you have planned for 2014?  Any exciting responses to the goals above?  COMMENT below and let me know!