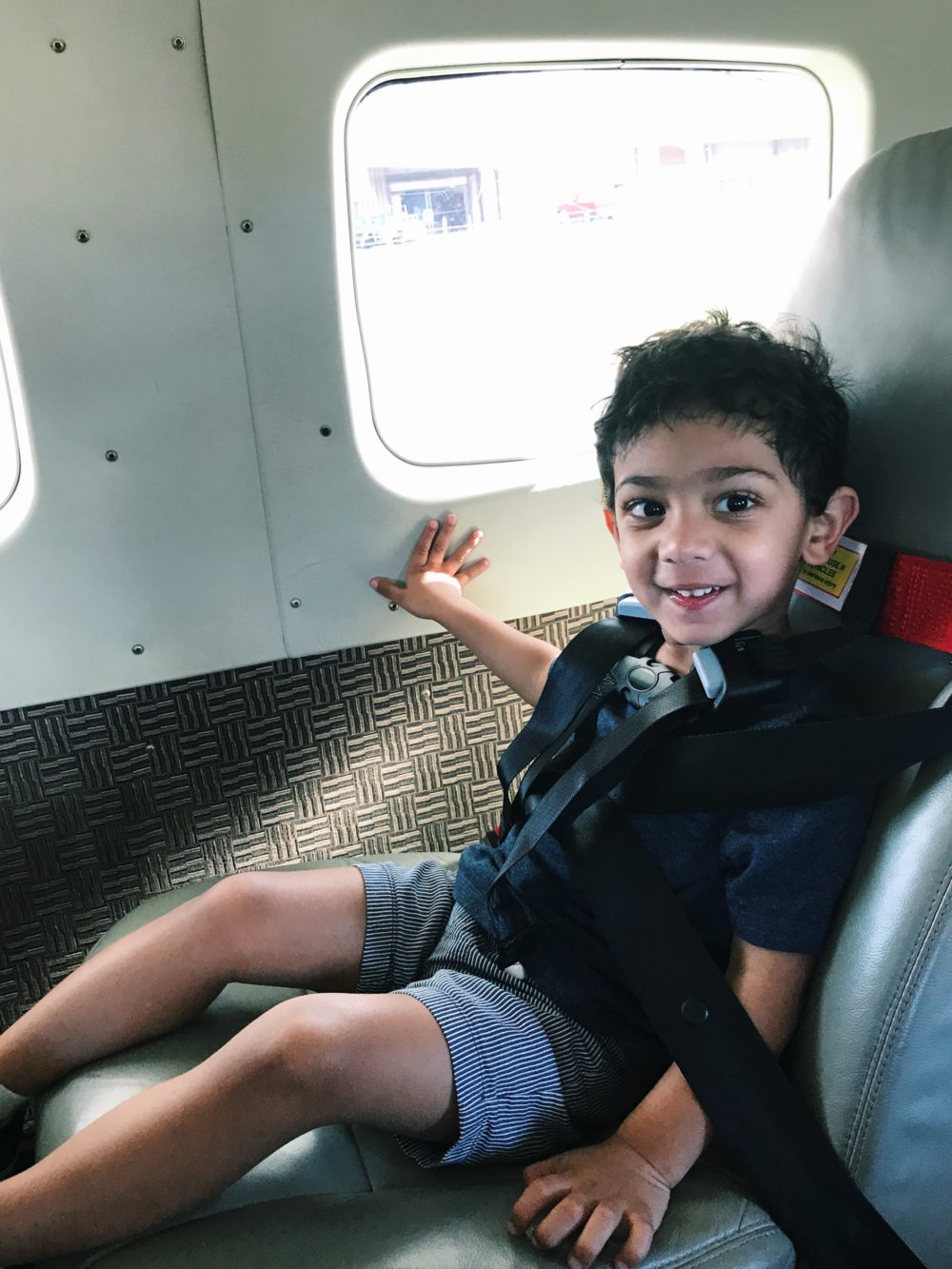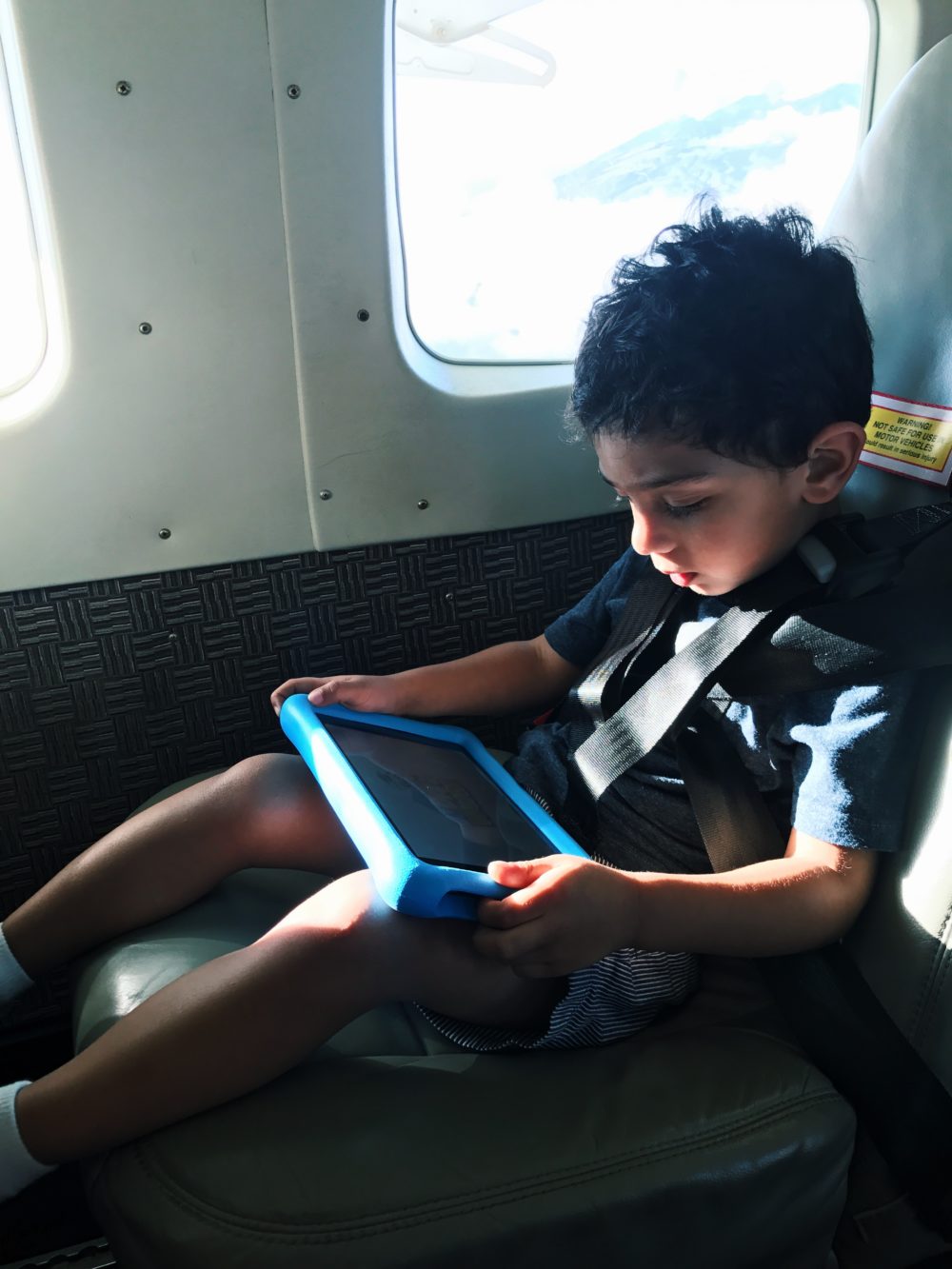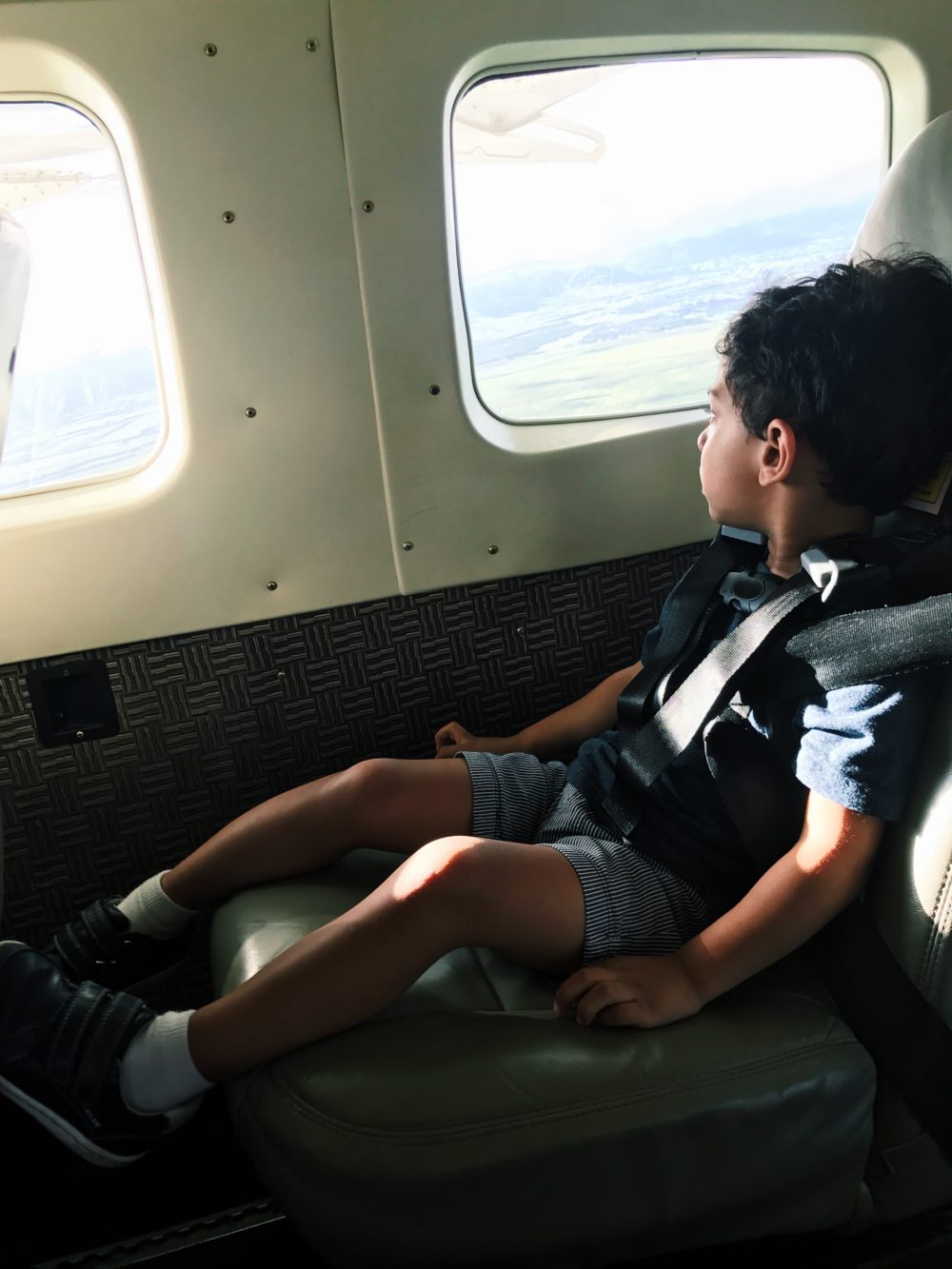 This is my most popular post on the blog. Ever.
And today's post has been my most requested.
Here's the thing. I never had the authority to write about surviving long flights with a baby or toddler, given that this was Rho's first long haul trip.
Since he was born, Sri and I seized a free week to travel by ourselves. To reconnect as a couple, catch up on sleep, read a veritable library of books, or explore a new place.
I have no regrets about that decision. But after our trip to Hawaii, I'm also keen to travel more frequently with Rho.
For as challenging as this trip was (and it was), it was also incredible. We came home much closer as a family, and I felt like I knew Rho so much better than I did before.
I discovered that he sees animals everywhere – trees are giraffes, hills are hippos, and lions are everywhere. That a slice of cheese pizza is something he'll never turn down – ever. That drinking milk too close within two hours of getting in the car will definitely make him throw up. That he can handle a little disruption in his schedule.
I learned that I can handle said disruption as well. I'll just need an extra glass of wine that night.
Most importantly, I've learned that my kid is a rockstar traveler. And that upgraded seats are worth every penny (thanks, Mom and Dad). And that it's absolutely worth traveling with your kids, even if they won't necessarily remember the trip.
Here's everything I learned about flying with a toddler – the good, the bad, and the messy.
What We Brought
Lo & Sons Catalina Bag

3 extra outfits for Rho, individually packed in gallon-sized baggie
1 extra outfit for me, packed in gallon-sized baggie
1 gallon-sized baggie with diapers, wipes, deodorizing diaper bags, and changing pads
DIY first-aid kit – facial tissues, Band Aids, Neosporin, children's Tylenol, Zyrtec, and cough syrup – in a quart-sized baggie
Snacks – cheddar bunnies, fruit chews, lollipops (for sucking during take-off and landing), cereal packed in snack baggies – all packed in a gallon baggie
Rho's toiletries (toothbrush, toothpaste, A&D, Aquaphor, and this Cetaphil set) packed in a quart-sized baggie
2 packages of diapers and 1 new package of wipes, packed in the bottom zippered compartment of the bag
Getting Through The Airport
The stroller was the last thing to be packed in the trunk, so it could be the first thing we took out. Once Rho was in the stroller, I packed up his travel carseat (best $35 I've ever spent) and put it inside this padded bag, along with our wet bags filled with beach toys and swim diapers. We checked in the carseat bag, along with our own individual suitcases, and kept Rho in the stroller until we got all our bags on the screening belt. My husband took Rho through while I folded it up, and held him while I gathered our bags and got it set up again.
Too bad Rho had zero desire to get back in. We used the stroller to hold our bags as he walked (ran) through the airport.
Our first flight ended up being delayed, so it was a good thing that Rho got to run around as much as he did. He sat still just long enough to eat some pasta, and for Sri to pop over to Starbucks and get some milk for him (they filled up one of his milk cups and our empty S'well bottle). I changed his diaper and folded up his stroller right before we boarded. Once the BabyZen is in its travel bag, it's as small as any carry-on suitcase and the flight attendants won't force you to gate check it. Sri held Rho while I got his harness set up, and we settled him into the seat before we settled in.
The stroller stayed folded up during our two quick layovers (SFO > OGG, SEA > JFK). It was, however, in heavy use during our long waits in Kona and Honolulu, and while we waited for our luggage at all of our final destinations.
Entertainment
Rho didn't sleep a wink during the first flight (EWR > SFO). Which means I didn't sleep either.
The tablet was my last resort. I managed to entertain him with putting the Minions movie on his entertainment screen, which occupied him for a solid hour.
The WaterWow painting cards bought me another 30 minutes. But he flat-out refused to play with the Play Doh himself, and requested me to sculpt the animals of his choosing.
"Lion! Zebra! Baby lion!"
Once he was bored of my sculpting skills, I handed him the Kindle Fire. We downloaded a slew of puzzle and animal games, which he happily played for most of the flight. We did return to the painting and Play Doh again, and took a few snack breaks.
During the shorter flights, the tablet was all Rho played with. He did sleep through the SFO > OGG and HNL > SEA flights, and slept/played during the last flight home.
Since we checked in our AWAY suitcases, I removed both batteries and charged them up for the trip. They were lifesavers for Rho's Kindle Fire, both during the flights and during our long days exploring Hawaii (#protip)
Eating/Drinking
As long as we had a steady supply of milk for Rho, he was happy.
We did get into our snack stash, and saved the bread and yogurt from our meals for him. He ate when he was in the mood, and rejected the food when he wasn't.
Toddlers.
The flight attendants were happy to fill up my S'well with hot water, and I'd rinse out his milk sippy cups with the scalding water while we were in transit. Once we landed at our destinations, I'd give them a good scrub with this travel bottle brush and baby-friendly dish soap. They were also happy to fill his sippy cups with water and milk as needed, and even saved freshly baked cookies and bread for him.
Not forcing him to eat helped keep meltdowns at bay. And when we left him alone (Play Doh requests aside), he was in good spirits.
Traveling is basically the only time I'll let my kid boss me around.
Changing
3 extra outfits may be overkill to pack, but I'm glad I had them.
There was a nosebleed on our first flight, which required a fresh set of clothes for Rho and a new shirt for me.
Then there was a leaky diaper on our last flight home.
And before we flew out on a redeye, we changed him into a cozy sweatsuit.
We took full advantage of our longer airport stays (and the Delta Sky Club/family bathrooms) to change Rho's diaper. We did have to change Rho's diaper twice in-flight, but mad props to Delta for having changing tables in all your 757 bathrooms (though they are intended for teeny babies, not crazy toddlers).
#momtip – wear a tank under all your tops, so you can always change your top without having to pop into the bathroom.
Sleeping
When it was dark outside, Rho fell asleep.
And when it was light, he was awake.
We learned this quickly on our first flight, so Sri and I made sure one of us was adequately caffeinated to entertain him on a long flight. We also discovered that he refused to sleep while wearing the CARES, but would sleep soundly with just the lap belt secured.
I draped his favorite blanket on him first before the airplane-provided blanket for extra warmth.
Letting him run around in the airport before boarding also helped him fall asleep (and stay asleep) during the flights. We had a few instances when he'd wake up in the seat and cry, but he'd quickly fall back asleep once we held him.
And kept holding him.
There's nothing I won't do to keep my kid quiet during a long flight, including holding him for 3/5 of those hours. My Kindle Oasis kept me entertained during those long snuggle sessions (when I wasn't watching Rho sleep). I read this book and got halfway through this one during our flights.
This is just our experience, from one trip, with one kid. I would love to hear from you – how do you prepare for long travels with your little one? Please share your wisdom in the comments below! Sharing is caring, and traveling with kids is hard ;)