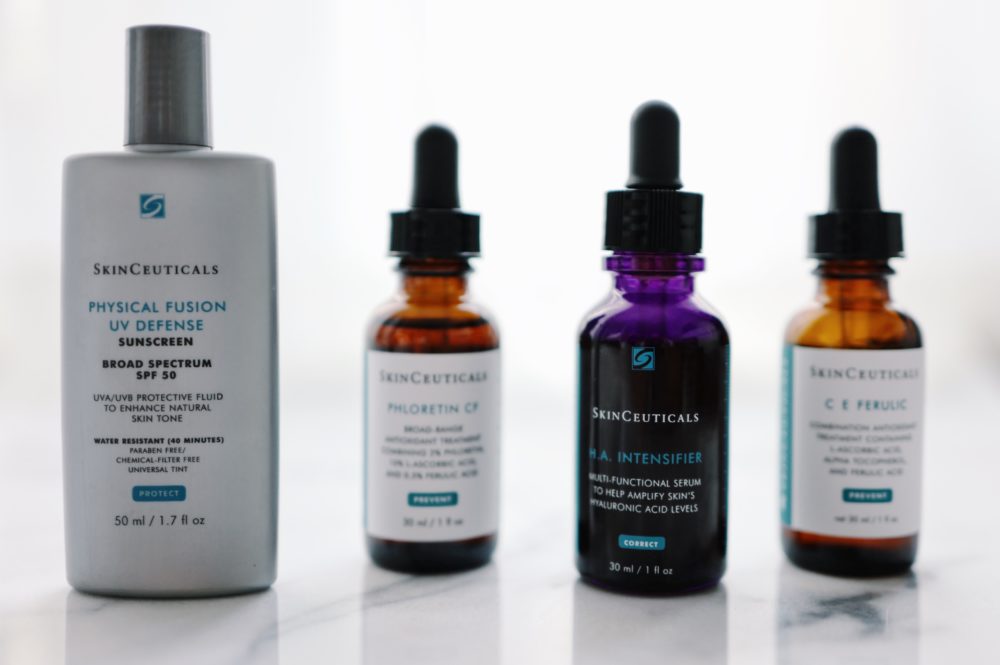 I've stopped wearing makeup on most days.
I still apply a little bit – fill in my eyebrows, line my waterline and dab concealer under my eyes. But the full foundation-powder-bronzer-yadda-yadda routine is reserved only for the days I'm shooting for the blog or have a full day of meetings.
And even on those days, I sometimes throw everything into a Glossier pouch and apply it in a car or from The Wing's beauty room.
Going makeup-less is partly due to laziness, but mostly because I feel like I don't need it.
I've been getting more sleep and drinking more water, for sure. I've also been using these 4 Skinceuticals products for the past two months.
I think they have a little something to do with it.
I use the H.A. Intensifier every morning and night, the sunscreen and C E Ferulic every morning, and the Phloretin CF at night. Here's a deep dive in each product, and why I use it in this order.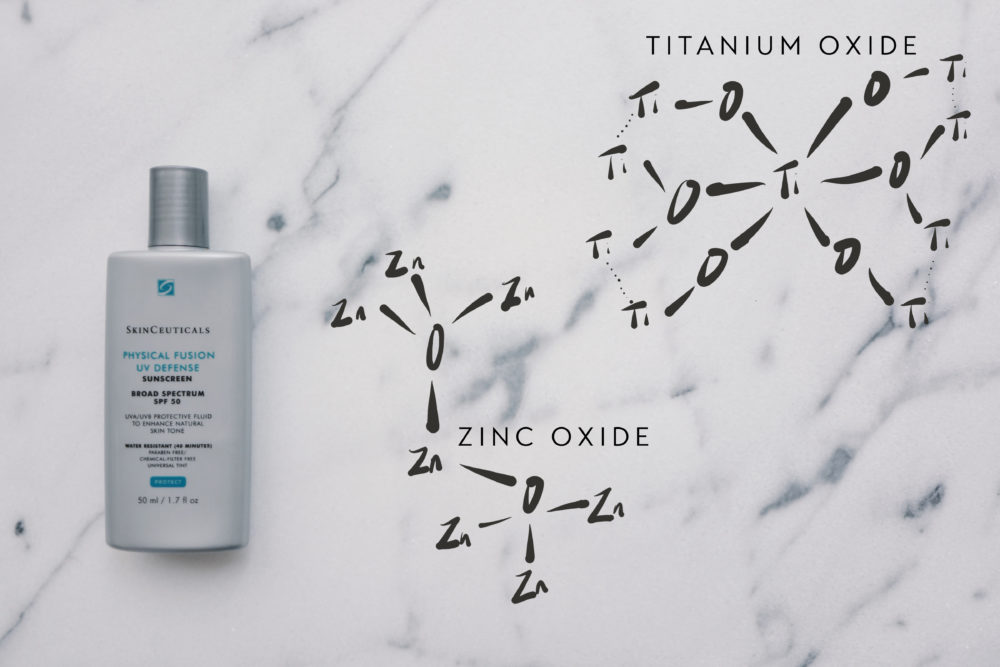 Zinc oxide is the gold standard active in sunscreen, as it both stable in the sunlight and offers the strongest protection from UV-A rays. Skinceuticals uses a microfine zinc oxide, Z-Cote(R), for improved distribution without the white mask left behind most zinc oxides. This sunscreen also includes a microfine titanium dioxide, which protects from UV-A and UV-B rays. Both actives mean your skin is properly protected from the sun, and their microfine particles gives your skin a clear finish.
I was alternating this sunscreen with the Glossier Invisible Shield for a while, but have completely switched over to this for two reasons. The first is the higher SPF (Skinceuticals has 50, while Glossier has 35), and the second is the subtle pigments in the Skinceuticals one. The pigments (derived from iron oxide) magically match and even your skin tone.
Which means you have one less face product to apply.
The only downside to this product is the smell, which reminds me of chemistry lab. I do hold my breath when I apply this, but the finished effect is always worth it. Religious application of this sunscreen helped protect my skin and prevent sunburn while we were in Greece. I love this product so much that I purchased a second one to live in my toiletry bag permanently.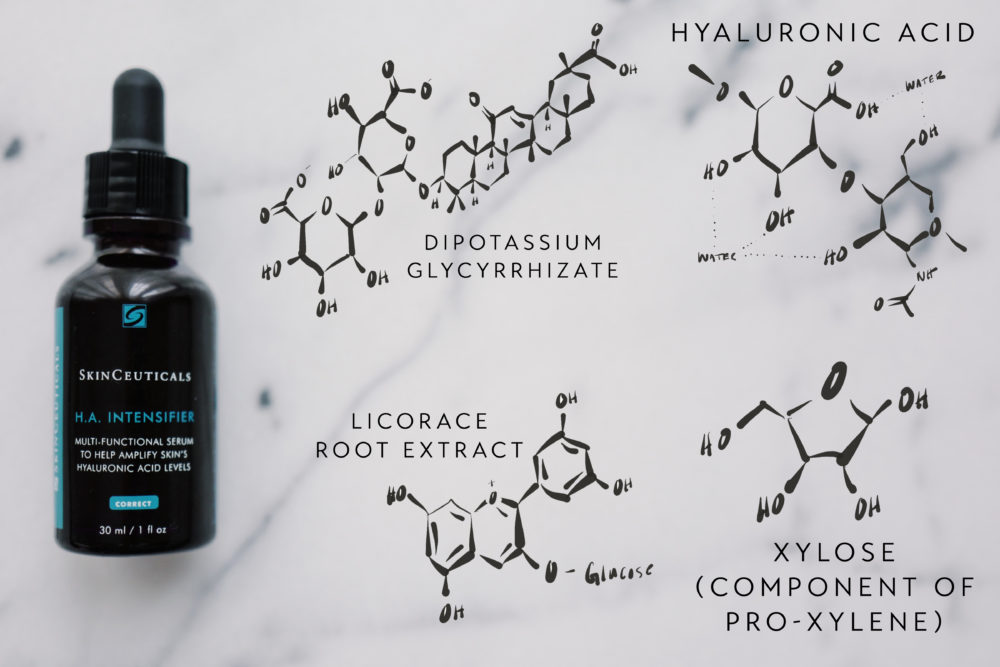 I have a deep, deep love for hyaluronic acid.
This one is a new addition to my favorite HA products.
While this serum contains significantly less hyaluronic acid than the Peter Thomas Roth one, the unique formulation offers the same immediate results, and improved long-term results.
Hyaluronic acid is a magnet for water and infuses all layer of your skin with moisture. The problem with it is that half of its activity will degrade within half a day. Enter pro-xylene, which spurs the production of proteoglycans, or networks and reservoirs that store the water delivered by the hyaluronic acid.
In short, the hyaluronic acid delivers the hydration and the pro-xylene stores it.
Enter the extracts – dipotassium glycyrrhizate from licorice root, and anthrocyanine glycosides from the rice.
The former is a strong anti-irritant and anti-inflammatory, which helps heal damaged skin. The extract is also known for preventing hyper pigmentation and brightening the skin. Clinical studies have found that dipotassium glycyrrhizate inhibits the skin's production of melanin.
I just bought a giant bag of purple rice, thanks to what I discovered from this study. The extract inhibits two major degradation reactions in the skin – of collagen, and of hyaluronic acid. This extract helps maintain your skin's collagen and hyaluronic acid levels, including the infusion of HA that's delivered in the serum.
What has this meant for my skin in the past 6 weeks? The H.A. Intensifier has significantly improved skin texture (that my facialist even noticed!), and my skin hasn't reacted to weather changes and stress the way it used to (i.e. by breaking out).
The next two products are potent antioxidants, which brings up another question.
What do antioxidants actually do?
While this question warrants its own post, here's the TL;DR on oxidative stress and how to combat it.
Oxidative stress occurs when there's an excess of reactive oxygen. When the oxygen isn't readily reduced into inactive molecules (like water), it produces peroxides (OH) and free radicals which damage, well, everything.
DNA, enzymes, lipids…
Antioxidants, in turn, bind to reactive oxygens, free radicals, and peroxides alike and allow them to go through the reduction reaction. Fueling your body with antioxidants – with your diet, your supplements, and your skincare – is critical for maintaining your health.
And I mean critical – oxidative stress has been linked to the development of Alzheimer's, cancer, ADHD, depression…
Basically, all the diseases.
Enter Skinceuticals' two powerful antioxidants.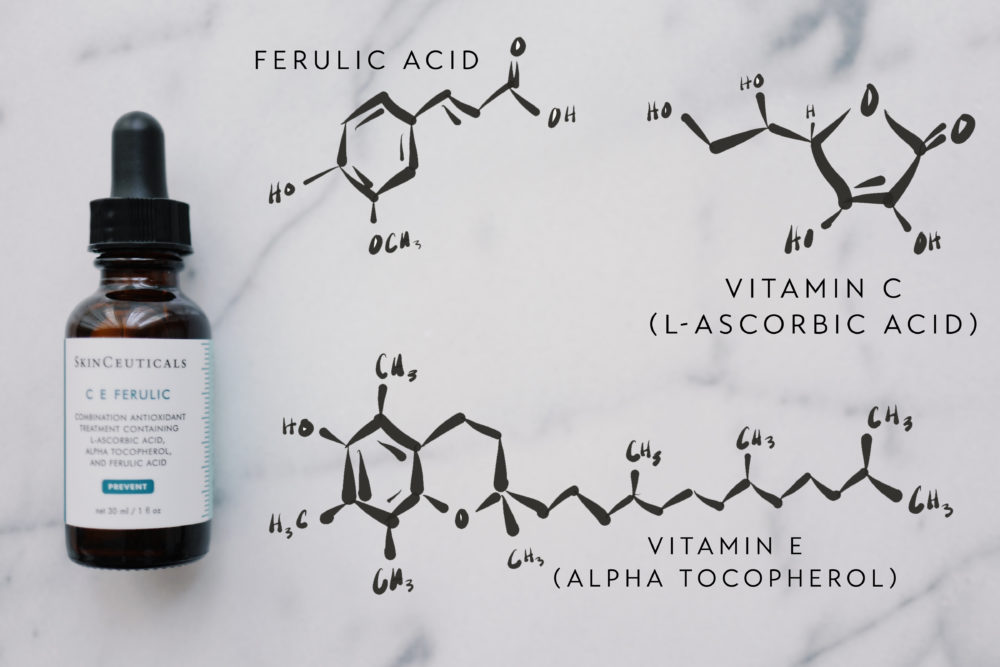 The H.A. Intensifier is meant to be used in combination with one of Skinceuticals antioxidants – C E Ferulic being one of them.
I like to use this one in the morning, and the other at night. For no reason other than that's how I started using them.
And if it ain't broke…
Let's start with ferulic acid. It's a powerful antioxidant, and one that's relatively new for skincare applications.
Once ferulic acid undergoes reduction with the reactive oxygen, it's left with a lone electron. The electron can move across the entire radical, and is relatively inert with other molecules except for another radical. The side chain is what makes FA so stable – not only can the electron reside on two of the carbons, but the carboxylic acid group (the HO-C=O at the end) can bind to the lipid bilayer of cells, protecting that key layer from being oxidized by free radicals).
What does this mean for your skin? FA protects both the interior and the boundaries of your skin cells, whereas most antioxidants can only protect one or the other.
In addition to its scavenging work, ferulic acid also stabilizes and enhances the two other actives in this product – Vitamin C (L-ascorbic acid) and Vitamin E (alpha tocopherol).
Vitamin C and E, like ferulic acid, are powerful antioxidants. Both of these vitamins are able to neutralize the free radicals from the sun that a sunscreen cannot reflect. The downside is that both vitamins are incredibly unstable, and formulating a serum with the concentrations required for proper protection is difficult.
Enter ferulic acid, which not only stabilizes both of these vitamins but also enhances its photoprotection efficacy (sun protection) by eightfold.
Naturally, this is my go-to serum in the morning.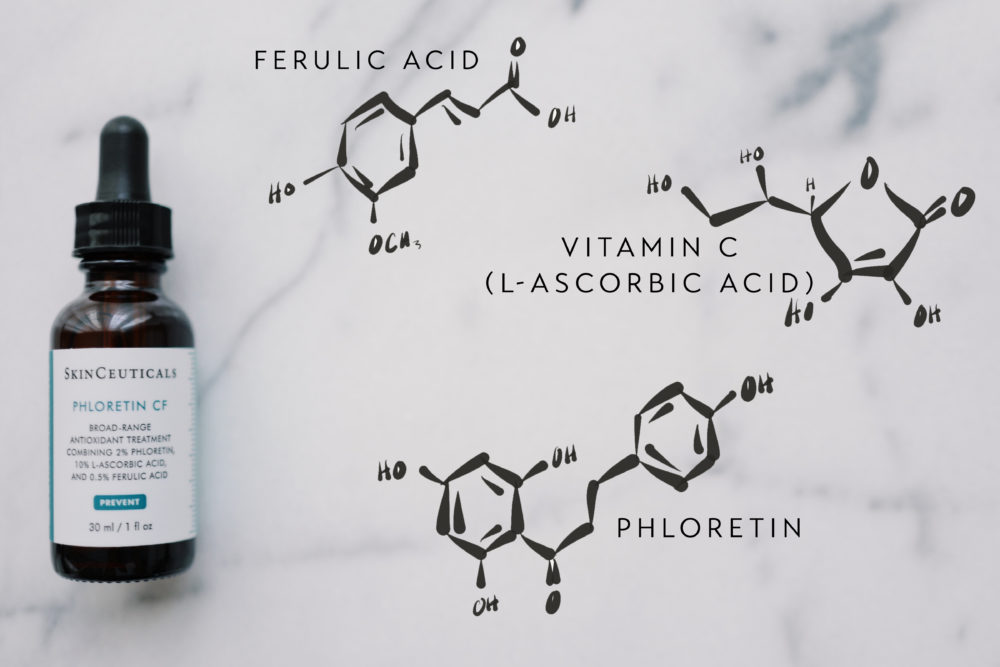 Since you already know more than you ever wanted about ferulic acid and vitamin C, let's jump straight to phloretin.
Phloretin has a lot in common with the antioxidants we've already summarized, and it also has shown antimicrobial, antitumor, and anti-inflammatory properties as well. And like the extracts found in the H.A. Intensifier, it inhibits the breakdown of collagen and the synthesis of melanin, which keeps your skin clear and plump.
If you're looking to pick just one Skinceuticals antioxidant, I would go with the CE Ferulic. The higher concentrations plus the Vitamin E make it a more efficacious product than the Phloretin CF. The latter works fine for me, but I would avoid Phloretin CF if your skin is sensitive to alcohol-based products (which is the third ingredient listed on this product).
I hope you enjoyed learning a little (okay, a lot) more about the four products that have truly changed my skin. If you'd like me to do a deep dive on one of your hero products, leave me a comment below with the product names and why you love them!
Thanks to Alisha Kumar for contributing to the research on this post.
A breakdown on hyaluronic acid, and a deep look at the best anti-aging product ever.