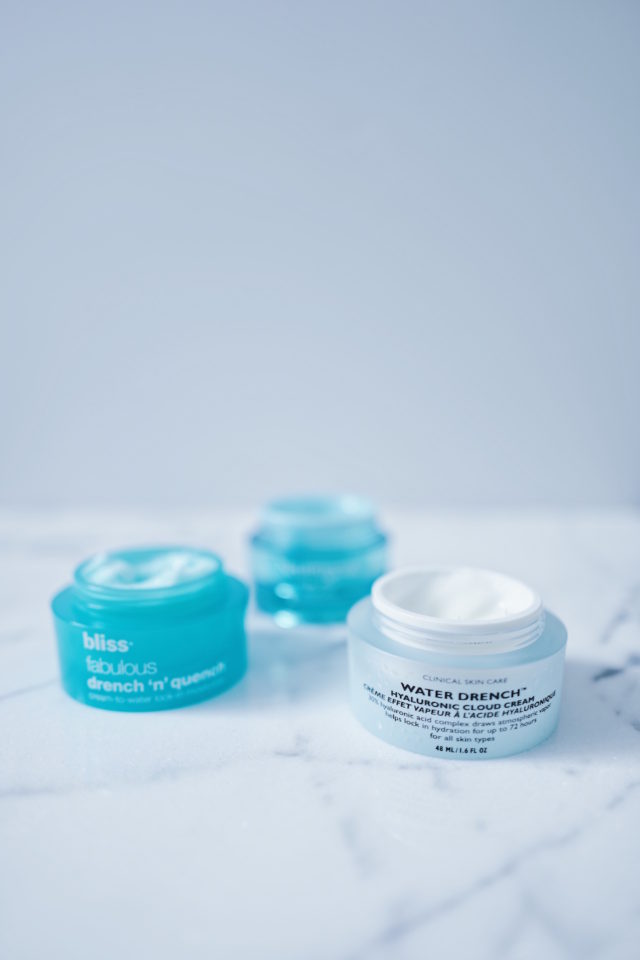 Hyaluronic acid is fascinating. Truly.
First, it's found virtually everywhere in our bodies – in our skin, our joints, and even our eyes. Our bodies are constantly producing and using it (at least 10 grams a day), and affect everything from wound repair, inflammation, and unfortunately in the progression of some cancers.
But let's focus on skincare.
Think of hyaluronic acid as a magnet for water – it can carry 1,000 times its weight of water in a stable form. When the acid binds with water, it forms a gel that quenches your skin with moisture and plumps it up.
The effects, of course, depends on the strength of hyaluronic acid found in your skincare products. In most drugstore items, you'll only find a 0.25-0.33%. To see sustained benefits in your skin, look for products with 1% hyaluronic acid, as they'll soak into all layers of the skin and provide a more complete hydration.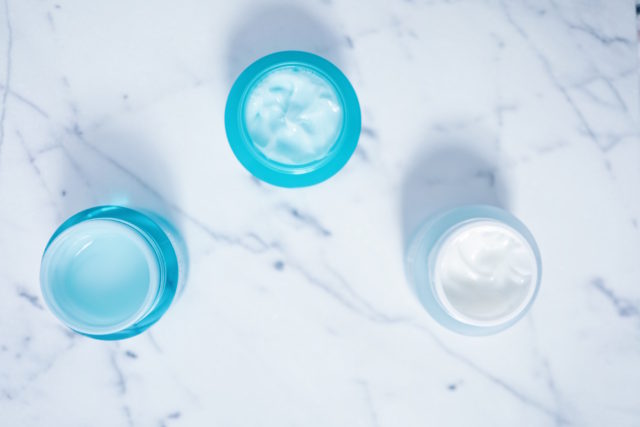 While your skin does produce hyaluronic acid on its own, it decreases as you age. And as we age, topical products won't sink in at the deepest layers either. Even miracles have their limits.
The best way to get your body to continue producing it is through a diet rich in magnesium (almonds and spinach), sulfur (cauliflower and cabbage), zinc (chickpeas and dark chocolate – win!), and iron (lean meats and dark leafy veggies).
In short – keep drinking those green juices, eating those salads, and indulging your sweet tooth here and there.
I've been using hyaluronic acid-based products for two years now. I credit this addition with my skin feeling softer and more firm, and for contributing to a lack of any wrinkles or crow's feet.
(Genetics may have something to do with that too – as it does with the early graying of my hair).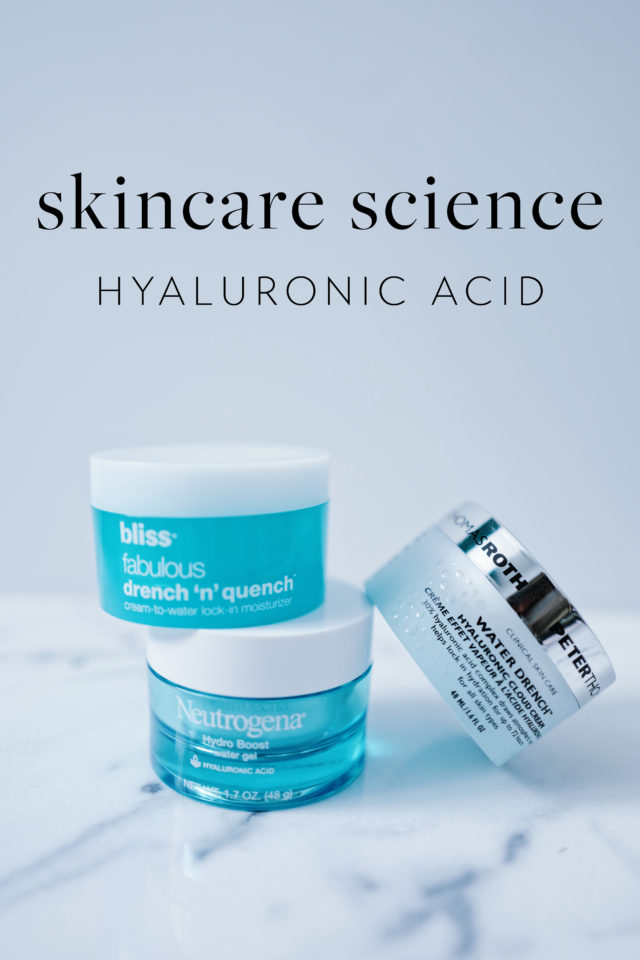 CLICK HERE to pin the image
These three products are the ones I've used over the course of the past couple of years, and the ones I swear by.
Neutrogena Hydro Boost Gel Cream ($16) – this was the first product I used. And while the percentage of hyaluronic acid is extremely low (it's the 15th ingredient listed on the label), I liked how well it moisturized my skin. I was using this product while pregnant, and sometimes lathered it on my belly because it felt so nice. At $16 a tub, it doesn't break the bank – but it's not as effective as some of the other products on the market.
Bliss Fabulous Drench 'n' Quench Moisturizer ($38) – this product doesn't actually contain hyaluronic acid, but proprietary technology that mimics the acid – and mimics it beautifully. This gel has a whipped texture that absorbs quickly and deeply into your skin. My skin was softer and more supple when using this over the Neutrogena, but it absorbed faster and I found myself reapplying it sooner. This is great for warmer months.
Peter Thomas Roth Water Drench Hyaluronic Cloud Cream ($52) – my favorite (and well worth the price tag), this product is the reason so many of you compliment my skin on Instagram. It's made my face the softest and most firm it's ever been. I've also seen my scars and blemishes fade faster since using this cream, which has been an added bonus. The 30% hyaluronic acid complex truly sinks in every layer of your skin, and I've seen the difference. If price isn't an issue, this is the one to get.
Are you using hyaluronic acid product in your skincare regimen? Which product do you swear by? COMMENT below and let me know!
P.S – the three skincare products you need when traveling, and my favorite anti-aging complex.