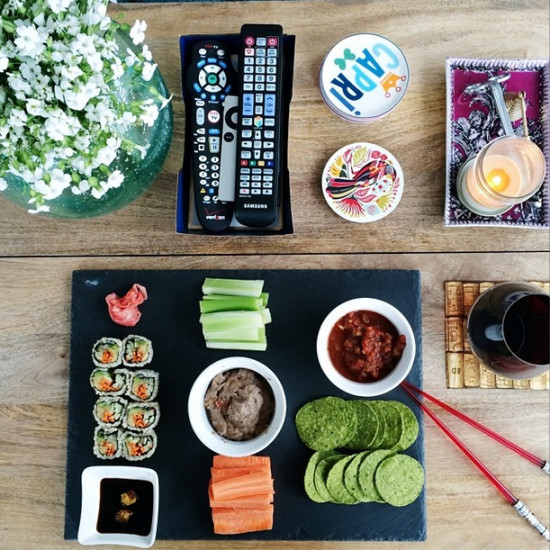 It's not just for single girls.
It's not what you would order at a restaurant, or serve at a dinner party.
It's not for anyone else, save yourself.
It's an amalgam  of food that soothes your soul.  A random assortment of whatever you're craving that day.  A curious collection of items you find in your fridge, paired with a cool drink and a side of guilty pleasure culture, be it television or a book.
It doesn't just satisfy your stomach.  It soothes your soul.
It's #singlegirldinner.  And it's my favorite meal of the week.
Some nights are fancy – a beautifully plated slate board filled with cheese, charcuterie, and nuts paired with a crisp rosé.  On lazier nights, it's queso fundido ordered in via Seamless and accompanied by a lazy girl's margarita (silver tequila, on the rocks, with the juice of a lemon and half an orange).  It can be a smattering of snack foods collected from the market – a veggie sushi roll, two types of dip, and chips and veggies with a hearty glass of Italian red wine.
It can also be white rice, sea salt and vinegar Kettle Chips, and a ginger ale after a night of overindulging (or food poisoning).
My #singlegirldinner entertainment varies widely.  It may include zoning out to Bravo's latest brain candy (Ladies of London, totally addicted), or getting lost in beautifully written prose and a compelling storyline.  It could be assembling a jigsaw puzzle and cradling a cup of tea, or taking a long riverside walk with bottle of sparkling water.
It's that one night a week JUST for me, and I love it.
And I'm eternally grateful for the original Single Girl Diner, Jessica, for brilliantly naming it.
How do you #singlegirldinner?  Share your favorite meal below or on social media, using the #singlegirldinner hashtag.  I can't wait to see what your go-to SGD is!