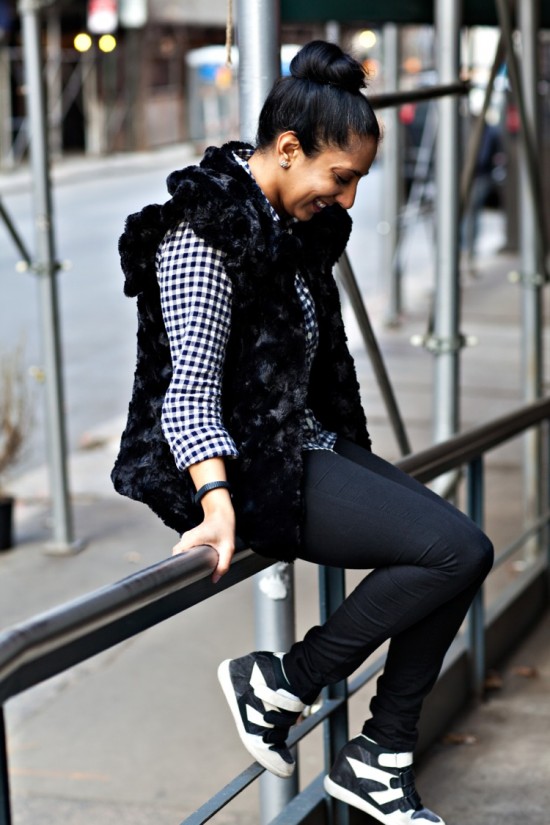 When I first looked at these pictures, I critically examined each one of my self-proclaimed flaws – my prominent nose, a double chin, thighs I wish were slimmer, a flattened top knot.  It got me thinking about the other things I don't care for about myself – the gray hair that's slowly conquering my head, a belly that's the first to gain any weight, sinuses that seem to go haywire with the slightest change in weather.  This also was a day when I wasn't feeling so hot, was feeling run down, and quite honestly didn't give a second thought into how my outfit looked, but how it felt.  (It felt cold, in case you were wondering.  I was steadfastly in denial that it was April and the weather still required a winter jacket that I stubbornly refused to wear).
But after watching this video (several times, and tearing up at the end of each viewing), I revisited these pictures with a much needed different perspective.  And while my insecurities remained, I saw the elements that give me confidence more sharply – my distinguished nose (it's a love hate thing), my warm smile, the natural shape and curve of my eyebrows, calves I loved with the same intensity as the hatred to my thighs.  These pictures may not be those showcasing the latest trends, or in the most flattering of angles.
But they show me – a little goofy, disdainful of wearing her hair down with the propensity to perch on railings and make scarily-authentic monkey noises.
Forget the negative – tell me ONE of your favorite physical attributes and favorite personality attributes about yourself.  And watch the video and let me know what you think – it forced me to reassess my whole self-perception.  For every negative thought I have about myself, I try to counter it with a positive one – and it's helped.
Photography by Lydia Hudgen