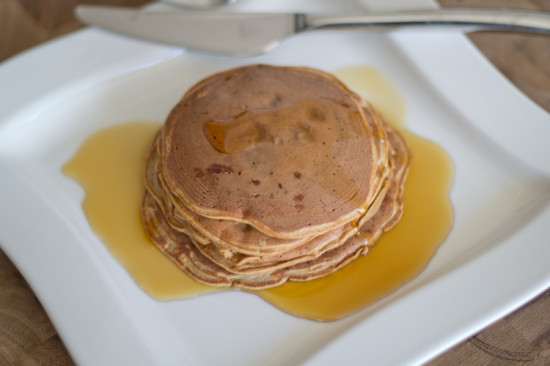 Folks on Instagram have been asking for this recipe for some time now (it's a weekend tradition at Chez Pale-simhan), but I wanted to get it as PERFECT as possible.  Because you guys deserve the best.
It's now perfect.  And now you can do like us, and whip up a batch on lazy weekend mornings.  This batter also keeps for a few days, so feel free to make it on a Monday for breakfasts throughout the week.
I must warn you that these will NEVER be as good as regular ol' pancakes.  They just won't.  But they are quite tasty, and are figure friendly. They are dairy AND gluten-free, with a vegan option as well. Win?  I think so.
Protein Pancakes
makes 8-10 pancakes
Ingredients
1 ripe banana, mashed
1/2 cup of egg whites (or chia eggs)
2 scoops of rice protein powder (this is CRUCIAL!  This recipe will not work with casein, whey, or pea-based protein powders).
1/2 cup of almond milk
2 teaspoons of cinnamon
1 teaspoon of vanilla extract (bump it up to 1 tablespoon if using plain protein powder)
1/4 cup of arrowroot powder (plain all-purpose flour also works)
Optional – 1 tablespoon of chia seeds, handful of chopped nuts (almonds and walnuts are my favorite), 1/2 cup of berries or 1/4 cup of pumpkin puree
Directions
1.  Mix all the ingredients, except for the banana and arrowroot starch.  I like to whip my egg whites first, and then slowly whisk in the rest of the ingredients.
2.  Mix in the mashed banana, until batter is evenly mixed.  It will be on the thinner side, but you'll fix that in the next step.
3.  Slowly add in the arrowroot starch, until batter has the consistency of cake batter.
4.  Heat a non-stick pan or skillet on medium heat (I use level 6 on my induction cooktop), and make a small tester pancake.  Depending on the consistency, I may add a bit more starch.
5.  Use a 1/4 cup measuring cup and scoop the batter, filling 2/3 of the cup.  Pour into the heated pan.
6.  When bubbles begin to form on the outer rim of the pancake, use a nonstick spatula to loosen the pancake, in a circular motion.  Slide the pancake off the pan and into the spatula, and then flip the pancake.  (This is the best technique I've found to flip them – because they lack flour, these pancakes are a lot trickier to flip).
7.  Allow the other side of the pancake to cook, and then slide off the pan.
8.  Serve with warm maple syrup and ENJOY.
Saturday morning can't come soon enough.