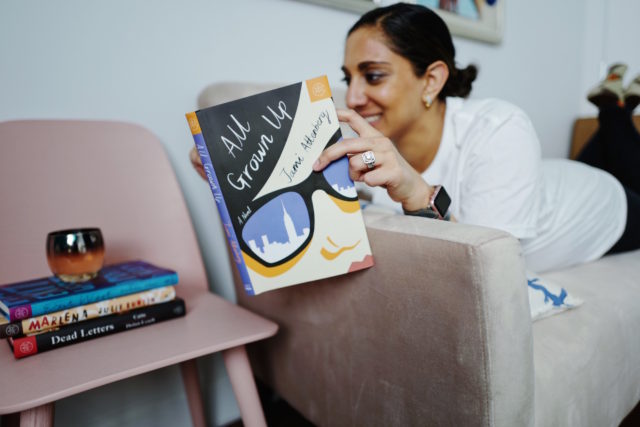 in partnership with Book Of The Month
I read every single day. Without fail.
In the morning, I'm focused on catching up with the news as efficiently as possible. While I try to read a nonfiction book, I end up reading whatever book Rho brings over to me, as he snuggles in my lap with his morning milk.
I won't lie – it's a lovely way to start the day.
The rest of my day is consumed by work, meetings, and calls. But by 9:00 p.m, I retreat back into my office, a cup of tea or a glass of wine in hand.
I light a candle and play some music. I recline on my couch and snuggle underneath a blanket. And I grab my book – a proper, physical book – and read for an hour or two.
It's the best thing I do for myself, every day.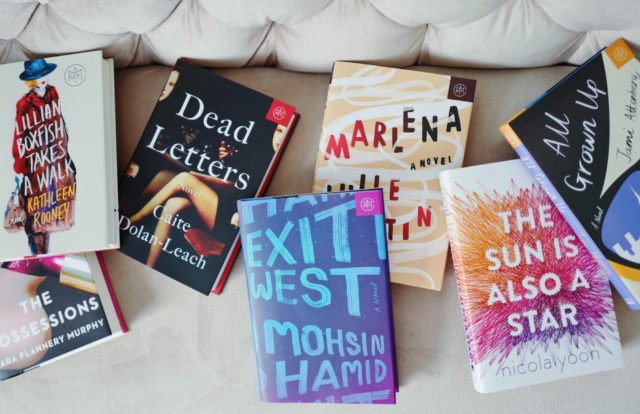 I typically read one novel a week (a goal I set for myself here). I'll discover new books through friends' recommendations (Grace always has some great ones), but I reach for my latest Book Of The Month selections first.
I've been a Book Of The Month member since December (a holiday gift to myself). I think it's brilliant – it gives you the satisfaction of wandering a small bookstore and discovering a still-unknown book. It's a digital experience of shopping in a bookstore and coming across a still-unknown book (minus the tactile experience of shopping). It usually takes me 5 minutes to select my new books every month, and they arrive to my home in just a few days.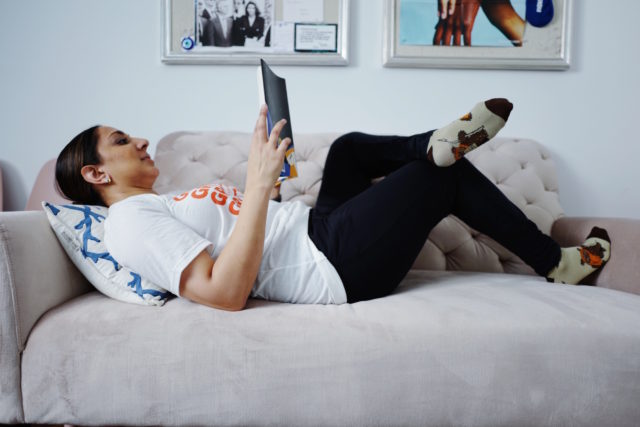 Decision fatigue is real. Making lots of little decisions – what to eat, what to wear, what to listen to, what to read – can drain our brains before we tackle bigger challenges. I try to minimize decision fatigue as much as possible, having set breakfasts and lunches and selecting my outfits the night before. Book Of The Month helps me minimize this fatigue, while still giving me enough control over the books I purchase.
They've also won my trust in the past four months. I have loved every Book Of The Month selection since I joined. I also love how committed they are to selecting a diverse group of authors every month – in gender, race, and in their experience as published authors. Many of my book selections were debut novels, all of which have blown me away.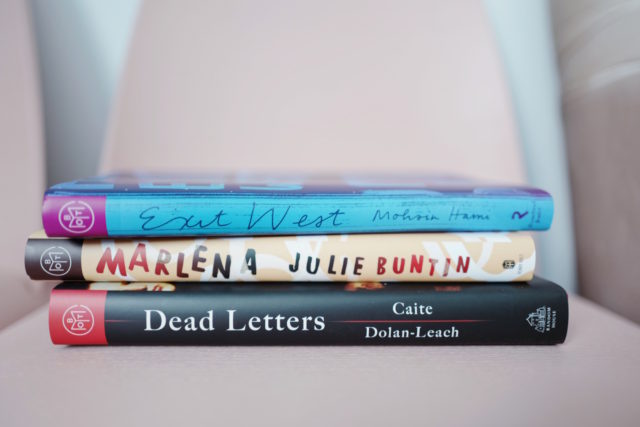 If you're looking to read more fiction, here are my top tips for doing so:
Create a ritual. I have a dedicated space and specific steps I take to get my mind in reading mode, which helps me focus. It can be in your bed before you sleep, on your couch, or in a nook you create just for reading. Just set aside the time, the space, and a few steps to get yourself in the mood.
Stop wasting time. Time to read won't magically appear in your schedule – you have to plan for it. Examine your evening habits and look at how you spend your time. Are you out and about, or zoning out to television before going to bed? Start with carving out one evening a week for reading. For some, that may be enough. That's how I started, and I began to crave more evenings in. Now, I reserve Tuesday and Wednesday nights for dinners and events, and stay in Monday and Thursday nights. Fridays are at-home date nights (Shake Shack + catching up on shows, and asleep by 11). If my husband is asleep, I'll read in my office or in our living room so I won't disturb him.
Minimize decision fatigue. I can spend hours in a bookstore or mindlessly browsing Amazon, which results in spending more and reading less. Book Of The Month saves me time and money on shopping, and makes me even more excited to read the new selections.I started with a 1 book/month subscription, but I always end up purchasing 2-3 additional books every month (at $9.99 per book, it's a good bargain).
Head over to Book Of The Month to try your first month for just $5! I think you'll love it as much as I do.
What's the last great book you read? How did you discover it? COMMENT below and let me know!
The fine print – I was gifted a two month membership to Book Of The Month in exchange for this post. If you subscribe to BOTM through my post, I will receive a small commission as well. All opinions are my own, and I'm truly obsessed with Book Of The Month and hope you will be too.